U of T supports Toronto city council request for mental health funding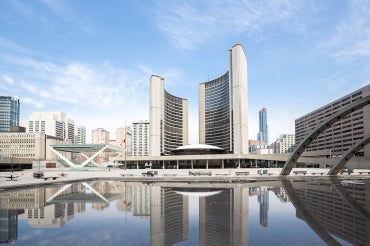 The University of Toronto has voiced support for a Toronto city council motion urging the federal government to provide $300 million per year "to address Toronto's mental health and addiction crises." 
In a letter to council dated Oct. 27, U of T President Meric Gertler said the university is prepared to work with the city and other branches of government "to deal with this very real, very pressing issue," and emphasized the need for a collaborative approach.
"The magnitude of these problems requires multiple partners working together so that solutions can be found," President Gertler wrote. 
Downtown councillors Kristyn Wong-Tam and Joe Cressy put forward a motion this week that stressed an "urgent need" for more mental health and addiction services and called on the federal government to commit $300 million a year to scale up "evidence-based and community oriented" resources.
The motion, which was adopted unanimously, also pressed the federal government to adopt a Mental Health Parity Act, which would spend as much on mental health services as it does on physical health, and asked for $600 million per year to help the city build supportive housing units over the next decade. 
Wong-Tam and Cressy's motion notes that 20 per cent of Canadians experience mental health and addiction issues each year, and that 75 per cent of mental health disorders first appear before age 25.
Among Canadians aged 18 to 35, suicide is the leading cause of death, the councillors say. 
In 2017, U of T joined with the Council of Ontario Universities, Colleges Ontario and post-secondary student associations to launch an action plan on student mental health that recommended a "whole of community" approach, equitable access prevention and harm reduction.
In his letter, President Gertler noted that the university has more recently committed $3 million a year to respond to "the current demand and growing needs around mental health support." He said the investment allowed the university to add 11 counsellors and 12 additional staff in accessibility services, doubling the number of advisers.
The university has also launched a task force on student mental health led by Trevor Young, dean of the Faculty of Medicine. Part of a four-point action plan announced by President Gertler in March, the task force is reviewing the university's mental health supports and services and is due to make recommendations by the end of the year.
The other three pillars of U of T's action plan are: working with health-care partners outside the university to improve U of T's ability to refer students suffering serious mental health challenges; have the Expert Panel on Undergraduate Student Educational Experience look at issues surrounding learning cultures, competitiveness, student well-being and student supports; and work with government to secure more resources to support students.
 "We are redoubling our efforts to focus services to assist students experiencing mental health challenges, but we cannot do this alone," President Gertler wrote.
---
Feeling distressed? Find someone to talk to right now – and if there is an immediate risk, call 911 or Crisis Services Canada at 1-833-456-4566.
The following are some of the mental health services available to students on all three campuses: 
Downtown Toronto: Health and Wellness Centre (416-978-8030), located at Koffler Student Services
U of T Scarborough: Health & Wellness Centre 416-287-7065 
U of T Mississauga: Health & Counselling Centre 905-828-5255
Round-the-clock support
Free 24/7 support is available outside the university. Students, staff and faculty can speak to a trained crisis worker at any hour of the day.
Good 2 Talk 1-866-925-5454
Gerstein Crisis Centre 416-929-5200 
Distress Centres of Greater Toronto 416-408-HELP (4357)
The Centre for Addiction and Mental Health at 250 College Street
Anishnawbe Health Toronto Mental Health Crisis Line 416-360-0486
My SSP for U of T  Students 1-844-451-9700. Immediate support is available in 35 languages and ongoing support in 146 languages.
Appointed faculty and staff have access to the Employee & Family Assistance Program (EFAP), offered through Homewood Health, online and by phone at 1-800-663-1142.
UTC