In fields ranging from math to medicine, U of T researchers awarded 27 Canada Research Chairs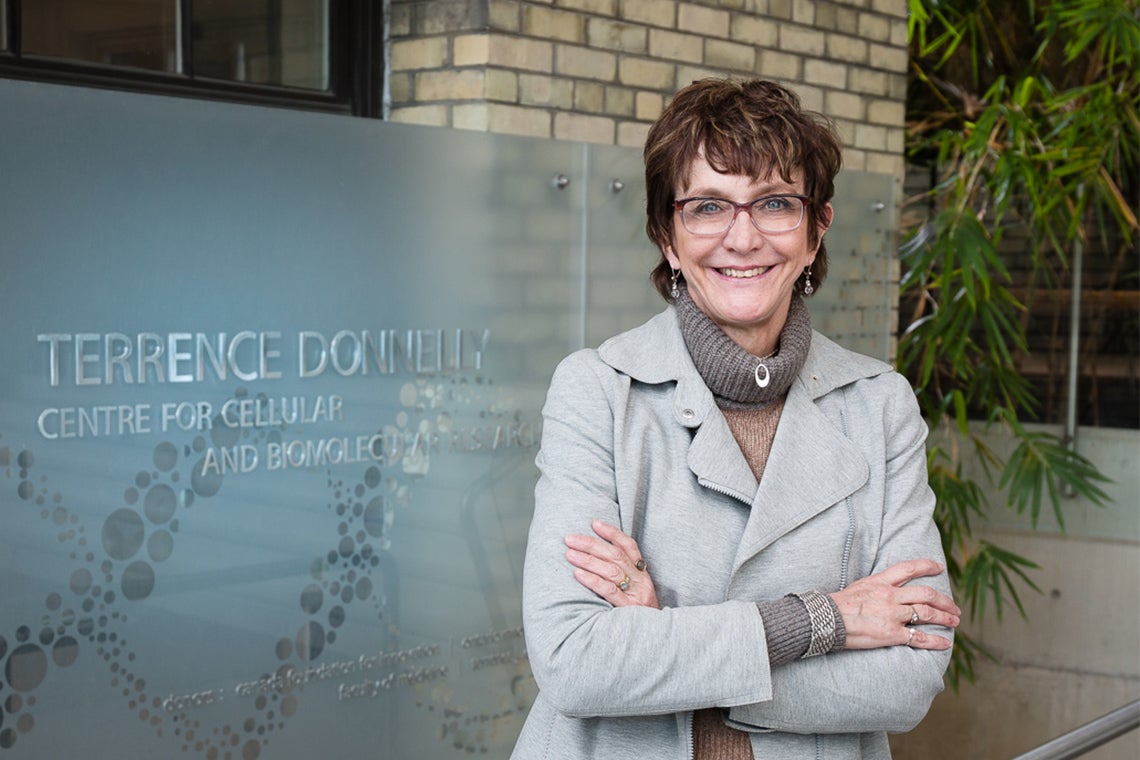 In Brenda Andrews's lab at the University of Toronto, researchers are working toward understanding why cells with the same errors in their genetic codes don't always develop the same defects.
Known as incomplete penetrance, the phenomenon is familiar to those with a history of genetic disorders, since people with the same disease-causing gene variant can experience different disease symptoms and severity.
"We are beginning to appreciate that any kind of genetic perturbation can have a highly variable penetrance and there's a large cell-to-cell variability," says Andrews, a University Professor of molecular genetics in the Donnelly Centre for Cellular and Biomolecular Research and the Temerty Faculty of Medicine.
"That has implications for understanding the mechanisms of disease, and for thinking about potential treatments."
Andrews is one of 27 researchers at U of T awarded new or renewed Canada Research Chairs today. The prestigious federal appointment aims to recruit and retain top researchers and scholars in the country.
At the same time, the Canada Foundation for Innovation (CFI) – in collaboration with the CRC program – announced support for two U of T researchers through its John R. Evans Leaders Fund (JELF), which helps universities pay for laboratories and equipment. They are Kelsie Thu of the department of laboratory medicine and pathobiology in the Temerty Faculty of Medicine and Li Ka Shing Knowledge Institute, St. Michael's Hospital, and Daniel Schramek of the department of molecular genetics in the Temerty Faculty of Medicine and Lunenfeld-Tanenbaum Research Institute, Sinai Health System.
Researchers at U of T were also awarded more than $37 million in funding from the Natural Sciences and Engineering Research Council of Canada's Discovery Grants program and more than $20 million in funding from Social Sciences and Humanities Research Council programs.
"I want to personally congratulate all of the researchers at the University of Toronto who were either named new Canada Research Chairs or had their existing chairs renewed – as well as those who received funding through other programs," says Professor Leah Cowen, U of T's associate vice-president, research.
"Your inspired work in critical fields, ranging from mathematics and medicine to engineering and human development, is expanding knowledge and developing innovative new ideas that will ultimately benefit Canadians and people around the world."
Andrews, for one, is a pioneer of functional genomics and has dedicated her career to studying cells as dynamic systems composed of a multitude of components whose roles need to be co-ordinated to sustain health. Using Baker's yeast cells as a model, her lab has shown how thousands of genes engage in interactions with each other, and that it's these webs of interactions that hold the clues to health and disease.
Her tier one chair in systems genetics and cell biology includes seven years of funding (renewable once).  It is the latest among many honours recognizing her leadership in the field. Andrews is a Companion to the Order of Canada, the highest national honor which can be held by a civilian. She is also a Fellow of the Royal Society of Canada and a foreign member of the American National Academy of Sciences, among other honours and appointments.
As well as running her lab, Andrews also served as inaugural director of the Donnelly Centre through three successive five-year terms. During that time, the centre became globally renowned for its multidisciplinary research, education and innovation in biomedical science.
Now, Andrews's interdisciplinary team are working to find out how cell-to-cell variability arises and may contribute to severity of a genetic disorder. Co-supervised by Andrews and her long-term collaborator Charles Boone, a professor of molecular genetics and interim director of the Donnelly Centre, they are collecting measurements from millions of individual cells in a mixed population.
"By looking at all kinds of different mutant scenarios and by measuring how that affects cellular traits at the single cell level, we can begin to [decipher] the mechanisms behind disease penetrance," Andrews says.
The entire process – from cell culture to image acquisition and data analysis – is automated and took about a decade to develop. It includes some of the first machine-learning tools for computer vision applications in cellular biology.
"This is an exciting time for research thanks to the range of new technologies and endless possibilities they present," Andrews says. "When you have people collaborating across scientific fields, the potential to do important work is just extraordinary."
---
Here are the new and renewed Canada Research Chairs at U of T:
New Canada Research Chairs
Brenda Andrews of the Donnelly Centre for Cellular and Biomolecular Research, tier one in systems genetics and cell biology
Isabelle Boileau of the department of psychiatry in the Temerty Faculty of Medicine and Campbell Family Mental Health Research Institute, Centre for Addiction and Mental Health, tier two in endocannabinoid imaging in mental illness
Grant Brown of the department of biochemistry in the Temerty Faculty of Medicine, tier one in genome integrity
Yaron Finkelstein of the department of paediatrics in the Temerty Faculty of Medicine and the Hospital for Sick Children, tier one in pediatric drug safety and efficacy
Spencer Freeman of the department of biochemistry in the Temerty Faculty of Medicine and SickKids Research Institute, the Hospital for Sick Children, tier two in immune surveillance
Stephen Girardin of the department of laboratory medicine and pathobiology in the Temerty Faculty of Medicine, tier one in intestinal inflammation
Linda Hiraki of the department of paediatrics in the Temerty Faculty of Medicine and SickKids Research Institute, the Hospital for Sick Children, tier two in genetics of rare systemic inflammatory diseases
Michael Laflamme of the department of laboratory medicine and pathobiology in the Temerty Faculty of Medicine and McEwen Stem Cell Institute, University Health Network, tier one in cardiovascular regenerative medicine
Robert McCann of the department of mathematics in the Faculty of Arts & Science, tier one in mathematics, economics and physics
Padmaja Subbarao of the department of paediatrics in the Temerty Faculty of Medicine and the Hospital for Sick Children, tier one in pediatric asthma and lung health
Walter Swardfager of the department of pharmacology and toxicology in the Temerty Faculty of Medicine and Sunnybrook Research Institute, Sunnybrook Health Sciences Centre, tier two in clinical pharmacology of cognitive neurovascular disorders
Kelsie Thu of the department of laboratory medicine and pathobiology in the Temerty Faculty of Medicine and Li Ka Shing Knowledge Institute, St. Michael's Hospital, tier two in lung cancer therapy response
Renewed Canada Research Chairs
Ya-Huei (Cathy) Chin of the department of chemical engineering and applied chemistry in the Faculty of Applied Science & Engineering, tier two in advanced catalysis for sustainable chemistry
Yasmin Dawood of the Faculty of Law, tier two in democracy, constitutionalism and electoral law
Abby Goldstein of the department of applied psychology and human development in the Ontario Institute for Studies in Education, tier two in the psychology of emerging adulthood
Prabhat Jha of the division of epidemiology in the Dalla Lana School of Public Health and Centre for Global Health Research, St. Michael's Hospital, tier one in global health
Gillian King of the department of occupational science and therapy in the Temerty Faculty of Medicine and Bloorview Research Institute, Holland Bloorview Kids Rehabilitation Hospital, tier one in optimal care for children with disabilities
Loren Martin of the department of psychology at U of T Mississauga, tier two in translational pain research
Aleksandar Nikolov of the department of computer science in the Faculty of Arts & Science, tier two in algorithms and private data analysis
Elizabeth Page-Gould of the department of psychology in the Faculty of Arts & Science, tier two in social psychophysiology
Keith Pardee of the Leslie Dan Faculty of Pharmacy, tier two in synthetic biology and human health
Elodie Passeport of the department of civil and mineral engineering in the Faculty of Applied Science & Engineering, tier two in environmental engineering and stable isotopes
Tarek Rajji of the department of psychiatry in the Temerty Faculty of Medicine and the Centre for Addiction and Mental Health, tier two in neurostimulation in cognitive disorders
John Ratcliffe of the department of biology at U of T Mississauga, tier two in neuroethology
Sophie Rousseaux of the department of chemistry in the Faculty of Arts & Science, tier two in organic chemistry
Daniel Schramek of the department of molecular genetics in the Temerty Faculty of Medicine and Lunenfeld-Tanenbaum Research Institute, Sinai Health System, tier two in functional cancer genomics
Nicholas Stang of the department of philosophy in the Faculty of Arts & Science, tier two in metaphysics and its history
UTC