'Extraordinary times': Art installation to capture U of T's mass vaccination effort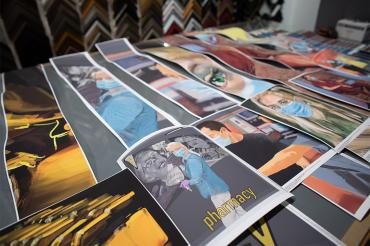 On a quiet day in the COVID-19 vaccine clinic hosted on the University of Toronto's St. George campus earlier this year, Greg Ellwand, a staff member, picked up his iPad and began sketching the scene around him.
"When there was a lull, I'd start talking to my colleagues and find out who they are and what they do," he recalls. "While I did that, I'd start sketching.
"It happened in the little spaces between reality."
What began as a pastime for Ellwand soon turned into a focused project to document an unprecedented moment in U of T's history when all three campuses, local public health authorities and hospital partners came together to help with Canada's largest mass-vaccination drive.
Nine of Ellwand's paintings will be put on display next year as part of a planned art installation. The works reflect what it was like to receive a vaccine at the St. George clinic, located in the Exam Centre on McCaul Street, that was run by the University Health Network, U of T and Sinai Health. The clinic recently re-opened to deliver third shots amid the Omicron wave.
To date, university-hosted vaccine clinics on the St. George, U of T Mississauga and U of T Scarborough campuses have delivered nearly 420,000 doses to their local communities in Toronto and Peel Region.
"I'm so proud of the members of the U of T community for offering their time and expertise to support the province's mass vaccination effort," said Trevor Young, acting vice-president and provost, and dean of the Temerty Faculty of Medicine.
"It's a great example of how our incredible faculty, staff and students came together during this unprecedented time."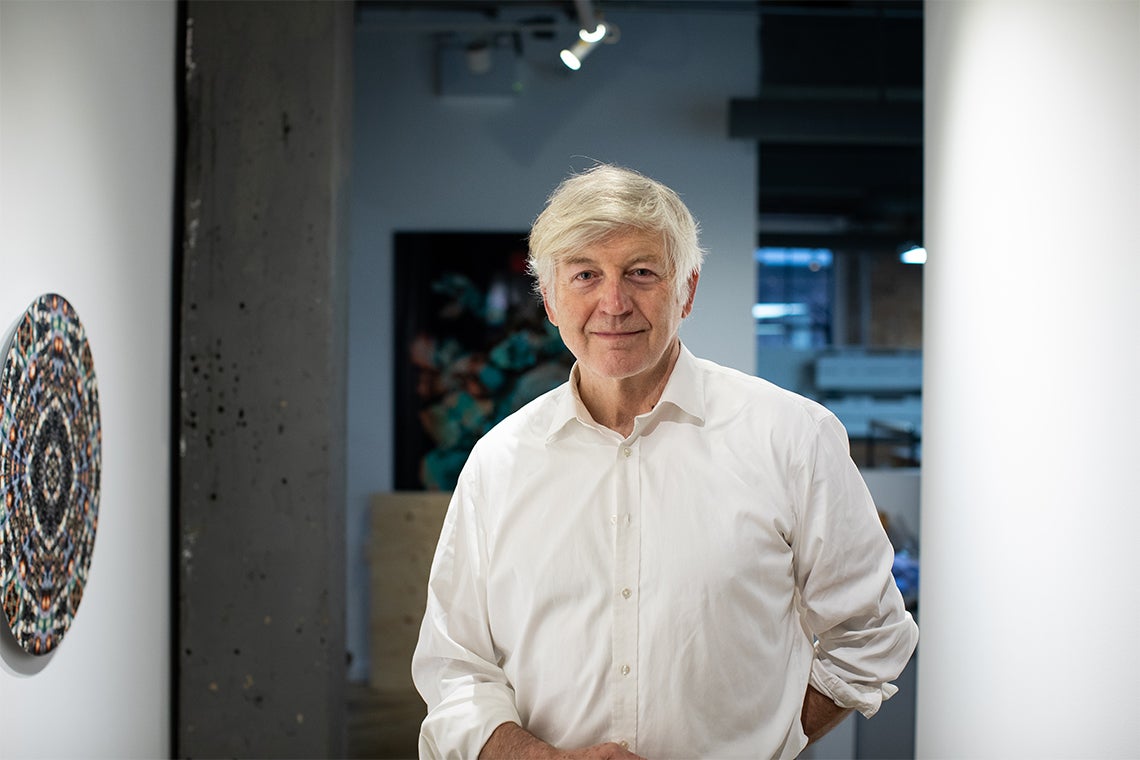 Greg Ellwand conducted check-ins at the clinic and was later tapped to document the effort after his iPad sketches were noticed by the clinic's manager (photo by Johnny Guatto) 
From day one, the operation of the U of T-hosted clinics was – and continues to be – a team effort.
At the St. George clinic, health-care workers administered vaccines according to the province's guidelines alongside staff from U of T's Leslie Dan Faculty of Pharmacy, who prepared doses and ensure cold chains are properly maintained throughout the vaccine's transport.
The exam centre clinic also relied on staff from the Standardized Patient Program in the Temerty Faculty of Medicine to help with check-ins, registration, health screenings and other administrative tasks. The program recruits and trains people to portray the role of a patient. It allows students to learn in a clinical environment as well as practice physical exam and communication skills.
Susan Camm, the clinic manager and clinical team lead at U of T's Health & Wellness, says she was amazed by the "enthusiastic and committed" group.
"Most of the improvements, regarding process, operation and flow, came from that team," she says.
As a member of the program, Ellwand was charged with conducting check-ins at the clinic – until Camm noticed his sketches and saw an opportunity to document the clinic's work.
"It took someone like Susan Camm to see the possibilities," Ellwand says. "I wish the world was full of more people like her."
After Camm saw his drawings, Ellwand's role officially changed to artist-in-residence. He started going to work – not to conduct check-ins, but to observe and draw what he saw.
"I felt the weight of responsibility in it being a historical event," he says.
The university's effort to support the country's mass vaccination effort began at U of T Mississauga, which opened the doors to the first U of T-hosted mass vaccination clinic on March 1 – near the height of the pandemic's third wave. Working in collaboration with Trillium Health Partners and Peel Public Health, staff administered 335,000 doses to local members of the community over the course of five months. A few weeks later, the St. George clinic was up and running – and went on to deliver 55,000 doses before winding down eight months later. U of T Scarborough, meanwhile, worked with the Scarborough Health Network to deliver nearly 27,500 doses at weekly pop-up clinics in Highland Hall.
The university also hosted a vaccine clinic pow wow and pop-up clinics in June to provide Indigenous Peoples with a culturally safe place to receive their vaccinations. Volunteers danced and played hand drums while community members received their shots inside Varsity Stadium. More recently, U of T partnered with the Ontario Ministry of Health and Metrolinx to bring a mobile vaccine clinic to the St. George Campus over the fall.
U of T faculty, staff and students also helped run pop-up clinics in hot spots across the city.
Much like the vaccine clinics themselves, the planned art installation that's meant to commemorate the effort on the St. George campus has taken a team to put together.
Funding was made provided by U of T's Facilities & Services – with Camm noting Ron Saporta, chief operating officer, property services and sustainability, sponsored the installation and has been "incredibly supportive" of the idea from day one.
To create the installation itself, Ellwand has been working closely with Sherry Chunqing Liu, a first-year student in the master of visual studies program at the John H. Daniels Faculty of Architecture, Landscape, and Design. Liu has spent many afternoons in the exam centre, observing the traffic flow of the building, drafting floor plans and measuring spatial dimensions.
"The overarching narrative is twofold – one is about Ellwand's creative process from sketching what he was experiencing to later incorporating more futuristic, vibrant and imaginative elements," Liu says. "Another aspect is about the spatial dialogues among the artworks, the experience of members of the clinic, and the viewer of this exhibition."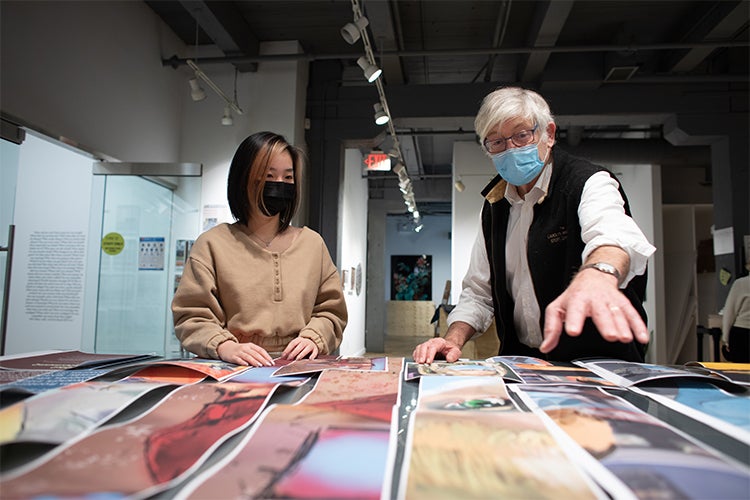 Sherry Chunqing Liu, left, a master of visual studies student at the John H. Daniels Faculty of Architecture, Landscape, and Design, is working with Ellwand, right, to create an installation (photo by Johnny Guatto)
Liu hopes that when visitors see the artwork, it "can evoke contemplation or even interpretation around what happened in this space during the time of the clinic."
Ellwand says he first sketched in black and white, but later was inspired to incorporate colour and space as a theme in his artwork.
"In the early days of the clinic, it felt like we were flying a spaceship in the blackness of the unknown," he says.
Ultimately, he wants people to have fun with his work. "People can let their imagination run a little wilder."
When Camm first asked Ellwand to take on the artist-in-residence role, she had no idea that an art installation would be the result.
"When we started, no one was vaccinated. The workers were exposing themselves to the public every day, which was not without risk," she says. "I think his artwork really captures the essence of our work and the experience."
Ellwand, who has returned to work at the reopened St. George clinic, says he's excited for the public to see his art when the installation is finally ready.
"The clinic was here during extraordinary times," he says. "My paintings honour those who put themselves on the front lines."
UTC