U of T Scarborough hosts weekly pop-up vaccine clinics for area residents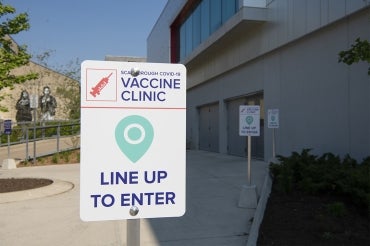 The University of Toronto Scarborough is helping with the push to get as many people as possible in the region vaccinated by hosting a weekly pop-up clinic on campus.
Operated in collaboration with Scarborough Health Network (SHN), the large pop-up clinic will be located in Highland Hall, which until recently acted as an assessment centre where residents received tests for COVID-19.
The pop-up will be open on Fridays and Sundays, but people are urged to visit the SHN website for up-to-date information about when the pop-up clinics will be operating.  
Wisdom Tettey, vice-president and principal of U of T Scarborough, says the university is committed to doing its part to help deliver vaccines to residents across Scarborough.
"The way in which we have all rallied together since the beginning of the pandemic to help each other is truly inspiring. We are very proud and honoured to be part of this caring, strong, and resilient community, and we will continue to do our part to get us through these challenging times," he says.   
"As an institution that is an embedded and an integral part of Scarborough, our health and well-being are linked to that of our community. We see it as our obligation to contribute whatever resources we can to support efforts by our neighbours and our local partners to ensure our community's well-being."
SHN partnered with U of T Scarborough in December 2020 to re-locate its COVID-19 assessment centre to the events centre in Highland Hall. Since opening, the centre has administered more than 68,457 tests.
The assessment centre was closed in order to convert the site into a vaccination clinic. The vaccine clinic will have a separate entrance and exit from the rest of Highland Hall. SHN staff oversaw the setup of the clinic, which will follow the same safety measures and protocols as other vaccination sites operated by the health network.
"Our partnership with UTSC is longstanding and fruitful for Scarborough – particularly in our shared ability to support the next generation of health-care expertise here in our community," says Elizabeth Buller, president and CEO of Scarborough Health Network.
"When we needed to relocate our Centenary Hospital's COVID-19 Assessment Centre for the winter, UTSC generously welcomed our staff, physicians, and patients to the Scarborough campus so that we could continue to provide secure and warm locations for COVID-19 testing at a critical time in the pandemic. We are pleased to extend this partnership with the opening of a new vaccine clinic that will help to keep Scarborough healthier and safer."
U of T Scarborough has supported various community initiatives in response to COVID-19, including opening a food distribution centre to support food security efforts, the assessment centre and now a vaccine clinic to help support second-dose vaccinations.
Andrew Arifuzzaman, U of T Scarborough's chief administrative officer, says Scarborough was hit hard by the pandemic and the assessment centre played an important role in testing for variant strains of COVID-19, particularly during the second wave of infections.
"Partnering with the Scarborough Health Network has been a privilege, and we hope this next step will help ongoing efforts to ensure mass vaccine delivery in our community," says Arifuzzaman.
"We want to continue doing what we can to help protect the health of Scarborough residents, who we care about deeply."   
Arifuzzaman says the campus is an ideal location for the clinic because it is centrally located in the east end of Scarborough, with easy access to public transit with the bus loop in front of Highland Hall. There's also parking nearby. Those with vaccine appointments will be able to receive a parking voucher.
There are also vaccination sites hosted on the St. George campus and at U of T Mississauga.
To find out more about the COVID-19 vaccine clinics in Scarborough, visit www.scarbvaccine.ca or call 416-495-2593, Monday to Friday from 8 a.m. to 8 p.m., and Saturdays and Sundays from 9 a.m. to 5 p.m.
UTC