'Do not let anyone take this moment away from you': U of T Mississauga hosts third annual Black Grad celebration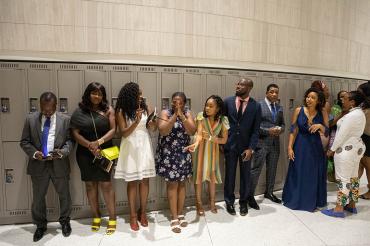 Under the soaring ceilings of University of Toronto Mississauga's Innovation Complex, the third annual Black Graduation celebration wrapped up by calling out the names of U of T students who had graduated this year.
Amid applause and laughter from family and friends, the graduates – about 50 of whom were in attendance – walked to the front of the room and were presented with Black Grad scarves to recognize their achievements.
Njeri Fraser, who completed a bachelor's degree in chemical engineering, was among those who had their name called. Wearing her engineering jacket and colourful Africa earrings, Fraser said seeing other Black students honoured and recognized at the student-run Black Grad event was something to celebrate.
"It's showing that we've come this far, that whatever obstacles we were facing we were able to overcome it," Fraser said.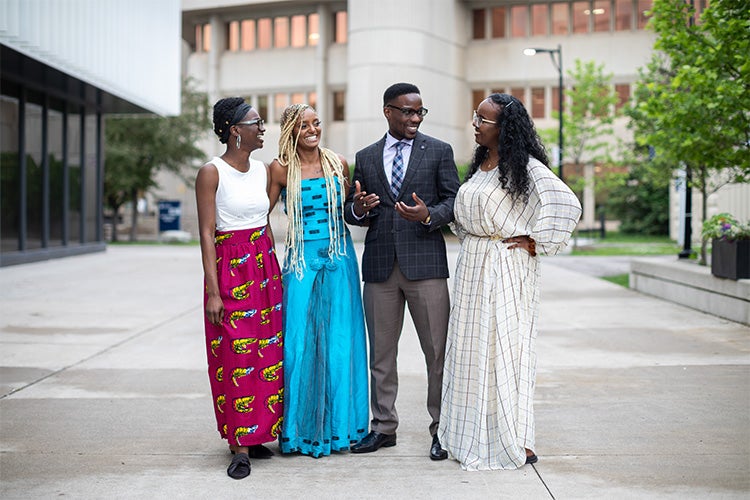 Left to right: Barakat Omotosho, Kalkidan Alemayehu, Henry Ssali and Ayaan Abdulle (photo by Geoffrey Vendeville)
U of T students held their first Black Grad event back in 2017 – a time when Black graduations and commencements were far less common at Canadian universities than at U.S. ones. This was the first year the event, which took place on June 28, was held at U of T Mississauga.
Fraser said she found her undergraduate experience "challenging" – at least at first. But she said she worked hard and established a support system the help of the local chapter of the National Society of Black Engineers.
"It was good to have a family to support you – on your personal life, your academic life – it definitely helped to get me through."
Six students who won student awards at the event shared similar stories of achievement.
Olugbenga Olubanjo, who completed a master's in applied science in civil engineering, took home the Wesley J. Hall Award for Excellence in Entrepreneurship. His startup, Reeddi, seeks to provide affordable, clean energy solutions to individuals and businesses operating in energy-poor regions of the world, including parts of Africa.
"Olu constantly seeks to make social, environmental, and economic impact with technological and market-creating innovations," said Laura Mae Lindo, the Ontario opposition critic for citizenship and immigration services and the critic for anti-racism, as she presented the award.
"People think if we do environmental work, that we can't have a return on investment, build businesses, be job-ready and innovative. And yet, look at you."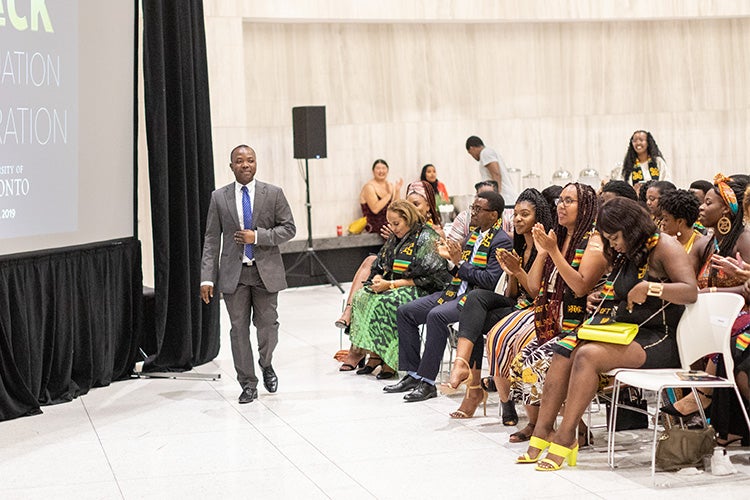 Suleyman Demi walks before the audience at the third annual Black Grad celebration (photo by Geoffrey Vendeville)
Other guests in attendance included Kofi Hope, a U of T strategic consultant and visiting scholar; Sandy Hudson, vice-chair of the Black Legal Action Centre; Zanana Akande, the first Black woman elected to Ontario's legislature and the first Black woman to serve as a cabinet minister in Canada; and M. NourbeSe Philip, an award-winning author. 
The keynote speaker was Celina Caesar-Chavannes, a member of Parliament for Whitby, Ont.
Passionate about innovation and helping others, Olubanjo said he was thrilled to be recognized, adding the award left him motivated to take his startup further by working with more regional and, potentially, global partners.
"You don't get happy by making money, you get happy by changing lives. I'm excited by the impact that the product has had on many people."
Other award winners included: Aisha Mohammed, who won the Patrice Smith Award for Excellence in STEM (science, technology, engineering and math education); U of T track and field star Laura-Jeanne Amoi, who won the Angela James Award for Excellence in Athletic Achievement; outgoing Black Students' Association President Anyika Mark, who was presented with the Kofi Hope Award for Excellence in Community Services; Suleyman Demi, who was presented the Lisa Robinson Award for Excellence in Research; and Leroy Baker, who won the Dionne Brand Award for Excellence in Liberal Arts. 
In her keynote, Caesar-Chavannes talked about her struggles as a U of T student and noted the lack of events like Black Grad during her time on campus.
"I tell you this so you can appreciate this moment, you deserve it," said Caesar-Chavannes, who earned an MBA from the Rotman School of Management. "Not only because you paid your tuition but because you earned it. It is yours, and do not let anyone take this moment away from you."
She urged graduates to take stock of their time at U of T: "Appreciate the significance of what you are doing here, what you accomplished to get here, and what you need to do to move forward."
Katherina Boyd, who finished a bachelor's degree in political science and sociology at U of T Scarborough, recalled her undergraduate experience at U of T fondly, noting that it, "really helped me grow as a person, to help me come out of my shell."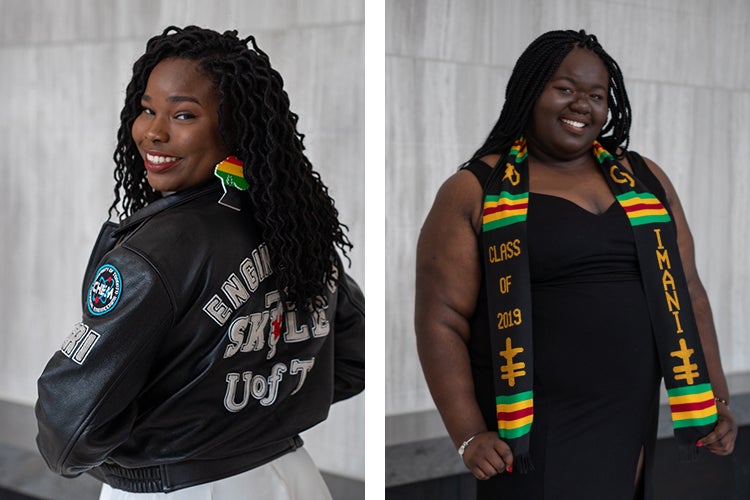 Njeri Fraser, left, completed a bachelor's in chemical engineering; Katherina Boyd finished a bachelor's in political science and sociology (photos by Geoffrey Vendeville)
Boyd said she was deeply shaped by her volunteer work as a mentor in Scarborough-area elementary and high schools through a program funded by the department of student life at U of T Scarborough.
The experience reinforced the need to "be an inspiration" and to be inclusive, according to Boyd.
"If you can see someone doing something you want to do, who looks like you, you immediately put yourself in that situation," she said.
"Taking up space and being a part of the community and the world, as a Black woman, is important."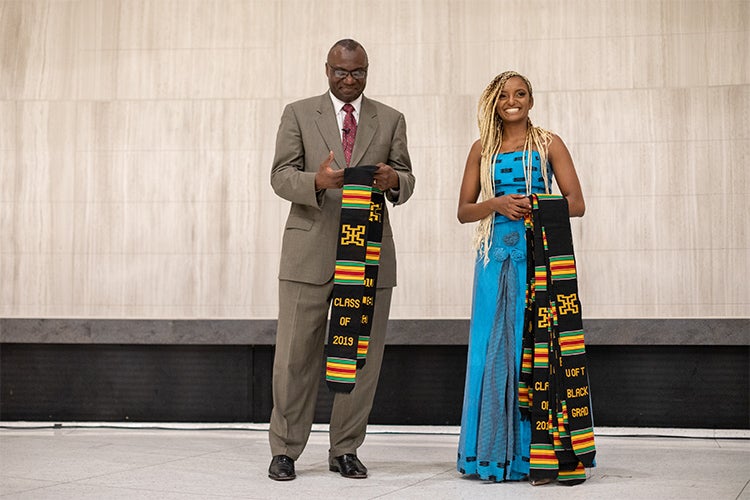 Wisdom Tettey, the vice-president and principal at U of T Scarborough, with Kalkidan Alemayehu (photo by Geoffrey Vendeville)
U of T Scarborough Vice-President and Principal Wisdom Tettey closed out the celebration by discussing the importance of leadership – and the role of inclusion in leadership excellence.
"You have the opportunity to powerfully transform the status quo with the education that you have," Tettey said.
 "It is through inclusive and shared leadership that we are able to recognize and appreciate the value and strength of what different experiences, backgrounds, perspectives and identities bring to the table."
UTC