U of T entrepreneur to put reliable power in the hands of Nigeria's people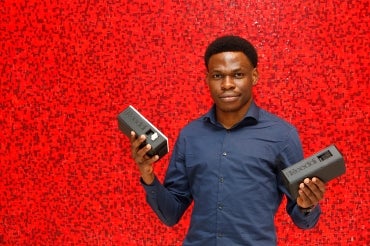 Olugbenga Olubanjo remembers fist-pumping in celebration on Victoria Day when he found out his startup had won an award of US$10,000.
Olubanjo, a master's student in civil engineering at the University of Toronto, and his team at Reeddi (pronounced "ready") aim to bring clean, affordable and portable power to the people of Nigeria, freeing them from an expensive and unpredictable energy grid. 
The Reeddi team includes two other U of T students: Osarieme Osakue, a master's student in civil engineering and the company's director of communications, and Joshua Dzakah, who is completing a bachelor's in mechanical engineering.
Reedi Inc was a runner-up in the Cisco Global Problem Solver Challenge, its third award this year. It also secured a provisional patent. 
The seeds of Reeddi were sown in 2017 while Olubanjo was in Toronto. While speaking to friends or family back home, he was often suddenly disconnected. He found out the interruptions – and the source of his frustration – were caused by all-too-frequent power outages in Nigeria. 
Olubanjo recalls being "at Massey College at night with light everywhere" and couldn't imagine returning home where it was like "going back to darkness." In his native Nigeria, there was sometimes access to just two hours of electricity a day. Olubanjo set out to find a solution to a daily problem faced by many back home. 
Some 600 million Africans, including 70 million Nigerians, live without access to electricity. Alternatives for household lighting, cooking and other needs can be dangerous and expensive. Kerosene lanterns are hazardous when used indoors due to the risk of fires or air poisoning. They also often require travelling long distances to obtain fuel.
Vast amounts are spent on creating electricity from polluting sources, further degrading air quality in Nigeria.
Olubanjo's initial idea was to create a solar "umbrella" capable of charging mobile phones, but after discussion with friends and engineering colleagues he began to envision something on a larger scale.
The current project proposal outlines a large standalone, solar-powered structure that is about half the size of a bus shelter. It has interactive screens at eye-level that control the user experience and provide access to removable Reeddi capsules. Each watertight capsule is about half the size of a 12-pack of soft drinks and comprises a lithium-ion battery with external USB and AC plug.
Customers would pay rent of up to 50 cents (US) per 24 hours for a 250 watt-hour (Wh) capsule. A standard 250Wh capsule is enough to provide a combined seven hours of lighting via two 150 lumen LED bulbs, fully charge three mobile phones and provide four hours of laptop power. Capsules can also be connected and scaled up in a modular fashion. Doubled-up, they would create a 500Wh unit, and so on, for greater power needs such as running appliances.
The capsule can be returned within the rental period or earlier if depleted. As an incentive to return the capsule on time, customers are awarded points to be used towards future exchanges.
"The impact it can bring really drives me and makes me excited," said Olubanjo. The clean and affordable power source would provide households with more stable energy with scalable options. 
As proof of concept, Reeddi created a mock-up prototype of one capsule last December, then created a working prototype of a capsule as a contest entry. The company is on track to run a micro-scaled pilot in Nigeria with five interactive working capsule prototypes this summer.
Reeddi has been internationally recognized for its innovative technology and business model. In February, it won the North American Regional Award for the Best Emerging Startups in Decentralised Energy Track at the IEEE Empower a Billion Lives Challenge held at Georgia Tech. And, in April, Reeddi won $5,000 as the winner of the MIT 2019 Clean Energy Prize, in the national grid track. 
Olubanjo says he's had a lot of help with the project. Ideas, prompts, expertise and questions from friends, colleagues and faculty contributed to its development.  
He also benefited from U of T Engineering's Hatchery NEST program, which provided 3D printing, business questions and opportunities for collaboration. 
Yu-Ling Cheng, a professor in the department of chemical engineering and applied chemistry, acted as an adviser and mentor, as did Bill Nussey, the CEO of Solar Inventions. 
Olubanjo says the project has led to a "lot of sleepless nights." But, he adds, "what kept me going was the possibility of having an impact on millions of lives."
U of T Engineering