Collision from Home: U of T Entrepreneurship's new director Jon French on startups in the age of COVID-19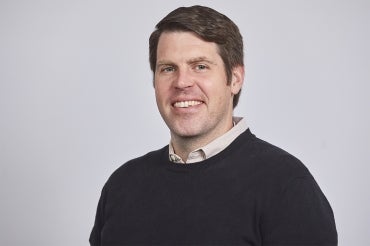 Just over a year ago, Toronto played host to Collision, one of the world's fastest-growing and most influential technology conferences – drawing speakers, entrepreneurs, startups, inventors, investors and business leaders from around the world. 
This year, the event is being held virtually from June 23 to 25 because of the COVID-19 pandemic. But University of Toronto entrepreneurs, researchers and students will still have a major presence, with more than two dozen U of T startups scheduled to participate.
Collision from Home, as its been dubbed, will also be Jon French's first time at the event as director of U of T Entrepreneurship – the umbrella organization for the incubators, accelerators and entrepreneurship programs spread across U of T's three campuses — a role he took over on May 19.
Prior to joining U of T, French spent nine years at Toronto-based startup accelerator and entrepreneurship network NEXT Canada, holding a variety of senior positions including, most recently, senior director of global recruitment, community and alumni.
U of T News writer Rahul Kalvapalle recently spoke with French about U of T's participation in Collision from Home, how startups are adjusting to COVID-19 and his plans to grow and evolve U of T's entrepreneurship ecosystem during the pandemic and beyond.
---
What's was your sense of how U of T's entrepreneurship network is perceived by investors, investors and other business leaders across Canada?
There were more University of Toronto entrepreneurs involved in NEXT Canada programs than any other university in the world, and so both for quantity and quality, U of T has always punched above its weight. The University of Toronto is perceived globally as a top research university, very strong academically, and I think even more of a light could be shone on what a good job U of T grads and faculty do in commercializing research and building companies based on what comes out of the university.
The first big event you have to look forward to is the virtual Collision conference. What do you anticipate will be some of the highlights of this year's event?
First of all, it's unfortunate that we won't have an opportunity this year to showcase the city of Toronto, and Canada, to the world. I know that last year, we were able to connect with thousands of people in person, provide tours of the ONRamp space in the Banting building and give people a real flavour of not only the city, but what the university has to offer.
With Collision held virtually this year, a part of U of T Entrepreneurship's role is to replicate all of this in a virtual environment. This is a massive, virtual coming-together of some of the top business leaders, entrepreneurs, investors, thought leaders and academics from around the world.
There are so many highlights that I'm excited about. For one, we have approximately 300 students and staff from across our three campuses who will get an opportunity to hear from a truly incredible roster of speakers – it's kind of like TED Talks on steroids given the calibre of people who will be speaking, from sports and entertainment to health care and politics.
I think there are going to be really insightful, challenging and difficult conversations around economic recovery post-COVID. Joshua Gans, from the Rotman School of Management, who is also chief economist at the Creative Destruction Lab, is going to be speaking at 4:35 p.m. Wednesday on a panel about small business during a pandemic. We're also going to hear about the workplace of the future. We're going to hear about how we can build a more diverse and inclusive world with regards to technology and startups. You're going to hear a lot about smart cities, health care and AI.
There will be over 25 startups from the University of Toronto that will be doing demos virtually. I'm excited for them to get a chance to interact with potential customers and investors and connect globally with people – even if they might not have travelled to Toronto for the event. There's going to be a pitch competition and I'd love to see a U of T venture win.
My team and a number of others are going to get into the Collision from Home app and have an opportunity to talk to people who want to learn more about investing in U of T startups, mentoring entrepreneurs, commercializing research, creating corporate alignments with the university – it's going to be a neat way for the university to have the spotlight on it from a diverse set of stakeholders.
Which U of T startups at Collision are addressing issues around COVID-19?
MedStack is a company that's involved in AI, in health care and providing infrastructure around privacy compliance and data – and these things are going to be critical in a post-COVID world. Figuring out ways to secure data but allow decisions to be made quicker and in a secure way is a huge opportunity. It's a startup that combines U of T's strengths in the health-care space, technology and AI, and it's a great story from the Health Innovation Hub (H2i).
Another example is out of UTEST and that's BioBox Labs. They're a subscription service for parents to teach their kids about science in all kinds of different ways. At a time when kids are at home, parents are working from home and trying to figure out how to keep them busy, but not necessarily playing Fortnite for hours –  so I love the idea of being able to get them excited about all things science.
You mentioned AI. What's your assessment of U of T's AI-startup scene and where it's headed?
I don't think you could oversell how central the University of Toronto has been in artificial intelligence and deep learning going back to [University Professor Emeritus] Geoffrey Hinton – that story's pretty well-known. Canada now produces the most AI patents per million people in the G7. In the past five years, AI startups at U of T have raised over $183 million in seed funding.
One of the reasons U of T is such a major AI hub is the work that's happened over the years with support from CIFAR and NSERC – but what U of T is able to do is allow talented AI scientists to connect with people who are solving problems in particular fields and create companies out of it. The AI is only as good as the problem it's being applied to and the data that is being used. So, when you have a university that's really well-known for how it deals with health care and biomedical or agriculture or fintech, you can take the algorithms and the machine learning and AI science and apply them to real-world problems.
Our relationship with the Vector Institute for Artificial Intelligence is huge – there's a lot of great work being done by U of T with Vector. U of T is also able to pull in big corporate partners. One example I'm very familiar with is Borealis, RBC's AI research lab. You've got one of Canada's top banks that's on the ground level supporting AI, applying AI research and hiring U of T grads. Foteini Agrafioti, the head and co-founder of Borealis AI who did her master's and PhD at the University of Toronto, is speaking at 10 a.m. on the first day of Collision about the untapped potential of AI, which is a great opportunity.
How is U of T Entrepreneurship supporting startups that are trying to launch a new business during a pandemic?
The first thing we're doing is continuing with communication – I personally reached out to everybody who's a member of the ONRamp space and offered to grab a virtual coffee to connect to hear how they're doing. We won't always have the answers, but just knowing that there's someone there who can listen to what you're dealing with and maybe triage or support you as required is really helpful.
The U of T entrepreneurship ecosystem has continued delivering products, services, support, competition, opportunities and education to the startups through this pandemic.
For example, iCUBE is doing a university-wide pitch competition as part of Pride Month. The UTEST application deadline was a couple of weeks ago, and there was a record number of applications, so there are many entrepreneurs who are hungry for the kind of support that they provide. H2i is offering virtual market-readiness sessions to entrepreneurs. CDL-Recovery has pivoted their model to address businesses that are going to focus on the economic recovery coming out of COVID. The Bridge out of U of T Scarborough has a project connecting students in computer science and management to local restaurants to support them.
So, there's so much going on and I commend the university ecosystem as a whole because they haven't stopped working. If anything, things have gotten busier because we realize we need to do more to support our startups and entrepreneurs when they're dispersed.
What are some of your goals for U of T Entrepreneurship?
I'd like to evolve how we deliver some of the products, services and support. Having all the University of Toronto entrepreneurship programming under the U of T Entrepreneurship umbrella, I think there's a way for us to identify products, services and in-kind resources – that could be cloud computing, cloud credits, banking services or payment processing – and have anyone at the university who's building a company and wants to tap into those perks to have access to them if they want.
Another thing I'm working on, and that I am excited about, relates to intellectual property. U of T Entrepreneurship is working on an IP training course that will be delivered through Quercus and available for any student, researcher and faculty member at the University of Toronto. That's a really exciting opportunity that allows anyone who recognizes the need to protect their IP to complete this training course. The goal is to launch this in the fall.
What's your message to U of T students who are interested in entrepreneurship?
The first thing I would say is that there's no right or wrong way, or a single path to plug into the U of T Entrepreneurship ecosystem. Regardless of what you're studying or want to build, whether you have an idea or a physical product, there are so many ways for you to engage.
There are over 300 entrepreneurship-related courses at the university. Whether you're someone in first year who has an idea and wants to figure out how to turn it into a business, or you're a PhD student who has been working in the lab for a number of years and wants to launch something, or you've already got a product in the market and you're trying to raise funding for it, there are programs, services and resources available to you.
There really is no better time than now, when you're a student, to start a company. That's because, in many cases, you don't have some of the responsibilities that you might have later on in life – whether that's a mortgage or family. The opportunity cost is often lower when you're a student and it's less expensive – regardless of which sector or industry you're building a company in – to prototype, test or try an idea than it was 20 years ago.
The skills of being an entrepreneur – looking for opportunity, making decisions in an environment of uncertainty – are all very relevant in a time of COVID. But even if you don't start a company, the toolbox you're filling with entrepreneurial skills will help you no matter what your career path is.
Take the step and get involved. Through the U of T Entrepreneurship website and newsletter, you can connect with my team and identify opportunities. Our primary goal is to make it easy for you to explore those entrepreneurial dreams that you have. So don't hesitate – reach out to us. We'd love to support you.
UTC