Creative Destruction Lab launches program to accelerate innovations that address COVID-19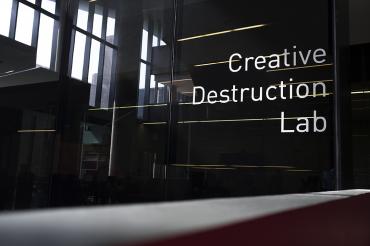 The Creative Destruction Lab (CDL) has launched a new program called CDL Recovery, which aims to rapidly transform scientific innovations into products and services that address public health and economic challenges caused by the COVID-19 pandemic.
The seed-stage accelerator, which is based at the University of Toronto's Rotman School of Management and boasts a global network of scientists, inventors, economists and mentors, opened applications for the program on Monday, with startups, corporations, inventors, non-profit organizations and informal collaborations all eligible to apply.
"Novel crises require novel responses," said Ajay Agrawal, CDL's founder and a professor at the Rotman School of Management, in a press release. "Novel responses require innovation, often predicated on insights from science."
Agrawal said the program was inspired by calls from scientists, policy-makers and industry leaders to assume a "wartime footing" in response to the global pandemic.
"Thus, our launch of CDL Recovery – a new program designed to rapidly transform technological innovations into useful products and services in the areas of public health (e.g., diagnostic tests, vaccines, remote treatments, telemedicine) and economic recovery (e.g. virtual work, re-training, remote operation, automation, food supply) in response to the global crisis."
Successful applicants will be invited to a series of objective-setting sessions between April and August. They will then embark on a virtually delivered program that will utilize CDL's objectives-based mentorship model. CDL Recovery will follow CDL's typical program structure, but will take place in half the time due to the pressing nature of the challenges presented by the pandemic.
The CDL Recovery program will be delivered in partnership with Scale AI, a Canadian investment and innovation hub that funds industry projects and collaborations related to the application of artificial intelligence (AI) to supply chains. There are no fees for participation in the program and CDL said it doesn't take equity in any ventures that take part in CDL Recovery.
UTC