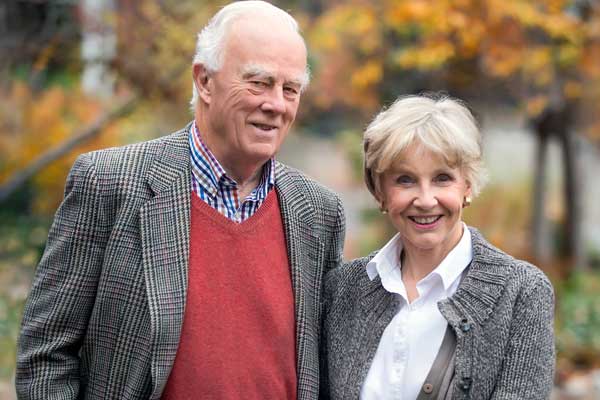 Civic leader Judy Matthews on the three things Toronto needs
"A little more green space, a little more open public space we can all share, and a better transit system"
Judy Matthews has spent most of her adult life making things better for other people. 
A retired urban planner and philanthropist, Matthews has been involved with many public sector planning projects, including the revitalization of St. George St., U of T's open space master plan, the Kings College Road project, the Harbourfront pedestrian piazza and waterfront promenade and the Parks and Trees Foundation.
She and her husband Wil recently donated $25 million for a project that would transform an unused 1.75 kilometre section of ground space under the Gardiner Expressway into a people place where they can walk, cycle or meet friends.
"I've always been involved in the community," she said in an interview at Hart House. After having four kids, she obtained her B.A. in 1978 from Trinity College and an MA in urban planning at York University.
"I feel strongly that we have a personal responsibility as citizens to help others; if there is a need in the city we can help meet, either through financial support or work on policy, you should fulfill that need. It is the true meaning of being a citizen."
In 1975, Canada started accepting people fleeing the war in Vietnam. By 1980 more than 55,000 "boat people" had arrived in this country. Matthews remembers it well.
"I helped organize the community here," she said. "We got two or three wonderful families."
Canada is now accepting 25,000 Syrian refugees and "It's great to see everyone pulling together" to help them, she said. 
"It illustrates what it means to be a citizen for all of us, trying to make a better life for other people. You can imagine what their lives have been like. If you can help them integrate into the community, then that's good."
Matthews' vision of a community also entails better use of our public space − hence the $25 million gift for the under the Gardiner project and the $1 million gift she gave to U of T toward the redesign of St. George St.
(Below: the Gardiner expressway before the transformation/ courtesy Harry Choi Photography)
When she was told that a U of T researcher recently pointed out that young parents today are teaching their kids to ride bicycles in indoor parking lots in condominiums, she said "it shows how we have changed the way we live, why taking advantage of public space is so important."
Such spaces "offer breathing space, a sort of respite from our frantic, high-paced, day-to-day living" where families are residing in "these very tight, dense, often vertical communities, way up in the air," Matthews said. 
"To come down and be grounded is very important."
(Below: artist's rendering of the project courtesy Public Work)
Former Toronto city manager Joe Pennachetti, who is joining U of T as an urban adviser, said recently that Toronto is number one in the world when it comes to planting trees. 
"I am not an expert on trees, other than that they provide us with purifying air and all the health benefits, or are simply a thing of beauty," Matthews said, but she pointed out that trees planted on St. George "after replanting two or three times, are really starting to take hold." 
She is disappointed that the original plan to plant hundreds of thousands of brown-eyed susans on the downtown campus wasn't accepted, nor was the "traffic calming through landscaping." But she said the lessons she learned from the St. George project are helping her with the Gardiner project. 
"We are appointing an advisory committee to monitor the project and make sure the quality and standards are met."
Asked what her ideal, livable city would look like, Matthews said "I think Toronto is pretty ideal. We could use a little more green space, a little more open public space we can all share, and a better transit system."
The public's response to the Gardiner project "shows that there is a hunger for this, there is a need. People are thrilled" at the prospect of enjoying public space in the crowded city.
(Below: image of proposed Gardiner project courtesy of Public Work)