Celebrating Indigenous students and International Women's Day: Check out these March events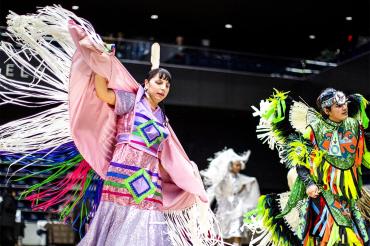 With spring approaching, there are a plethora of events taking place at the University of Toronto in March. International Women's Day falls on March 8 and will feature a gala, performances from a Syrian women's choir and more. The fourth annual Honouring Our Students Pow Wow is also taking place this month.
Here are some of the many events taking place this month:
---
March 1
Experience all thing Japan at the U of T Japan Association's Winter Festival, taking place at Hart House. Raffles, performances, food and more will be on hand. Tickets are $8.
March 3
U of T President Meric Gertler, a renowned urban theorist, will be discussing his vision of city-building and the challenges that the Toronto region faces at University of Toronto Schools. He'll be interviewed by Marina Jimenez, U of T's global media strategist.
Learn about Italian-Canadian cuisine through this food talk taking place at U of T Mississauga's Noel Ryan Auditorium. Teresa Lobalsamo, an associate professor of language studies, will explore the links between food, immigration, identity and cultural meaning in the Italian community.
March 4
Writer and concert pianist James Rhodes will be speaking at the Isabel Bader Theatre. He'll be talking about his latest memoir, Instrumental, which details how music has helped him through mental health struggles and childhood trauma.
Comedian and U of T alumnus Adam Growe, best known for hosting Cash Cab on Discovery Channel, will be delivering a talk at the George Ignatieff Theatre.
With the decline of print media and the rise of new technologies, what's happening to journalism in the modern era? CityNews reporter Cynthia Mulligan will be moderating a discussion on this topic at U of T Mississauga featuring National Post reporter Tom Blackwell, Toronto Star reporter Wendy Gillis and Globe and Mail assistant managing editor for news Christine Brousseau.
See the story of Sarnia, Ont. and the Aamjiwnaang First Nation through the Broadleaf Theatre's Chemical Valley Project. This documentary-theatre project is hosted by U of T's School of the Environment and is taking place at the Robert Gill Theatre.
It's Games Night at the U of T Scarborough Library Makerspace. You can choose from a selection of board games or bring your own.
March 5
As part of their coursework, students at the Centre for Drama, Theatre & Performance Studies are putting on a performance of The Winter's Tale. Catch this Shakespearian classic from March 7 to 14. General admission is $20 while students can snag tickets for $10.
March 7
Ahead of International Women's Day, the Women's and Trans Centre at U of T Scarborough is holding its annual conference. Tickets to Metamorphosis are $10.
March 8
Celebrate International Women's Day at U of T. The International Women's Day Gala is taking place at Hart House. There will be speakers, performances and a dinner. Tickets are $25.
Toronto's Haneen Choir, a Syrian women's collective, will be performing at Hart House in celebration of International Women's Day. The choir aims to promote Syrian heritage and support newcomer women.
As a part of U of T Mississauga's Sustainability Week, the second annual Trashion Show is taking place at Kaneff Rotunda. Fashion designers and artists will be showcasing their sustainability-themed outfits made from re-used and recyclable materials.
March 11
This year marks the 99th anniversary of Skule Nite, the annual musical and sketch comedy show organized by U of T Engineering students. You won't want to miss Skule Nite 2T0, which runs until March 14 at Hart House Theatre. Tickets are $17 for students and $22 for everyone else.
Explore mental health at the annual Mindfest mental health fair spearheaded by U of T's department of psychiatry. The event, held at Hart House, is free and includes expert speakers, peer mentors, wellness workshops and more.
March 13
The Physics Student Union is celebrating Pi Day one day early this year. Free pie will be served at the McLennan Physical Laboratories. In addition, physics professor A.W. Peet will be delivering a lecture on general relativity.
The Afghan Students Association at U of T Mississauga is holding a Nowruz Gala at the Blind Duck. There will be performances, food, dancing and more to celebrate Afghan/Persian New Year.
March 14
Architecture and planning students from U of T and Ryerson are organizing City Building Expo 2020 at the John H. Daniels Faculty of Architecture, Landscape, and Design. Panelists will include experts and professionals in urban planning, engineering, architecture and more.
The seventh annual China Law Conference is taking place at the Faculty of Law. Hear about the intersections between Chinese law and current events from scholars and legal practitioners.
March 15
Join the Hart House Art Committee for ArtWORK, a one-day networking event for the U of T arts community and leading arts professionals.
March 18
It's the last Winter Market of the year at U of T Scarborough. Local vendors will be gathering at the Meeting Place in the S-Wing selling fresh food and artisanal crafts.
March 19
Nobel Prize-winning chemist and U of T University Professor John Polanyi will be at Hart House to discuss the risks and potential of artificial intelligence and autonomous technologies. He'll be joined by Jason Millar, an assistant professor of engineering at the University of Ottawa.
March 21
Join the Indigenous Studies Students' Union for the fourth annual Honouring Our Students Pow Wow, which is being held at the Goldring Centre for High Performance Sport. All are welcome for this celebration of Indigenous communities.
March 25
Come to the Scarborough Campus Students' Union's Supper Social for a jam-packed evening of fun activities. There will be food, karaoke, T-shirt screen printing and quiet space to de-stress. It's taking place at Rex's Den at U of T Scarborough.
March 26
The last Hart House Music Committee Open Mic of the school year is on. If you have a knack for music, poetry, comedy or anything else, now is the time to show off your talents. The show takes place in the Hart House Music Room.
March 26
The Hart House Camera Club is holding an opening reception for its photography exhibition. Awards will be presented for the best photographs from the U of T and Hart House community.
March 27
This year marks the 35th anniversary of the City of Toronto Women and Gender Studies Institute Scholarship. To celebrate, there will be an anniversary party in New College's Wilson Hall, where this year's awardees will be honoured, the creators of the scholarship will be recognized and new scholarships will be announced. 
The U of T Festival of Dance is taking place at Hart House. The event will feature over 200 dancers performing a wide variety of styles of dance, from ballet to hip hop and everything in between. Tickets are $12 for general admission and $10 for students and seniors.
UTC