More than 200 students who contributed to their community through extracurricular activities received Gordon Cressy Student Leadership Awards at Convocation Hall (photo by Gustavo Toledo Photography)
Peer mentor, president of Muslim Students' Association and others honoured for contributions on and off campus
One undergraduate student mentored some of her peers, who were the first in their family to go to university. Another student helped combat Islamophobia. 
And another student founded a not-for-profit organization working to replace kerosene with solar lights in developing countries.
They were among more than 200 University of Toronto students who received Gordon Cressy Student Leadership Awards earlier this month for their outstanding leadership.
U of T President Meric Gertler and Cressy, a former city councillor and former vice-president of development and university relations, presented the awards to students at Convocation Hall.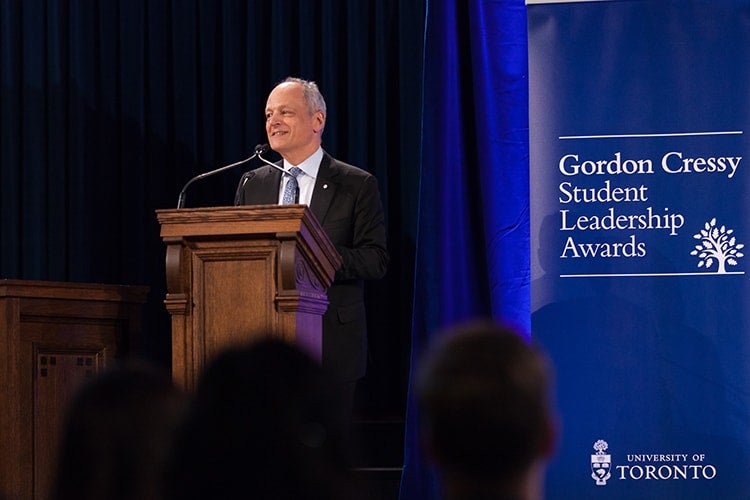 U of T President Meric Gertler addresses students at a ceremony for the Gordon Cressy award winners (photo by Gustavo Toledo Photography)
The award winners represented a wide array of disciplines, from undergraduate to grad students.
Dalia Hashim, a master of public policy student and president of the Muslim Student Association, was recognized for her efforts to fight Islamophobia. She organized more than 50 events this year and raised more than $80,000 for charity. After the Quebec City mosque shooting in January, Hashim helped organize a vigil to remember the six victims and offer support to the Muslim community.
"Our hope is that this was the beginning of a conversation and served as a healing space for those who were [at the vigil]," she said.
Receiving the award meant a lot to her, she added – as did the fact that she was nominated by Richard Chambers, director of U of T's Multi-Faith Centre.
Zoha Anjum, in physiology and health and disease, was a life sciences mentor with U of T's first-in-the-family peer mentor program, helping students who are the first in their family to pursue higher education. Anjum has said that she was the first in her own family to attend university, and signed up for the program when she came to U of T.
"My mentor played a significant part in my life, perspective, and university experience, which was what motivated me to join mentorship programs and help other first-generation students," she said. "My time as a mentor has made me realize the value of developing relationships that go beyond just sharing class notes." 
Another Cressy Award winner, Kourosh Houshmand, founded Solar for Life, a non-profit aiming to provide clean and affordable energy to developing communities. The organization's partners in South Africa make solar lights to supply off-the-grid areas with an alternative to kerosene.

Gordon Cressy (left) with Kourosh Houshmand (photo by Gustavo Toledo Photography)
Houshmand was previously named one of Canada's Top 20 Under 20 for establishing the Toronto Star Student Hub (now called Learning Curve), a community of aspiring student journalists, and Education Rediscovered, a student organization devoted to global education reform.
"At U of T I've learned to independently explore my curiosities," he said later. 
"I genuinely believe that student leaders are not created out of bullet points on a CV," he added, "but out of a distinct ability to maintain a sense of composure.
"It's very easy to show leadership when all the conditions are right – what's more difficult is being a leader even when everything's going wrong."