Hundreds gather for vigil at University of Toronto in memory of those killed at Quebec City mosque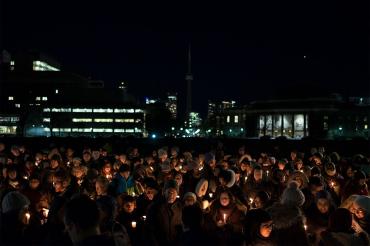 Hundreds gathered at U of T's downtown Toronto campus tonight to remember the six people murdered at a Quebec City mosque on Sunday.
Students, faculty, politicians and leaders of different faiths called for peace and inclusion.
"Without love, without hope, without support, we have nothing but walls," Dalia Hashim, the president of U of T's Muslim Student Association, told the crowd.
"And that's not the future we want for the Canada we live in."  
Vigils had been planned at both Ryerson University and U of T but organizers combined their events. Students and faculty from both institutions were joined by Toronto Mayor John Tory, federal Finance Minister Bill Morneau, Iqra Khalid, MP for Mississauga - Erin Mills, Omar Alghabra, MP for Mississauga Centre, and members of the community. 
Speaking at the foot of University College, Sandy Welsh, U of T's vice-provost, students, read a statement by U of T president Meric Gertler on his behalf:
"The University of Toronto community has reacted with shock and sorrow at news of the appalling shooting at a mosque in Québec City. Our heartfelt condolences go out to the families and friends of those killed or injured. On behalf of the entire University of Toronto community, let me also offer our support to the Muslim communities in Québec, across Canada, and here at home in Toronto.
"Our flags will fly at half-mast for a two-day mourning period beginning tomorrow to coincide with the vigils being planned across the University.
"As I have said before, outstanding scholarship, teaching, and learning can thrive only in an environment that embraces the broadest range of people and encourages the free expression of their perspectives. As we condemn the tragic and reprehensible attack in Québec City and mourn its victims, let us recommit to promoting inclusion, respect, and civility in our University community and beyond."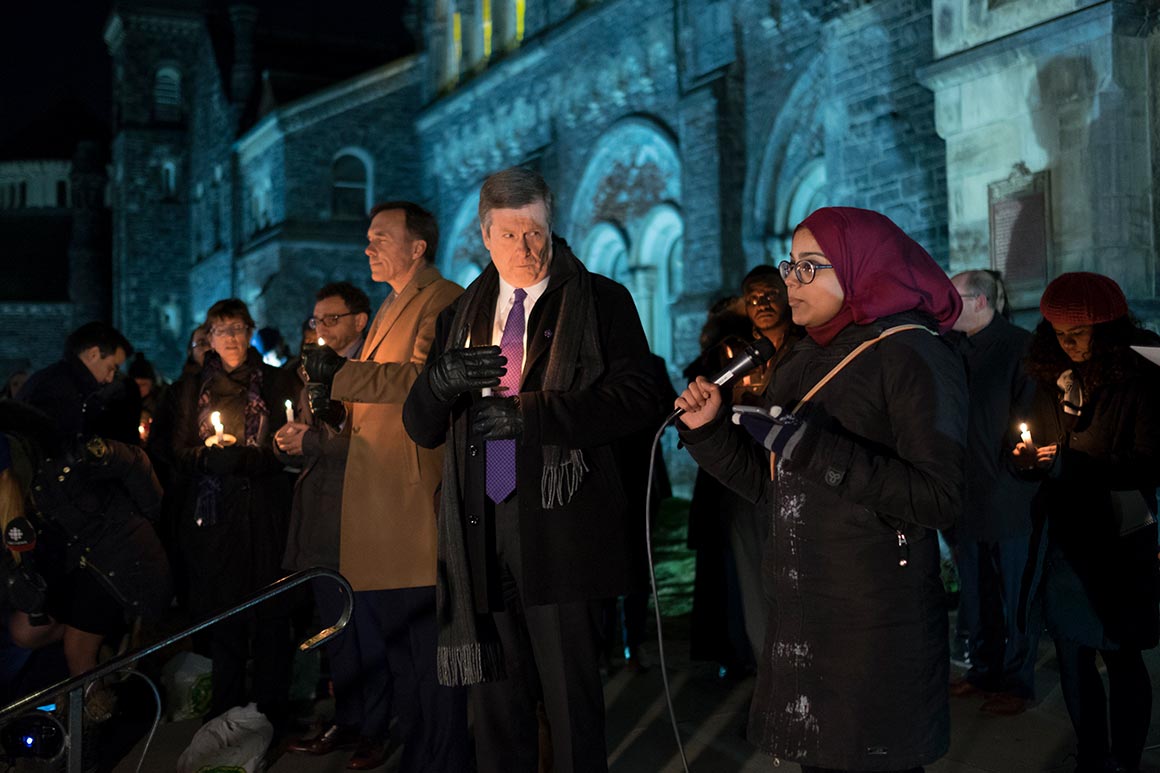 Mayor Tory used the opportunity to reassure Muslims that they are welcome and safe in Canada.
"We in this country and this city - the most diverse city in the world – don't accept for a minute – won't accept, don't accept – the notion that we divide people, that we in any way marginalize people on the basis of where they came from, or who they are, or the language they speak, or their faith," he said.
U of T students of all backgrounds came to the vigil to show solidarity with victims and condemn Islamophobia.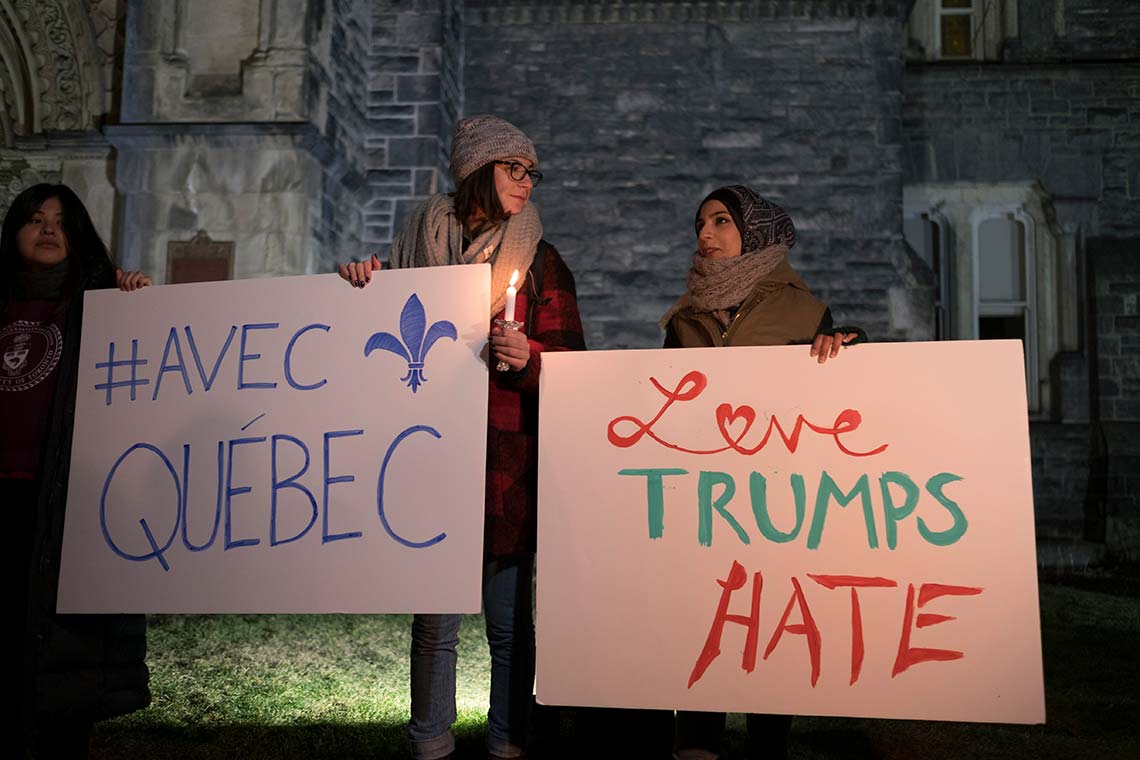 "This stands for a larger message: we're going to unite and condemn such acts of violence, "said Nida Islam, a third-year Peace, Conflict and Justice student.
She and a friend held candle sticks surrounded by cardboard on which were written "unity" and "peace" in marker.
Claire Woodside said she was devastated by the news of the attack on the Centre Culturel Islamique de Quebec.
"We want to show support for the families (of the victims) because it's horrific what they went through," said the fourth-year commerce student.
Hashim told the crowd that the Multi-Faith Centre would be holding a healing circle on Tuesday at 3 p.m. A Muslim chaplain is also available for counselling, she said.