Venkat Venkataramanan, the director of scientific operations at U of T's Impact Centre, adjusts a light demo in his lab (photo by Chris Sorensen)
Most associate insomnia with the dark. But Amol Rao says we should pay more attention to our lights.
The U of T student, who will soon be graduating with a master's degree in industrial engineering, cites a growing body of research that shows nighttime exposure to blue wavelength light – the type that illuminates our smartphones, tablets and laptops – messes with the body's internal clock, tricking it into believing it's the middle of the day. 
"Light is like coffee," explains Rao. "If you had a cup at 10 p.m., most people would expect it to have an effect on their sleep." 
The solution for those unwilling to unplug? Rao says lighting manufacturers will eventually shift the wavelengths of smart bulbs depending on the time of day. In the meantime, he suggests donning a pair of orange-tinted, blue-blocking sunglasses before bed – like the ones sold by Somnitude, a startup firm he founded with partner Daniel Giavedoni.
Somnitude will have its products on display this week at a U of T Mississauga conference held by U of T's Smart Sustainable Lighting Network (SSLN), the country's largest and most active cluster of lighting-focused researchers and industry participants. The group, part of the university's Impact Centre business accelerator, works with lighting manufacturers and other partners to promote the development and adoption of sustainable lighting technologies in Canada.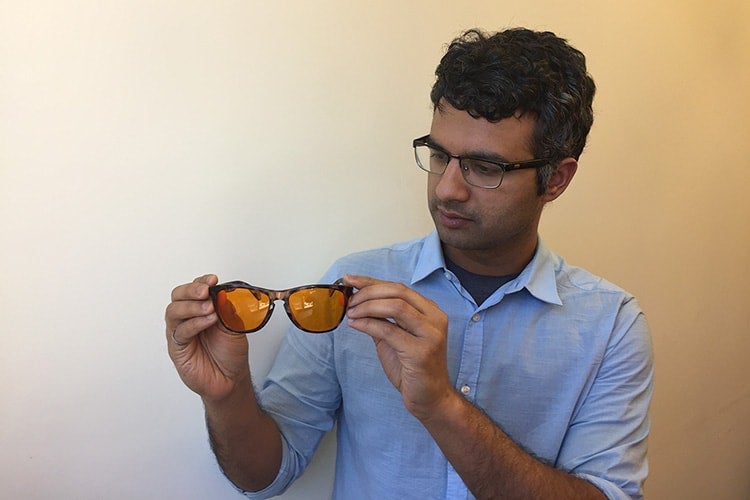 Amol Rao shows off Somnitude's blue-blocking glasses at U of T's Impact Centre accelerator (photo by Chris Sorensen)
The focus of this year's Beyond Lighting event, which runs from May 2-4, is to use LEDs to accomplish more than mere illumination.
Venkat Venkataramanan, who founded SSLN and is Impact Centre's director of scientific operations, says the shift reflects the fact that mass market adoption of sustainable, energy efficient LED lights is now well underway, leaving researchers and industry with time to explore novel applications. 
The relationship between light and health – Somnitude's focus of interest – looks particularly promising.
Boeing, for example, already uses shifting colours of LED light in its 787 aircraft cabins to try and blunt the effects of jet lag. Referring to the blinding fluorescent lights that now hang over many people's heads, Venkataramanan likens the current era of lighting to eating fast-food. We're now moving toward a more gourmet experience, he says.
The conference's keynote address is being delivered by University of Montreal Professor Marie Dumont, who has spent the past 25 years studying the effects of different types of light on biological rhythms, sleep disorders and cognitive function. Other presenters will talk about how LED lights can be used as tools to boost the yield of greenhouses or even act as routers to connect smart devices in people homes. 
Some technologies are already making their way to the marketplace.
Conner Tidd is co-founder of another U of T startup Just Vertical. The firm is adapting the LED-lit vertical growing technology of a partner company, called ZipGrow, so people can grow fresh fruits and vegetables in their houses and condos.
"We've grown over 30 different kinds of plants so far," Tidd says, listing everything from kale to strawberries. The company is offering to rent equipment and seedlings to budding urban gardeners in Greater Toronto for as little as $100 a month.
Just Vertical's focus on rentals hints at another shift happening in the lighting industry: the business model. Where once lighting manufacturers could count on bulbs burning out and needing to be replaced, the long, multi-decade lifespan of many LED fixtures means many manufacturers need to develop new revenue streams to, in effect, keep the lights on. 
"Lighting will be a service," predicts Venkataramanan, who founded his own lighting startup several years ago to help manufacturers test and measure their LEDs. "It will be an enabler for other things."