Indoor farming takes root at U of T Mississauga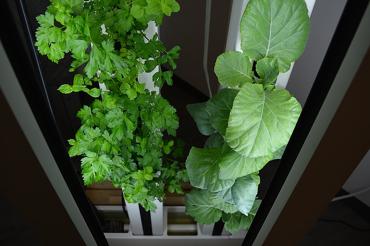 At University of Toronto Mississauga, a plastic tower sprouts produce including curly starbor kale, buttercrunch and collard greens.
Rising almost six feet off the ground and illuminated by high output fluorescent bulbs, the indoor farm wall grows plants hydroponically – with nutrient solution, instead of soil. The water nourishes the roots, collects in a gutter and then recirculates back to a nutrient tank that feeds back into the hydroponic system.
The farm wall was the idea of Master of Science in Sustainability Management (MScSM) students Conner Tidd and Kevin Jakiela who partnered with Modular Farms Co., which specializes in vertical farming systems, to create distribution channels and services.
"You can grow pretty much anything," Jakiela says. "Here, we've already grown three different types of lettuce, Genovese basil, joi choi, peppermint and parsley."
From seed to harvest, it takes about four weeks to grow leafy greens and herbs.
"If you stagger it correctly, you can harvest it almost every day," Tidd adds.
The wall costs just under $25 a month in electricity.
The seedlings, nestled in plugs made of peat moss, begin in a tray and are placed under a humidity dome where they germinate and are fed different levels of nutrients and pH. After a couple of weeks, they're ready to be transplanted into the tower.
Wicking strips help water find the path of least resistance by controlling the water flow and taking the water directly to the seedling roots.
"It's a white cloth that you open up, put the plug in, then you close it like a sandwich, and put it into the tower," Jakiela says.
Although the produce the farm wall yields is not organic-certified yet, the students' startup company, Just Vertical, uses organic-based practices, foregoing herbicides and pesticides.
"When you're outside, you're exposed to pests and fungi," Tidd says. "Unless you're using herbicides and pesticides, it's going to be a problem especially when you're growing strawberries and tomatoes."
"With Just Vertical, Kevin and Conner have a great product in place, and manufacturing is lined up so now the initial focus will be on market validation," says Sam Dumcum, the programs, strategic relationships and innovation lead at ICUBE, U of T Mississauga's incubator that provides startup support to new ventures at any stage.
Dumcum says that by focusing on market research during the next phase of their startup, Just Vertical will be able to have a solid base with which to advertise and sell their product but also to appeal to investors.
UTM