'Breaking down barriers': U of T opens Blue Door to external partnership opportunities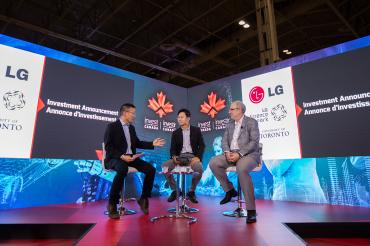 Partnering with University of Toronto has emerged as a key strategy for many companies, non-profits and government to achieve their most important goals – from furthering research and developing new products and services, to figuring out solutions to specific problems.
And many of U of T's 600-plus partners access world-class talent and expertise via the university's new Blue Door portal.
A point of entry for organizations who want to work with the university, Blue Door is an online portal that helps potential – and existing – partners identify opportunities across the three campuses and connects them with the right people and departments.
"We often hear from prospective partners: 'How do I partner with U of T? How do I find the right person to work with there?' So, we wanted to ensure there weren't barriers to us growing great new partnerships," says Alex Mihailidis, associate vice-president of international partnerships and a professor in the department of occupational science and occupational therapy in the Temerty Faculty of Medicine.
Mihailidis, along with Illan Kramer, director of international research partnerships, developed the Blue Door initiative over the past two years – with significant input from U of T divisions – and officially launched it last February.
They recently spoke to U of T News about how the initiative helps streamline the partnership process and ensure both existing and emerging partnerships can evolve and grow.
---
What is the Blue Door?
Mihailidis: Simply put, it is a portal into the university. Within four clicks, a new partner or existing partner can be connected to the right person at U of T who will help them make further connections within the university to achieve their business goals. At a higher level, it's a new philosophy in the way that we do corporate partnerships here at the university – a more collaborative approach across all the different divisions, campuses disciplines and departments.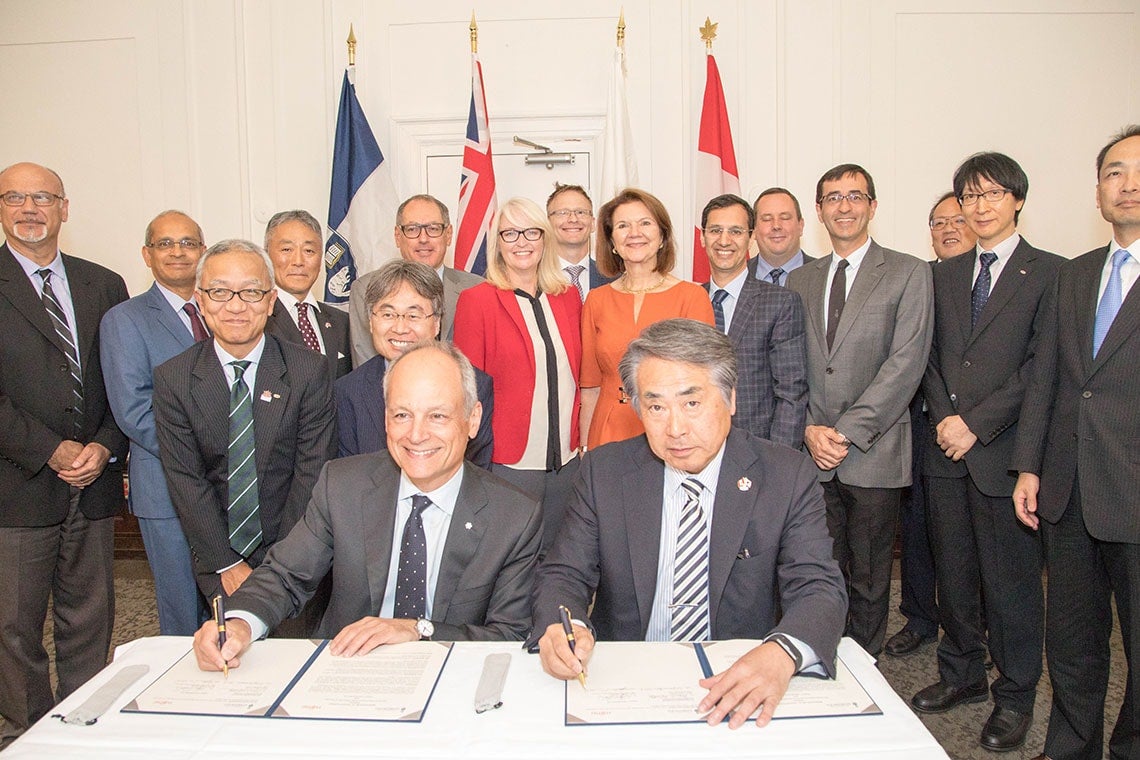 U of T President Meric Gertler (front left) and Shigeru Sasaki, CEO of Fujitsu Laboratories Ltd., sign a memorandum of understanding in 2017 (photo by Lisa Lightbourn)
Why was it important for Blue Door to include an online portal for partners?
Mihailidis: One of the things you always hear from partners is that "the university is so big – it's so complex." We're kind of like a federated model – multiple divisions with multiple goals – but we are one university at the end of the day, even across three campuses.
We started talking early on about, "Well, what if we can provide a concierge-style model?' Through these four clicks online, you're connected with someone, and that one person becomes your contact at the university. In that way, we're ensuring that U of T is not seen as this big place that's complicated to navigate, but straightforward and easy to work with.
Why do so many organizations want to partner with U of T?
Kramer: When you look at U of T's size and our quality, we're pretty much peerless globally. And one of the consequences of being such a big, world-class institution is that you have disparate communities of expertise that can talk to one another in interesting and creative ways. It's why sometimes you'll see an automotive company come to us and you think, "Oh, they're going to want to talk to a mechanical engineer or an electrical engineer." But it turns out that the people whose work resonates with their needs might be child psychologists or kinesiology experts. The big research and development challenges that these companies are looking to us to help solve are interdisciplinary. And at U of T, we have that kind of interdisciplinarity baked into our size and quality.
Mihailidis: These companies realize that partnering with University of Toronto just adds strength from a variety of levels – whether it's research, accessing our talent or other areas to help their objectives. All that provides them with a competitive advantage at the end of the day.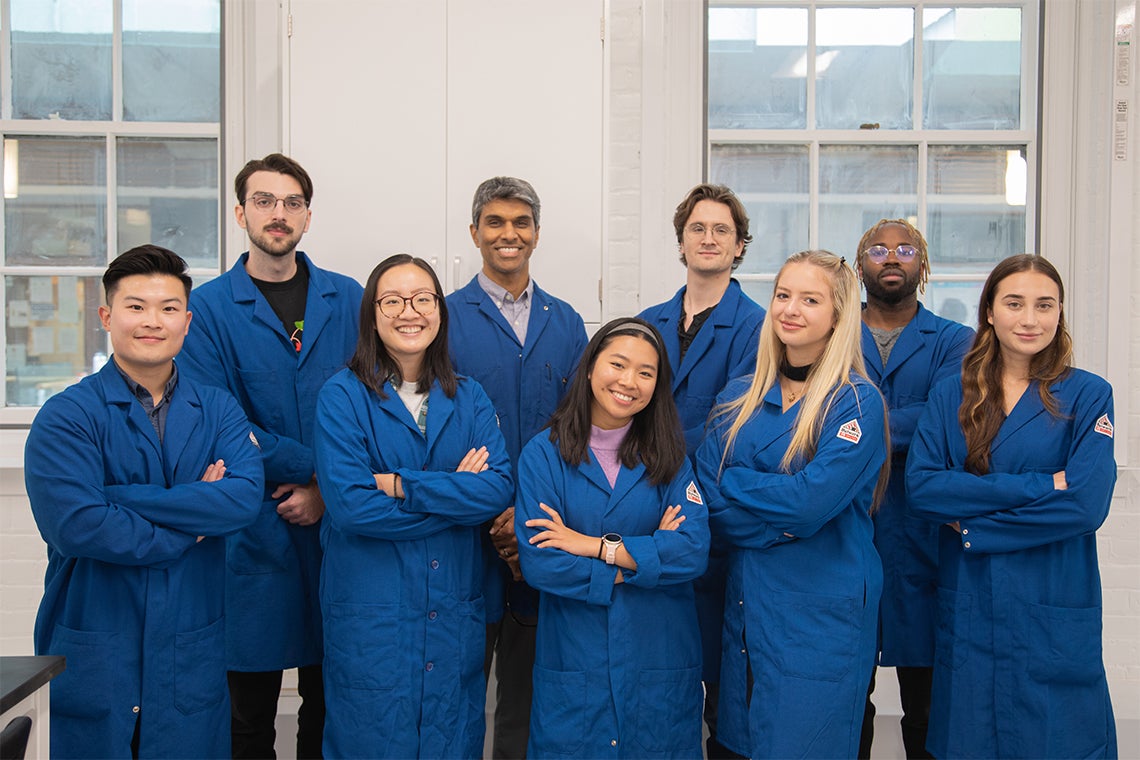 In partnership with Moderna, Assistant Professor Omar F. Khan (back row, second from left) and his lab team focus on diseases that are currently incurable and untreatable (photo by Safa Jinje)
What are some examples of successful U of T partnerships?
Kramer: One longstanding partnership is with [Japanese electronics company] Fujitsu. They established a Toronto R&D hub in the Myhal Centre for Engineering Innovation & Entrepreneurship where grad students and Fujitsu researchers work elbow-to-elbow on new inventions and innovations. Since then, we've been expanding that collaboration to multidisciplinary applications by applying their microelectronics expertise to other fields like traffic engineering, financial modelling, surgical scheduling and beyond – touching on expertise that exists across the entire university.
Another impactful partnership is with [South Korean conglomerate] LG Electronics. One of the coolest things about this partnership is that it doesn't start and stop at collaborative research – it also includes elements of professional development. We've developed what we call an "inverted internship," where LG scientists embed themselves with U of T research teams for four months to upskill their own AI abilities.
More recently, we launched a really exciting partnership with [American pharmaceutical and biotechnology company] Moderna, a company that a lot of people became familiar with in the last couple of years. Moderna recognized a huge level of expertise, especially in mRNA and regenerative medicine research, at U of T and wanted to do something comprehensive that would help them expand beyond the COVID-19 vaccine to a host of other potential applications. They've since launched a project with Omar Khan, an assistant professor of biomedical engineering, and have had several early successes already. So that's a partnership where we really see the opportunity to be on the leading edge of something that has the potential to impact millions – maybe even billions – of people around the world.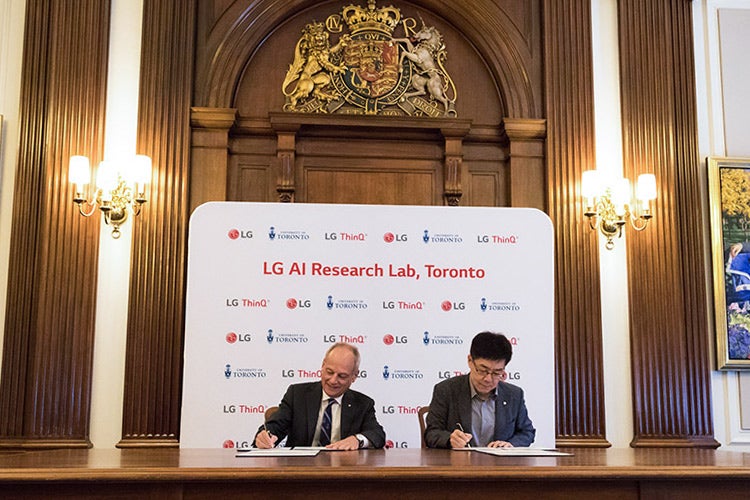 U of T President Meric Gertler (left) and I.P. Park, the president and CTO of LG Electronics, sign a five-year collaborative AI research agreement in 2018 (photo by Geoffrey Vendeville)
What is the value of these partnerships to U of T?
Mihailidis: They obviously bring funding to the university to support the work that is happening here. But it also brings our faculty, researchers and students together with cutting-edge, world-leading companies to help them accelerate the development of their research and move their findings into the real world, where they can have maximum impact.
Of course, there are always questions around protection of intellectual property and appropriate handling of confidentiality. These considerations are handled in an up-front and transparent way through contractual agreements, each of which takes into account our partner's motivations as well as the motivations and expectations of the professors who may get involved in the partnership. That way, professors and their research teams can still benefit from groundbreaking innovations, while our partners can improve upon their own products and services. Ultimately, these partnerships give us access to other experts around the world and help grow the reputation of the University of Toronto and our community.
Kramer: There's no shortage of ambition among U of T's research community. Our researchers are world-class – they do work that is excellent and excellence doesn't come for free. If we want to do big things, we need to have world-class facilities; we have to attract the best professors, postdocs and graduate students – in general, we need to be able to outfit our labs with the right equipment and expertise in order to do that research.
Bringing industry on board helps ensure U of T remains a cutting-edge institution. I've seen professors' labs transform with a key industry partner where they went from, "Hey, this is kind of neat work that our academic peers are paying attention to," to "Oh my God, I'm literally impacting millions of people now." That's incredibly exciting.
UTC