U of T partners with Moderna to advance research in RNA science and technology
The University of Toronto and Moderna, Inc. – known for its mRNA-based COVID-19 vaccine – plan to work together to develop new tools to prevent and treat infectious diseases.
Guided by a partnership framework agreement, the U.S. biotechnology firm will collaborate with U of T researchers who are working across a wide range of fields, including molecular genetics, biomedical engineering, biochemistry and beyond.
The research partnership – Moderna's first with a Canadian university – was announced Monday during a visit by company executives to U of T's St. George campus.
Leah Cowen, U of T's vice-president, research and innovation, and strategic initiatives, said U of T is excited to work alongside Moderna to protect society from current and future health threats.
"Today we are delighted to announce that Moderna is partnering with U of T, and is keen to do so because Moderna recognizes that there is nowhere else in the world where you can find expertise at scale like you can at U of T," Cowen said during an executive meeting of Moderna and U of T leaders at Simcoe Hall.
"It's not every day that an opportunity presents to combine a world class life-sciences research community and a disruptive biological innovator. We are proud to say that today is one such day."
Cowen touted the diversity found at U of T – which reflects that of Toronto, the province and Canada as a whole – as a key strength of our research ecosystem.
"It is this diversity, across our country and across our three campuses, that can propel creative companies like Moderna to flourish," Cowen said. "We are delighted to have Moderna immersing itself in this burgeoning ecosystem in the coming weeks, months and years."
Founded in 2010, Moderna is pioneering a new category of medicines made from messenger RNA, or mRNA, which is used by cells to provide instructions to make the proteins that drive human health and treat and prevent disease. Its first commercial product was its COVID-19 vaccine.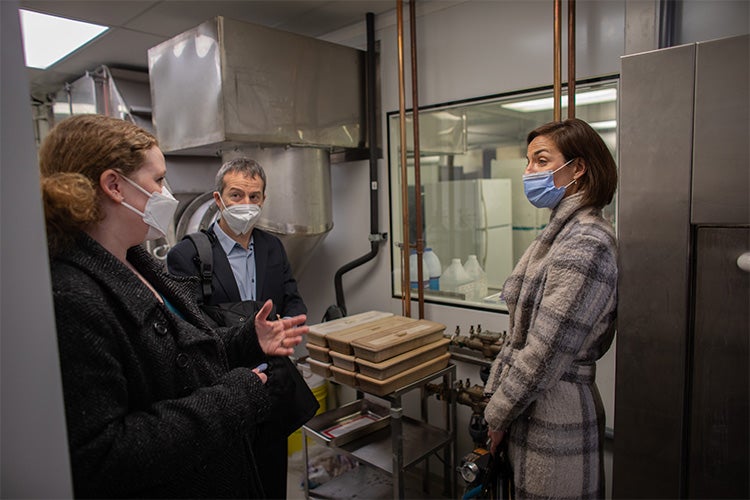 Natasha Christie-Holmes, director of strategy and operations at U of T's Emerging and Pandemic Infections Consortium, speaks with Moderna's Andrea Carfi and Patricia Gauthier at the C-CL3 facility (photo by Johnny Guatto)
The company's research pipeline also includes development candidates for several other mRNA-based vaccines and therapeutics – with several clinical trials and discovery programs already underway.
Patricia Gauthier, Moderna's country general manager in Canada, said the firm is looking forward to tapping U of T's interdisciplinary expertise to accelerate shared priorities in medical research.
"At Moderna, we have several different modalities that we're working towards," she said. "We've proven our approach works with infectious diseases, so there's a really big focus on that – but I think we can also go way beyond.
"We look forward to working together and exploring how we can leverage the varied expertise and capabilities that exist at the University of Toronto. We're excited to share more about our research priorities going forward – and to hear your thoughts on how U of T investigators and teams from different disciplines can be pulled together to tackle complex problems and contribute to improving the lives of patients around the world."
Omar Khan, an assistant professor at the Institute of Biomedical Engineering in U of T's Faculty of Applied Science & Engineering, was among the university researchers who attended a Moderna presentation delivered by Andrea Carfi, the company's chief scientific officer, infectious diseases. Khan, whose lab is creating new nanotechnologies to control and deliver nucleic acids, will lead a team that plans on working with Moderna to develop next-generation vaccine platforms.
"The pandemic has showed us how innovation in the nucleic acid delivery space can result in great things," said Khan, who holds a Canada Research Chair in Nucleic Acid Therapeutics.
"There are still so many opportunities to create technologies that protect people from other diseases."
Moderna's delegation took a tour of the Lash Miller Chemical Laboratories and the Combined Containment Level 3 (C-CL3) facility, which conducts critical research on infectious diseases including COVID-19. Located on the St. George campus, the C-CL3 facility is the only lab in the Greater Toronto Area that is equipped for safe and secure research on Risk Group 3 pathogens and is therefore a crucial component of the country's capacity to develop therapies and cell biologics related to infectious diseases.
"Our facility is equipped for the study of replication and infection by Risk Group 3 pathogens, whether bacterial, viral or fungal," said Scott Gray-Owen, the lab's director. "Over the course of the COVID-19 pandemic, we worked closely with researchers from across campus and at our partner hospitals to develop approaches to study the SARS-CoV-2 virus, supporting work by government agencies, industry and universities across Canada – and training dozens of researchers along the way."
Gray-Owen, a professor in the department of molecular genetics in the Temerty Faculty of Medicine, noted that C-CL3 is one of the pillars of U of T's Emerging and Pandemic Infections Consortium (EPIC), which aims to connect researchers from U of T and its partner hospitals with industry and government agencies in a manner that strengthens Canada's capacity to respond to infectious diseases.
"Moderna is a partner that we're very excited to facilitate these interactions with – and we're delighted to be able to introduce them to our facilities and the many talented researchers who work here," Gray-Owen said.
EPIC is one of several U of T Institutional Strategic Initiatives that is tackling problems pertinent to the life sciences. Others include Medicine by Design, which is advancing discoveries in regenerative medicine, and the Acceleration Consortium, which is accelerating discovery of advanced materials and small molecules.
U of T is also home to the Institute for Pandemics, the world's first academic centre dedicated to pandemic readiness, resilience and recovery.
UTC