Black Founders Network celebrates a year of Black excellence in entrepreneurship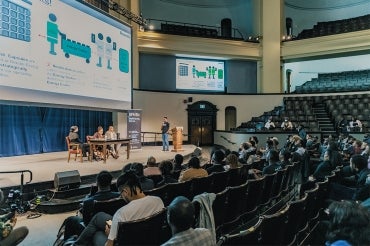 More than 200 entrepreneurs, investors, mentors, students and community supporters gathered at the University of Toronto recently to mark the first anniversary of the Black Founders Network (BFN) and celebrate the achievements of its inaugural BFN Accelerate cohort of entrepreneurs. 
"What brought me to the BFN was the community of like-minded founders all working to build amazing things," said Olugbenga Olubanjo, founder of Reeddi, one of eleven startups to complete the BFN Accelerate's four-month bootcamp.
"The community is designed to help us grow, find solutions to challenges and meet our desired outcomes. What I loved most was learning from the experts who were engaged with us through BFN Accelerate."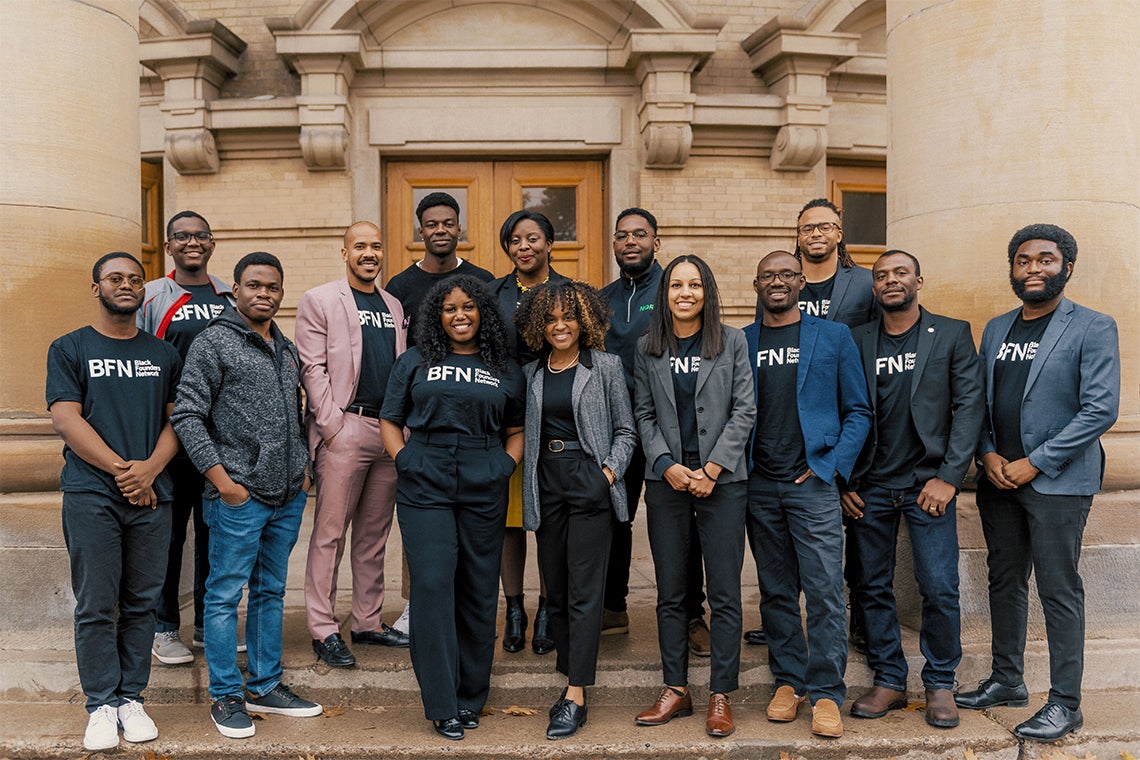 Members of the BFN Accelerate 2022 cohort pose for a photo outside Convocation Hall (photo by Alyssa K. Faoro)
Reeddi took home the top Venture Award prize from the event, with funding awards also going to startups Fyyne, HDAX Therapeutics, Woo Your Boo, and Elev.
Part of the response to the recommendations in the final report of U of T's Anti-Black Racism Task Force, the BFN works to create an inclusive community for Black entrepreneurs from ideation to scaleup – and support them as they launch, fund and scale impactful businesses. Since launching, the BFN has hosted and supported more than 30 events, engaged with over 50 mentors and advisers, and received support from more than 20 community and corporate organizations – including new corporate donor KPMG, which announced at the event that it will be funding grants to early-stage Black founders.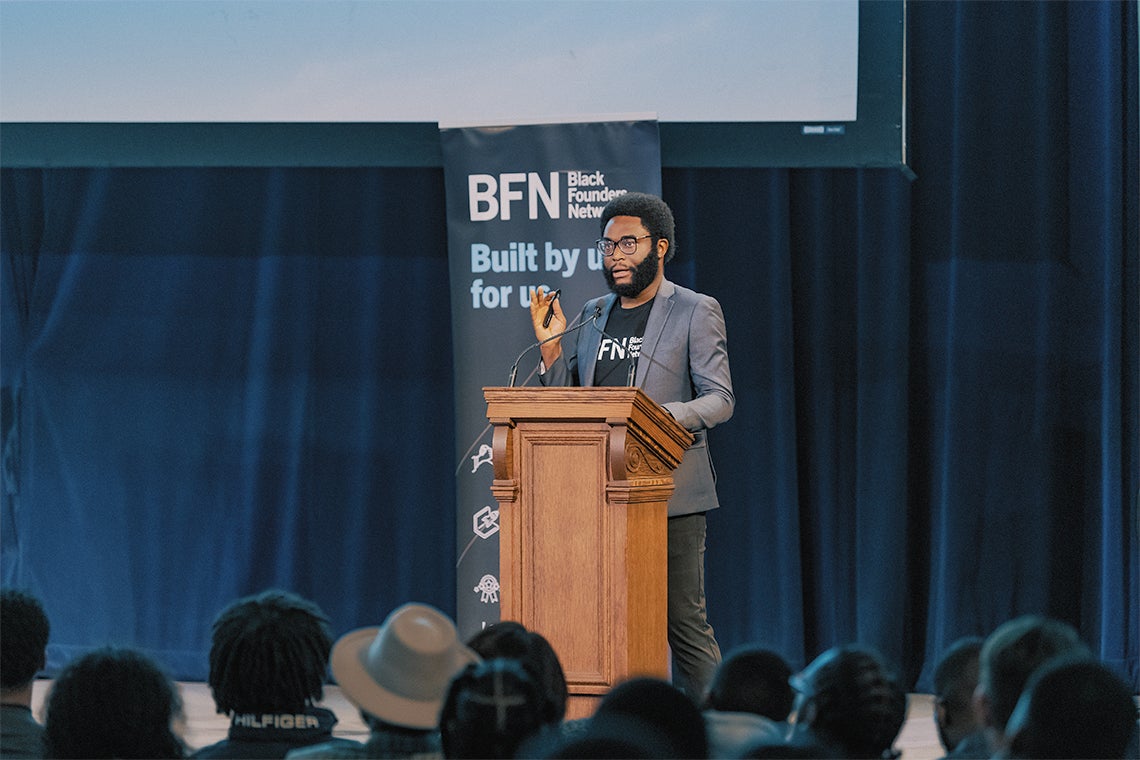 Efosa Obano is the founder and program manager at the Black Founders Network (photo by Alyssa K. Faoro)
"We are overwhelmed with gratitude for all the community support BFN has received in its first year," said BFN program manager Efosa Obano. "Everything we have achieved together in such a short time validates the need for what we are building.
"It's only year one and I'm very excited for what is to come."
---
Here are six BFN Accelerate startups to watch:
AfterData AI
Co-founded by U of T alumnus Anu Oladele, Afterdata AI enables organizations to understand their own data by helping them access, connect and explore existing datasets in easy and interactive ways. The AI startup recently raised $250,000 in funding from a U.S. based venture capital firm.
Aworie
Founded by U of T alumna and social entrepreneur Rae Massop, Aworie provides convenient, affordable and accessible mental health services for marginalized Canadians. With quickly growing revenues, the health-care startup recently crossed the 500-customer mark.
Blair + Jack
Dr. Bimpe Ayeni, a board-certified plastic surgeon and U of T lecturer in the department of surgery in the Temerty Faculty of Medicine, co-founded Blair + Jack to address common skincare problems experienced by men and simplify the process of having physician-formulated skincare delivered without a prescription. The startup recently won the Ella Express Pitch Contest and got onto the shelves of Black Owned Toronto at Scarborough Town Centre.
NobelHub
Co-founded by U of T alumni Melisa Ellis, Malcolm Wright and Chevon Riley, NobelHub connects startups and existing businesses with the most essential services they need to grow and scale their ventures. Initially focused on the Black community, it is a one-stop-shop that offers services such as legal, accounting, marketing, technology development and business planning.
NORM
Launched by U of T alumnus Chevon Riley, NORM provides natural cosmetics to individuals seeking an alternative to synthetic products with questionable ingredients. The organic skincare startup wants customers to know exactly what they put on their body, so it handcrafts its almond balm with only natural ingredients, tailoring its formula for those with dry or sensitive skin. NORM recently won the UTSC Hub Pitch Competition with a $5,000 Prize.
Yuko AI
Founded by Jean Marie Uwabeza, Yuko AI provides an accurate and efficient AI-powered software solution to help dermatology clinics communicate, triage and manage skin health issues more effectively online. The SaaS startup took home the Next AI Top Startup Award at Startupfest in Montreal this past July.
UTE