With 'baby steps,' effort to Indigenize public health and preventive medicine program moves forward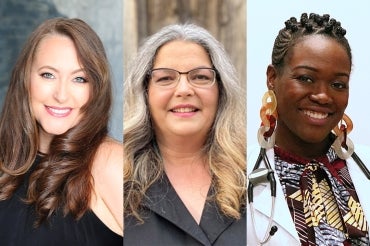 The public health and preventive medicine program, an accredited post-graduate training program of the Royal College of Physicians and Surgeons of Canada, is taking its first steps to Indigenize its curriculum.
The effort is being led by a working group comprising University of Toronto Assistant Professors Angela Mashford-Pringle, Barry Pakes, Onye Nnorom and Professor Ross Upshur – all from the Dalla Lana School of Public Health. They are collaborating with consultant Dawn T. Maracle and resident Mary Choi.
"We hope to Indigenize or, at least, decolonize our curriculum," says Nnorom. "This is a baby step."
With Maracle's guidance, residents incorporated relevant Indigenous knowledge in lectures with peers on standard public health content. The level of expertise and standards expected for the roles is significant as residents are often asked to prepare rounds for peers and faculty members across the province.
The project, which has involved nearly three years of consultations, began as a pilot last fall. Maracle, who is Mohawk from Tyendinaga Mohawk Territory and executive director at HOPES Indigenous Training Network (Healing Our Peoples through Education and Social Justice), and Mashford-Pringle, an Algonquin of the Timiskaming First Nation who is Indigenous health lead at the Dalla Lana School of Public Health, reviewed the curriculum and guided students throughout the pilot.
"We did a land acknowledgment field trip with residents last June," says Maracle. "We talked with senior residents about positionality and going deep into land acknowledgements – how to enact them and why we do them.
"Residents were so moved by the experience that they initiated leadership steps to create their own document about what actions they can take through their land acknowledgements, including partnering with Indigenous organizations and institutions about Indigenous-led solutions and ideas."
They also created a living document about their commitments that they plan to pass on to future residents.
Indigenous knowledge should never be siloed, Maracle explains.
"Siloed topics is an old Western way to look at things – Indigenous knowledge needs to be integrated at every level," says Maracle. "It's so well documented that the health profession is underprepared to work with racialized populations. We've seen stories of them being treated poorly in the system."
Maracle marvels at Graham Hingangaroa Smith, who, as Auckland University's former pro vice-chancellor, included Maori content in every course in the 1990s.
"Canada is woefully behind," says Maracle. "People were fighting for one Indigenous course in a variety of programs and that was 30 years ago. We should be far ahead of that. There are Indigenous issues to consider in public health as well as in many other topics. So, while there are absolutely inequity and population health issues, there should be Indigenous health throughout the medical curriculum.
"It is the only way to prepare the health profession to competently do their jobs."
The courses are not easy; Mashford-Pringle says that the subject matter is uncomfortable.
"It's feeling like you've got a wool sweater on, and you have a wool allergy," she says. "You will start to understand it's not just Indigenous Peoples, but People of Colour, ableism, sexism. You'll start to open up that intersectionality piece and you'll say, 'Wait a second, I'm complicit and I didn't know that was a problem.'" 
A grant from the Temerty Faculty of Medicine supported Maracle's efforts to offer guidance to students in the fall, but more is needed, Mashford-Pringle says. "I know there is a thirst for this knowledge, but we don't have enough Indigenous people doing this kind of work at U of T, or more broadly," she says.
Nnorom adds that, while the training and tool kits are useful, they remain a poor substitute for the lived experience and support from experts such as Maracle and Mashford-Pringle – and that additional support is key to truly Indigenize the curriculum.
Nnorom says her colleague at the University of Ottawa, Dr. Sarah Funnell, shares a similar point of view.
"Dr. Funnell says what we need to be aiming for is that our residents, when they graduate as public health practitioners, are trauma-informed, culturally safe and have an anti-racist lens to their practice," says Nnorom. "So, for us, it was [figuring out] how do we weave in concepts of Indigenous knowing into the curriculum instead of it being a standalone thing like an Indigenous health lecture."
The death of Joyce Echaquan in a Quebec hospital two years ago demonstrated how dire the situation can be for Indigenous patients seeking health care and how urgently changes are needed.
"I'm sick of hearing community members tell me how poorly they were treated in different sectors – specifically the health-care sector," says Mashford-Pringle. "And these are public health professionals. These are going to be our future medical officers of health in public health units."
Pakes, Nnorom and Maracle have met with other program leads in Ontario to scale up this initiative.
"If I had a magic wand, the whole thing [system] needs to be overhauled – with those in power behind us, resourcing the initiative, in alignment with the (Truth and Reconciliation Commission of Canada's) Calls to Action. There must be truth, justice and reconciliation and most people don't yet know what that means," says Maracle.
"It's going to take a long time. The Honourable Murray Sinclair said, 'Education got us into this mess, it will get us out.' But we have to work together."
Dalla Lana