As Dalla Lana's Indigenous health lead, Angela Mashford-Pringle wants to create a safe and welcoming space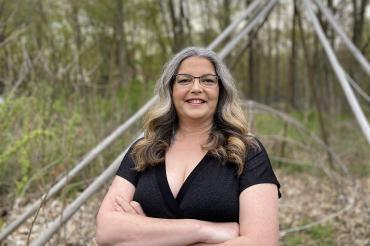 As the first Indigenous health lead at the University of Toronto's Dalla Lana School of Public Health, Angela Mashford-Pringle says her goals are simple: "I want to create a safe and welcoming environment for Indigenous students, faculty, Elders and Knowledge Keepers and their guests."
Yet, arriving at a place of cultural safety is not straightforward. It means unpacking and addressing a historical legacy of public health research, education and practice that has been anything but safe and welcoming for generations of Indigenous people in Canada.
Mashford Pringle, an assistant professor, recalls feeling ill the first time she entered the former Board of Education building on College Street – with its aging artwork depicting the European "discovery" of America – that now houses the Dalla Lana School of Public Health.
"It's so colonial," she says. "I want to see us create spaces where people feel like they belong, where they're not worried about who's going to say what. I think we've already started down that path – it's just going to be more discussion, more education and concrete action for our students to feel safe."
Mashford-Pringle took her own steps toward Indigenizing the school's space two years ago when she led a group that installed an Indigenous medicine garden on the west garden bed in front of the building at 155 College Street. And she plans to be actively involved in upcoming plans to redesign Dalla Lana's floors.
Along the way, Mashford-Pringle intends to consult closely with Indigenous communities.
"Everything I do – I want to make sure I'm listening to what the community wants, not what DLSPH and the university wants," she says. "I want to make sure the community is heard. There's a lot of talk about how to incorporate Indigenous material into medical and nursing schools, occupational therapy, dietetics. But how do we include our community in those decisions and what does that look like?"
Mashford-Pringle earned her PhD from Dalla Lana in 2013, and returned a few years later as a researcher working with Associate Profesor Suzanne Stewart, director of the Waakebiness-Bryce Institute for Indigenous Health (WBIIH). The institute is home to Indigenous health education at Dalla Lana, and Mashford-Pringle now serves as its associate director and program director of the master of public health program in Indigenous health.
Growing up in Etobicoke, Mashford-Pringle says she never expected to become an academic.
"It was a very poor neighbourhood – everybody's parents worked in factories or other blue-collar jobs," she recalls. "I didn't think I was ever going to university. I faced racism with my high school guidance counsellor who said I should just go back to the reserve. I thought I was going to be a truck mechanic."
After graduating high school at age 16, Mashford-Pringle took a year to travel across Canada by herself. She says the trip opened her eyes to the poor treatment of Indigenous Peoples, and how that treatment was being hidden.
She began taking correspondence courses at Laurentian University, eventually transferring to U of T to study forensic science. She turned down an offer from Osgoode Hall Law School at York University and worked for Health Canada in early childhood programs while earning a master's degree in sociology and social justice from U of T's Ontario Instiute for Studies in Education (OISE).
At OISE, she completed a study with Waabinong Aboriginal Head Start Family Resource Centre in Sault Ste. Marie, Ont. that had a positive impact on parents' health and education. Her supervisor encouraged Mashford-Pringle to pursue a PhD. In 2013, she became only the second Indigenous person to obtain a PhD from the Dalla Lana School of Public Health – and the first Indigenous woman.
At Dalla Lana, Mashford-Pringle helped to start the Indigenous health program, became U of T's first professor to offer land-based learning and led the launch of the Turtle Island Journal of Indigenous Health. One of her first goals as the school's Indigenous health lead is to help create a post-doctoral program for Indigenous health.
Mashford-Pringle has made a lot of change in a short time at Dalla Lana, and she has done it by leading in a non-hierarchical way – a skill she attributes to her Indigenous knowledge.
"It's harder to crush a circle than a square – it's strong," she says. "Nobody is above you, nobody's below you. That's why when I teach, I put chairs in a circle. I sit with my students because I'm learning, too. My philosophy is that everybody is teaching and learning at all times. And we all need to continue to learn."
Dalla Lana