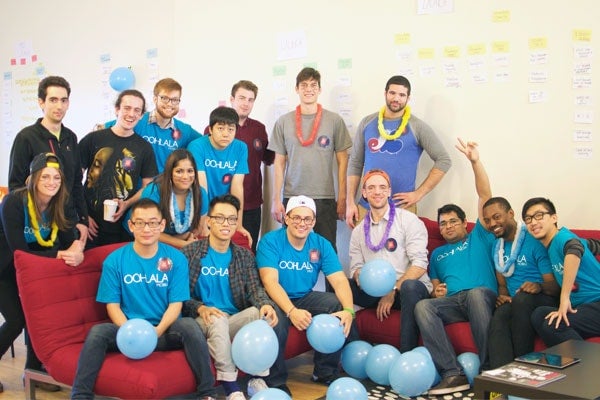 Alumni named to Forbes Top 30 under 30 for startup that began in basement of University College residence
Three of four co-founders of Montreal-based OOHLALA are recent U of T grads
Paying close attention to what students want to know and how they want to get that information has landed three U of T alumni a spot on Forbes Magazine's 2015 Top 30 Under 30 list.
"I'm more interested in solving problems than in media hype – but this has been great," said Danial Jameel, chief executive officer and an alumnus of U of T's University College. "It's validation for all the hard work and late nights."
Master of biotechnology alumnus Peter Cen, economics and political science alumnus Jameel and computer science grad James Dang comprise three of the four founding members of OOHLALA a mobile platform that connects post-secondary students with the campus information they need most.
"When we started this in a basement of my residence at U.C. we were just trying to help solve a problem," said Jameel. "James was at Trinity and we were both active with student governments and struggling with the idea of how can a team of eight people engage with thousands of students each year?"
Their solution, which began at a 2010 Rotman commerce business competition, brought the three together with McGill grad Alice Dinu to create an award-winning mobile platform that went on to win acclaim at a series of business competitions, all while Jameel and Dang were still completing their undergrad degrees.
"Some of our professors suggested this could be more than idea," said Jameel. "They said, why don't you try turning it into a business?"
Today, Jameel is CEO, Dang is chief technical officer, Cen is in charge of mobile development and design and Dinu is chief financial officer of OOHLALA. Now based in Montreal, the company has grown to about 20 employees.
Launched in 2011, the app helps institutions and student organizations connect with post-secondary students by bringing campus social networking together with institutional information and practical tools, like calendars and reminders, on a single mobile platform. It's used by about one million students at 110 post-secondary schools in five countries across North America and Europe to plan their timetables, keep on top of tests and exams, and connect with other students through photo sharing and a message wall.
The app even features a reminder to students to go to class.
"Many institutions don't have a mobile version of their websites, which is problematic for students who depend on mobile devices," said U of T Mississauga grad Cen. The app meets students where they spend their time – on their phones and tablets. "We provide branded applications of their college or university that access campus information, organize their coursework and communicate with other students or the administration."
The app also appeals to the social nature of the student demographic. "As we worked more with student organizations, we saw a problem of student engagement on campus and we evolved to our current focus on helping students engage with their campus," Cen said. "People can feel isolated. They can use OOHLALA to become more engaged and to make friends and connections."
Every step of the way, said Cen (pictured at right), he applied the business skills he learned during his MBiotech program.
"At MBiotech, we had lots of exposure to entrepreneurship. I learned about business plans and how to make a pitch," he said. "My experience with MBiotech and the coop I did through the program (at Toronto's inDanio Bioscience firm) prepared me for pitching and networking, which I was heavily involved with as we first started OOHLALA.
"The entrepreneurship and corporations course taught me a lot of the details of starting a new business, which resonated throughout the first year of the project."
OOHLALA is looking to open an office in Toronto soon, said Jameel, and they continue to hire employees with a range of backgrounds.
"Even in the tech world, you see the value of studying the arts and humanities," Jameel said. "The best people aren't necessarily business majors – we've even hired a music grad."
Next up for the team: increasing their client base and integrating additional services.
"We plan to branch into admissions," Cen said, adding that the app will eventually include the ability to handle event transactions, such as handling tickets for athletic events. "We are looking to become the mobile platform for the majority of post-secondary institutions in North America."
(Read about the U of T teaching assistant named to Forbes' Top 30 under 30 list.)
Blake Eligh is a writer with the University of Toronto Mississauga.