U of T experts on U.S. election: "The United States is a deeply fragmented nation"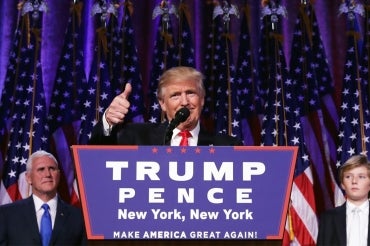 Real estate developer and reality TV star Donald Trump has been elected as the next president of the United States, following a divisive 16-month campaign.
At the University of Toronto, experts from a variety of disciplines provided insights into the election and its impact on a wide range of issues.
U of T News updated this article throughout the day with files from reporters Noreen Ahmed-Ullah, Don Campbell, Terry Lavender, Daviel Lazure Vieira and Romi Levine. 
Gender and the election: Sylvia Bashevkin, Joan Simalchik, Megan Boler
Newspapers across the world react to Trump's win (photo by Tristan Phewings via Getty)
---
We begin with Professor Robert Bothwell of the Faculty of Arts and Science. An expert in history and international relations, Bothwell spoke with U of T News about the effect of the election on Canada-US relations.
What can we expect after Trump's victory?
It's going to propel someone with absolutely no government experience into the leadership of the most powerful and richest nation on Earth. And the people who surround him are not exactly people who give me confidence. I think the Americans are in for a rough four years. Not just because of that, but because of Trump's policies and his statements are so divisive. So that's not going to make for a very happy country to the south of us.
Has Trump paid much attention to Canada in the past?
He has obviously some acquaintance with Canada because of the Trump Tower here in Toronto, and his grandfather was a brothel keeper in the Yukon. He doesn't lump us in with the Mexicans, and he may not understand that NAFTA [the North American Free Trade Agreement] includes Canada as well as Mexico. That said, fiddling with NAFTA will affect us, and if NAFTA is actually scrapped, which I kind of doubt, then that will impact on us, because our exports will be affected just as much as the Mexicans.
Where we will also be affected is NATO. Trump may very well move closer to his friend Vladimir Putin. That will have a very big effect on us. More generally, Trump is not exactly the kind of leader who will inspire respect around the world and there isn't very much that can be done about that. He is what he is. And people have watched pretty closely. It will really be the first time in my lifetime that the United States has been led by a clown. 
What advice would you give Prime Minister Justin Trudeau?
The best advice would be to lie low. Don't attract his attention. If you do, there's no telling what will happen. You can't predict what he'll do or what he'll say. I think Canada's best strategy is to say very little, and do less. The initiative will come from Trump. 
---
Emily Gilbert, associate professor in the Canadian Studies program and the graduate program in geography, also commented on the election's impact on Canada and immigration:
"Donald Trump's election as the 45th president of the United States will surely have a significant impact on that country's immigration policy. He has promised to build a wall at the U.S.-Mexico border – and to make Mexico pay for it – and that there will be a "total and complete shutdown of Muslims entering" the country, a ban he later extended to migrants from "any nation that has been compromised by terrorism." Immigration between Canada and the US was not directly targeted by Trump. But Muslim and Latin Canadians will feel the impact of these policies directly. Moreover, Trump's anti-immigrant discourse, now even further legitimized by his election, has already reverberated here. Several contenders for the leadership of the federal Conservative Party are trying to rally similar xenophobic sentiments in their appeal to "Canadian values." 
"Much has been made of the differences between the Trudeau government and Trump's policies. How the two countries will work together is in question. Trump has called NAFTA a "disaster" and has suggested it needs to be renegotiated or even annulled. This would have significant implications for the economy  – and perhaps some to be welcomed – but could also affect the ease of cross-border mobility of the business and professional classes. But our borders have become deeply entangled in other ways, which have little to do with NAFTA. In the last 15 years, we have made sweeping agreements on a wide range of areas, including more information sharing on visa and refugee applicants, common interdiction policies, a shared entry-exit system, cross-border law enforcement, critical infrastructure and cyber-security. All of these deeply affect mobility across the border. Trump's election might shock Canadians into realizing just how deeply entangled we are with US border security.
"Will we see an influx of Americans seeking to move to Canada? Media around the world have made much of the fact that Canada's Citizenship and Immigration website crashed as the likelihood of Trump's election was made more certain. But already the numbers of work permits to US citizens has spiked this year. Between January and August, Immigration, Refugees and Citizenship Canada (IRCC) processed 22,274 applications – up from 14,486 in this same period last year. That's a 54 per cent increase. Just in the last weeks, the Canadian government announced that it would increase immigration levels to 300,000 in an effort to lure skilled workers and entrepreneurs. This was considerably less than the 450,000 target recommended by the Advisory Council on Economic Growth. In light of the election results, maybe Trudeau will reconsider these numbers, and open our doors to those disaffected with the U.S. election results."
---
Professor Judith Teichman of U of T Scarborough's political science department is an expert on Latin American politics. She is also a fellow of the Royal Society of Canada and author of The Politics of Inclusive Development. Policy, State Capacity and Coalition Building (2016).  She reflected on what the election means for Latin America.
"The impact will be profound. The hardest hit country, by far, will be Mexico, but the election will most certainly reverberate throughout the region. Latin America has been deeply offended by Donald Trump's anti-immigration/anti-Latino rants. His promise to tear up the North American Free Trade Agreement (NAFTA) and his rejection of the Trans Pacific Partnership Agreement (TPP) is a source of serious concern. Trump's policy agenda will only serve to worsen the political turmoil and rising criminal violence that is occurring in the wake of a sharp economic downturn linked to the fall in commodity prices.
"Mexico, which exports 80 per cent of its total exports to the U.S. and whose economy is tightly integrated with the U.S., has already seen the value of its currency drop 13 per cent . But the U.S. has free trade agreements with 11 other Latin American countries and American companies are the region's most important foreign investors. The slowdown in economic growth will impact all countries.
"Trump's promise to take strong measures to block further migration across the U.S. border and to force illegal migrants to return home, if carried out, will exacerbate the economic and social difficulties currently faced by Mexico and Central America.
"The forced return of illegal migrants to their home countries will no doubt create heartache and hardship in the U.S. It will most assuredly contribute to the growing problems of political unrest and social hardship in the receiving countries. The loss of remittance payments sent by illegal migrants to their families in Latin America combined with the inability of the returned migrants to support themselves in their home countries, will contribute further to increased poverty and social deprivation in countries already faced with economic difficulties.
"There is a possibility that the election of Donald Trump will precipitate popular mobilization and the emergence of new movements and leaders who tap into the popular reaction to the venom emanating from the new U.S. administration. The animosity of the Trump administration toward Latin America, combined with the growing economic insecurity faced by citizens of the region, could give rise to authoritarian populist nationalist movements. Such movements may serve to deepen political conflicts and further exacerbate political instability. Let's hope that does not happen."
---
Sylvia Bashevkin is an expert in political science at the Faculty of Arts & Science, a fellow of the Royal Society of Canada and the author of Women, Power, Politics: The Hidden Story of Canada's Unfinished Democracy and other books. Here's what she had to say about the defeat of Hillary Clinton:
"Back in 2009, I published a book whose main thesis was that 'women plus power equals discomfort.' It shows how the leadership styles, personal appearances and private lives of women in politics are often seen as deficient, including by female voters and journalists – no matter the shortcomings of the men they run against.  
"Unfortunately, the argument resonates very clearly with the results of the 2016 US presidential election. There seemed to be no limit to the criticisms levelled against Hillary Rodham Clinton and a great deal of willingness to give Donald Trump the benefit of the doubt.
"The consequences of Clinton's loss for the prospects of a woman candidate for US president in the near future are far from encouraging. After a man loses an election, hardly anyone says, 'It's the last time we nominate a guy for that job.' But for a woman, the discomfort equation means she is held up as Exhibit A for why men hold the levers of power."
 (Photo by Drew Angerer/Getty Images)
---
Joan Simalchik, program coordinator for Women and Gender Studies and associate chair of historical studies at U of T Mississauga, also commented about the election and gender issues:
"The election provided several indicators of the state of gender relations in that country and how behind in global trends it is. Indeed, numerous Asian, African, and Latin American countries have all had women leaders. Chile's last presidential election had two female candidates vying for power. Ironically though, in this election the Republican candidate posed as the outsider and portrayed his opponent, the first female presidential candidate on a major party ticket, as the ultimate Washington and Wall Street insider.
"Despite Donald Trump's refractory and overt misogyny in word and deed, the majority of voters disregarded and downplayed the gender bias steeped in the Republican campaign. Trump's constant critique of Hillary Clinton often centred on questioning her overall health, physical stamina, and strength. He managed to create a political space in which latent and resistant strains of sexism, coupled with racism and xenophobia, flourished. His language gestured past political discourse to exhortation of attack not only toward Clinton but also toward female reporters, some of whom required police protection.
"Trump's electoral sweep included many women voters who looked past the misogyny (early returns report that he lost college-educated women by only six per cent) to support a message they saw as more pertinent than a first woman president. People who lost faith in business as usual politics were drawn to someone whose brash and inelegant slogans (e.g. drain the swamp) and vague promises (e.g. make America great again) spoke to the particular American malaise of fear of government. As votes continue to be tabulated, it is still possible that Clinton will win the popular vote. Yet, the diminishment of issues critical for women mean a Trump victory signals a threat to gender equity and to whatever small gains women have achieved. Protection against sexual harassment, reproductive rights, maternal health care, equal pay legislation, and more, are now all in jeopardy."
---
Megan Boler, professor of social justice education at the Ontario Institute for Studies in Education, blamed the media for favouring Trump's tweets to Clinton's historic run for office. 
"Trump's win should be understood clearly as a sign of the deep-seated, virulent sexism that ensured that a woman not serve as president of the U.S.A., despite Clinton having been the most qualified candidate in decades. 
"The corporate-owned traditional print and broadcast news media and its echo chambers, however, bury this disturbing and deadly reality of sexism, instead blaming Clinton for having "no message" or "being exceptionally unpopular" or "erasing emails" or "wearing too many pantsuits" or "not crying enough to seem human."
"These equally deadly distractions function to hide the brutal truth that sexism ensured that a frighteningly unqualified, extraordinarily dangerous, narcissistic neo-fascist bully has been
selected as the leader of the "free world."
"Here's the second elephant in the room: the media themselves created the spectacle that is Trump, and gave him the infinite airtime and attention to ensure his victory. They cultivated and
created this news-grabbing cartoon figure to entertain the audiences they require to feed their advertisers and rake in millions for the 24/7 corporate news cycle that must keep
misinformation and infotainment engaging to maintain their profit margin. And now, their media-baby will fill their profit margins for years to come.
"Meanwhile, there has been no sustained discussion in the media of how vast and deep runs the hatred, misogyny and sexism in the so-called free world.
"Instead of actually covering Clinton's historic campaign, and instead of naming sexism as the elephant in room, the infotainment incessantly attributes Clinton's defeat to her
"unpopularilty" – not once considering the fact that her "unpopularity" is quite simply because she is a woman, and not a man.
"Media favored the bombastic billionaire by covering his every move and middle of the night tweet and snort, while neglecting to cover such minor matters as the possibility of the first-ever
female president, and the historic significance of Clinton's second, highly strategic and strong campaign for U.S. president."
---
Luis Seco, professor of mathematics at University of Toronto and University of Toronto Mississauga, and director of the mathematical finance program and RiskLab, discussed whether Donald Trump's election win will continue to cause market volatility.
"Market volatility is here to stay, independent of a Trump win. The Trump presidency will probably add additional volatility to markets, especially on the short term, but main drivers for market volatility are macro economic factors, such as negative interest rates or emerging markets growth; uncertainties about the Trump presidency will add volatility pressure, but many of the factors building to the volatility have already been there for a while."
---
Professor Ronald Pruessen of the Faculty of Arts & Science and  the Centre for the Study of the United States at the Munk School of Global Affairs commented on the campaign and its aftermath.
The Republican president-elect is someone you've described as a unique candidate
Not since the 1940s did we have such an outsider enter the political arena. It says something about the nature of politics today that a high profile figure of the world of entertainment and reality TV like Trump could clinch the Republican nomination. Even Reagan, who was an actor, had political experience – not least as governor of California. Trump had nothing like that. He was facing the first woman nominated as candidate of a major political party. It's a feature that has attracted remarkably little attention, but it's still worth noting.
How did we get here?
You have a society under great stress. We are dealing with major political and economic difficulties which carry all sorts of emotional and social consequences – gun violence, racial tensions, divisive attitudes towards immigrants. You'd have to go back to 1968 to find the same kind of intensity in American politics. The problems to which America is confronted are endemic issues that go beyond its own borders. It's worse than it's ever been. There was a time when things seemed to be better due to the increasing size of the middle class. But now, partly due to global movements, deregulation in the financial sector, the U.S. tax system and so on, you see rising social, economic and political inequalities that fuel intransigence. I don't find it difficult to imagine that there will be a crisis moment when these tensions will become explosive.
What might be the immediate outcome of a Trump presidency? 
We may expect something really quite ugly following Trump's win. In fact, the ugly has already happened: you have such a large number of key figures within the Republican Party who have held their noses while endorsing Trump. It might get worse and you can expect others to follow suit. We had signals of this shift before, like the emergence of the Tea Party. But even if it's not totally new, there was something distinctly more intense going on this time around.
The ground has constantly shifted within the U.S. political system, with new leadership coming along to replace the old one. Like in any democracy, American parties experience huge moments of turmoil and passion, followed by respite. American voters have short memories; they are notoriously fickle in terms of their loyalties.
Ironically, this election could see either very dramatic changes in the U.S. or almost no changes at all – as citizens heave a sigh of relief and get back to their normal lives (as much as that's possible given the problems the country is facing).
We've seen polarized and polarizing arguments during this campaign – does that end now?
There are a few things that I found particularly concerning during this campaign. With 24/7 news channels, competing media conglomerates, and the Internet, there's an amazing capacity for manipulation and misinformation. The amount of blatantly false or distorted information that has circulated online in the past few months is astonishing, especially when you have demagogues who are anxious to exploit this environment. Trump is a stunning example of this, but virtually every other Republican rival was very similar in terms of their readiness to manipulate information – he just did it better, which is a pretty dubious prize.
How can a victorious Trump regain the confidence of a very large number of Americans who don't share the same views?
I don't think it's going to happen. These profound divisions are built into American society; they have existed for decades. Whether it's Nixon, Reagan, Clinton, Bush, or Obama, no one has figured out how to make them disappear. The United States is a deeply fragmented nation; it's the result of the incredible regional diversity you find from coast-to-coast, which produces a lot of cultural and economic differences. We've seen, however, an increasingly dysfunctional political system in recent years, with one party controlling the White House, the other Congress. It's becoming more and more difficult for the government, and particularly for the executive branch, to deal effectively with the issues confronting America. We see the rise of extreme partisan views and a rejection of bipartisan solutions, especially among obstructionist Republicans, which makes it hard to address these challenges. The nature of the problems is such that it's likely to be more of the same.
---
U of T Scarborough political scientist Renan Levine also weighed in on the impact of the election.
How do you think Trump's cabinet may shape up?
Trump ran as such an outsider that only a few members of the party embraced him. People like former General Michael Flynn, Rudy Giuliani, Chris Christie and Newt Gingrich, they can likely expect cabinet positions or high level advisory positions. Beyond that the question is will those with experience who opposed Trump, will they turn down the opportunity or try to influence him from the inside
We do know that Trump for a long time has relied on a small group of trusted advisors. One of the only people to have penetrated that inner circle is his son-in-law Jared Kushner. Even as he built campaign staff some of those people weren't really relied on by Trump. There are some big question marks here because the experienced people who leaders normally looked to in many cases publicly opposed Trump or declined to support him. It's also important to note that the Senate needs to approve cabinet positions, and there is an opportunity for the Democrats to filibuster or for some Republicans to prevent people with no experience from getting those positions.
How soon will he be able to address key campaign issues?
Let's put it this way – it's in Donald Trump's best interest to act as quickly as he can on the issues he's identified as important throughout his campaign. The reason is that presidents tend to have clout early in their term and this will be especially true of Trump. There's a lot of Republicans who aren't enthusiastic about him or actually overtly oppose him, so they will feel the most pressure to go along with him when his popularity is the highest.  If I'm advising Trump I say you need to take advantage of that. Things like the wall or deporting 10 million immigrants or a ban on Muslims don't seem practical or may not be feasible, but at this point as a political scientist I'm asking who's there to stop it? So if he chooses to act on these things he will need to do it early in his term.
How did so many traditional blue states like Pennsylvania and Michigan swing republican?
What makes "blue" states what they are is that they have large urban areas populated by educated whites with a significant minority population. In order for a traditional blue state like Pennsylvania to go Democrat they need to rack up huge majorities in places like Pittsburgh and Philadelphia to make up for the rest of the state. That was still the case in this election except for two things. The Democrat majorities in those urban strongholds were not as strong as they were during the past two elections.
The other is that the Republicans were able to get more of the vote in the rest of the state. So the Republicans won big in small to medium size towns and cities that were previously neck and neck. Places like Scranton, Pennsylvania and Youngstown, Ohio, the epitome of the rust belt; either the Republicans won it or they kept it close enough. A big part of the story that's being missed this morning is that while the Republicans did really well with rural and working class voters, there was a slight movement away from Clinton in large urban areas. That was key.
Is it fair to say that the U.S. is divided?
It's important to note Hillary Clinton won the popular vote. The headlines this morning are about working class whites coming out in droves and supporting Donald Trump. The story is also about small declines in support for Democrats by young people and minorities especially in battleground states. But the big picture is that the U.S. before the election was certainly divided, now a day after the election we're shocked by how this badly divided electorate went narrowly to Trump. If it went the other way, to Clinton, the divisions may have been obscured by her more inclusive message.
---
Levine's colleage at U of T Scarborough, Ryan Hurl, also had some insights:
How did Trump pull off his upset victory?
He recognized that large numbers of white voters are against globalization and multiculturalism. He was also able to transform celebrity into political influence. This is not so surprising, in retrospect.  
Will the U.S. constitution and its system of checks and balances be able to rein in Trump and prevent his worse excesses?
The executive cannot be constrained unless Congress chooses to do it. In the past, politicians have put partisanship before institutional balance and the separation of powers. I think it is possible that that will change.
---
Randall Hansen is a professor of political science in the Faculty of Arts & Science and director of the Centre for European, Russian, and Eurasian Studies at the Munk School of Global Affairs. He compared the Brexit anti-immigration vote to how Americans voted in this election.  
"Once again like Brexit, a campaign founded on lies succeeded against the expectations of pollsters and commentators (including for what it's worth, this one).  Part of the reason was, quite simply, racism, bigotry and sexism. After the most racist and misogynist campaign in living memory, many Trump supporters voted for – and want – a world without African Americans, Latinos or Muslims, a world in which gays are in the closet (or, better yet, subject as Vice President Pence supports, to conversion therapy) and a world in which women exist to satisfy men's craving for food, sex, or clean houses. Trump, and similar populists in the UK, France, Hungary and Poland represent a massive threat to liberalism and all that we have accomplished since the 1960s.
"It is a threat that liberals need to take seriously: it is time to organize a fight back. Four efforts will be crucial. First, liberal Americans need to beat the Republicans at their own game and use every tool in the U.S. polity's decentralized playbook to block Republican assaults on immigration, health care and, possibly, gay marriage. They need to take it to the courts, lobbying individual senators and congressmen, and taking it (peacefully) to the street. Second, liberals have to challenge Trump's appalling rhetoric on Latinos and Muslims, and Latinos and Muslims themselves need to organize politically. Third, Democrats need to turn their backs on the tainted Clintons and reorganize in the run-up to 2018 and 2020, focusing in particular on their working class base. Fourth, and directly following the last point, we need to understand how 48 per cent of Americans could feel so angry that they would vote for an avowed sexual predator, bigot and liar. Some of them are, quite simply, deplorable, but that cannot be the whole story. De-industrialization and massive technological change is making huge swaths of the population, above all uneducated men, redundant. Trump cannot solve this problem, and the trend will not go away. Indeed, it will accelerate. If we do not cope better than we have with the human consequences of this change, we will be here again. 
---
Rinaldo Walcott, associate professor and director of the Women and Gender Studies Institute at the Ontario Institute for Studies in Education, discusses what the the election results mean for African Americans and other people of colour in the U.S.:
"This is an inconceivable day, but not an unbelievable day. President-elect Donald Trump signals a fundamental rejection of post-World War Two economic, social and cultural change. Most specifically, this is a fundamental rejection of a social compact that had been slowly moving towards a recognition of historical wrongs against the formally marginalized though a creeping economic and cultural justice. 
"If the emerging exit poll analysis continues to hold then white U.S. citizens, including white women, have overwhelmingly rejected what they believe to be the unfair advantages of Black, people of color, immigrants and other non-white people.
"Hillary Clinton's inability to lay out a decisively different evidence-based agenda is a major element of Trump's win. Her silence on the Black Lives Matter movement in the general election campaign is a case in point. We must not fool ourselves that her doublespeak on policing, on foreign policy and Islam and the financial industry did not hurt her chances of a potential win.
"Black people, people of color and other non-white people were provided few political options. They voted nonetheless for Clinton. They were asked to cast their vote out of fear for what could be. What could be is now here."

(photo by Nicholas Kamm/AFP/Getty Images)
---
Akwasi Owusu-Bempah, assistant professor of sociology at U of T Mississauga, also spoke about race playing a role in election results:

"There were a number of national and international forces that played into the election of Donald Trump like the economic impacts of globalization and insecurity fostered by various terror threats.  However, race is integral to American politics and played an important role in this election. Trump ran a campaign of hate, attacking and justifying the targeting of Blacks, Mexicans, Muslims, and other "nasty" and "bad" people.  I see Trump's election as part of the ongoing history of American race-relations.  It can be seen as a direct response to the election of Barack Obama and also of the Black Lives Matter movement.  Each time that Black Americans gain, or appear to gain social and political power, there is pushback from white Americans.  We saw this after the Civil War, after the Civil Rights movement and after America's first Black presidency.  Trump stoked this racial resentment, not only towards Blacks, but towards other groups too in order to gain the support of disaffected and/or disenfranchized whites.
 
"Although few who closely study American race relations would have agreed, the election of Barack Obama signaled to many that the US had entered into the 'post-racial era'.  This was facilitated by the changing nature of racism.  Overt or open expressions of racism have become less socially acceptable, giving many the sense that racism is a thing of the past.  However, we still see huge racial disparities across a host of important social indicators – education, employment, health, criminal justice and housing.  Racial segregation in the United States is still a very pervasive problem and white supremacist groups have been identified as a national threat.  Trump has exposed America's lingering racism.  He has done so in a troublesome way because he has not only condoned, but supported, racial violence.  His policies will no doubt have deleterious impacts upon racialized Americans – think support for stop and frisk.  We should see this as part of an ongoing story, and hopefully as a wake-up call to those concerned, that the battle against racism is not over."
---
David Soberman, professor at Rotman School of Management and Canadian national chair of strategic marketing, discussed how perception affects voting decisions and the power of celebrity.
What was it about Donald Trump's campaign that led to his success?
In many of the states – the Rust Belt, Florida, some of the states even where he actually lost, Donald Trump made a very strong effort to activate people who are not that politically active; people who hadn't participated in the political process perhaps because they were disenfranchised or didn't believe that it had an effect on their lives. These are people who typically maybe didn't vote or participate in polls or give their opinions in polls.
This might explain why many of the polls are wrong. If you're doing marketing research and you believe that you're testing an idea with the people who are typically going to buy the product but in fact the product is bought by people you didn't test with, your predictions about whether the product is popular or not could be completely wrong. That's one of the things that is most surprising about this election – the fact that the polls were indicating a very different result.
The style of campaigning this election was very different than in previous elections. How did it affect the results?
This is a change in the American political process that started with Obama. With Obama, he had the use of social media and in contrast with the candidates he was facing, he was able to get a real advantage out of that.
Trump obviously made heavy use of social media, being a person who's got natural links to the entertainment world and media himself through his TV shows, he is a very well-known personality. This probably played in his favour.
Was the way people view celebrities versus politicians a factor in the outcome of the election?
There have been studies of the reputation or the credibility or the sincerity or the honesty of different professions and used car salesmen, politicians and lawyers seem to get the lowest scores in this area. It's perhaps not fair but it's the perception that counts. That is what we teach in marketing – it may not be the reality that's important, it may actually be the perception.
In this case, being a political insider, as Clinton was, certainly with people who are not already engaged in the political process or who are disenchanted with it, these are people for whom these perceptions are a big factor. While a lot of us might think track record and experience are important, for a lot of people, they may think the exact opposite which is kind of unusual, kind of perverse in a way.
The "Teflon Campaigner"
One of the things that is most interesting about this campaign is the parallel of Donald Trump during the campaign to Ronald Reagan while he was president. Ronald Reagan developed the nickname "Teflon President" because no matter what calamity happened or what bad outcome happened as a result of decisions he made, he always seemed to come out being very popular and people appreciated the efforts he made.
I've felt that this is the same case with Donald Trump during the campaign. He said things that if I said them in my class at the University of Toronto, I would probably be fired. But he says them in public and you think "now he's done, there's no way people are going to vote for him," and yet they did.
The other parallel is that Ronald Reagan was a movie star – he had this Hollywood aura about him that almost made him larger than life. Maybe when you're a celebrity, it's the same thing as being a Teflon personality. Trump is clearly a media character as was Ronald Reagan.
Will Trump sell himself differently now that he's president elect?
There's a long literature in political science about how people will adjust their platforms during the campaign and how they have to gravitate back toward policies that are more globally acceptable once they're elected. But they adopt more polarized positions during a campaign in order to activate their core vote which is something both candidates did. 
---
Political scientist John Kirton is a professor in the Faculty of Arts & Science and the director of the G8 research group at U of T's Munk School of Global Affairs and co-director of the G20 research group.
What should the other members of the G7/G20 expect from Donald Trump?
The other members should expect in President Trump an individual eager to be liked, wanting to be in the limelight and wishing to deliver on his major campaign themes of stimulus through deficit spending, investing in infrastructure, reforming trade and managing migration. Trump will be eager to do deals and speak conversationally in a free-flowing rather than scripted way.
What would be their best strategy in dealing with the new US president?
His G colleagues should start by having congratulatory phone calls with him and earlier bilateral visitors at the summit they should ask him to expound on what he sees as the meaning of his mandate, his vision for the U.S. and the world and how he wants his partners to help.
It is good that his first summit is the G7 in Sicily in later May where the leaders of China and Mexico are not members, as they are at the G20 Summit in Hamburg in early July.
One key subject at the G7 will be how to deal with Russia given Trump's more accommodating approach.
---
As the world reacted to news of a Trump upset Wednesday, Associate Professor Emily Gilbert had her "Canada's Borders" class discuss the implications of a Trump government for Canada.
Overall, students were dismayed and perturbed by the results, she says.
Nikhil Pandey, a fourth-year economics major, wondered whether "given our historical friendship and Canada's interest in economic contributors… the Canadian government expedites or makes exceptions to the immigration process for prospective American migrants over those from abroad."
Max Stern, completing his major in Canadian studies and peace and conflict, turned his eye to how policy-making will unfold: "Canada can no longer rely on key aspects of Canada-US relations like NAFTA and NATO," he told the class. "They have to play smart and negotiate instead of relying on history."
Alexandra Thatcher, a fourth-year student double-majoring in Canadian studies and Near and Middle Eastern studies said she hopes Canada remains committed to its ideals: "I hope that this result gives Canada the confidence to find its own identity and not emulate the xenophobia and nationalism of the U.S. and the U.K., as they are usually seen as our biggest influences culturally," she said.