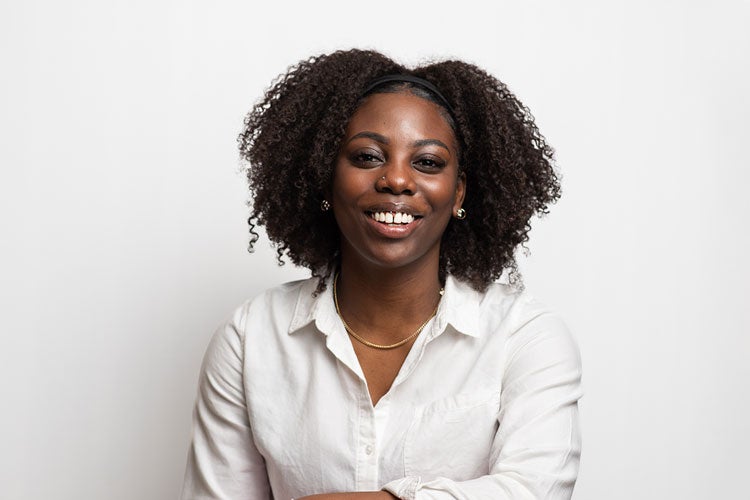 U of T alumna Abigail Ralph named a McCall MacBain Scholar
University of Toronto graduate Abigail Ralph has been named a McCall MacBain Scholar for 2023. She'll head to McGill University in the fall to study neuroscience.
Ralph's achievements in research and community leadership, plus her skills, potential and character, landed her the prestigious award, which founders John McCall MacBain and Dr. Marcy McCall MacBain modelled after the Rhodes Scholarship. In addition, nine further U of T graduates received runner-up awards (see below).
"It definitely wasn't easy to be so interested in so many things," says Ralph, who earned a bachelor's of science degree from U of T Scarborough this year. "But I found that pursuing them all anyway is honestly great. In neuroscience, people are moulded to think a certain way, but when you have a lot of experiences and learn how to deal with many different personalities, you can really add a lot of nuance. I know now that the more interdisciplinary a person is, the easier it becomes to problem-solve."
---
Here is the full list of U of T graduates recognized by the McCall MacBain Scholarship program:
Abigail Ralph (BSc 2023 UTSC), McCall MacBain Scholarship
Andrea Caceres Almendrades (BA 2023 WDW), McCall MacBain Finalist Award
Mostafa El Sharkawy (BA 2023 TRIN), McCall MacBain Finalist Award
Levon Karakoyun (BA 2023 UC), McCall MacBain Finalist Award
Matthew Kieffer (BA 2023 VIC), McCall MacBain Finalist Award
Lucas Penny (BSc 2022 TRIN), McCall MacBain Finalist Award
Sara Sutherland (BSc 2023 KPE), McCall MacBain Finalist Award
Yao Yan Huang (BSc 2023 UTSC), McCall MacBain Regional Award
Omer Malikyar (BA 2023 WDW), McCall MacBain Regional Award
Adib Syed (BSc 2023 UTSC), McCall MacBain Regional Award
UTC