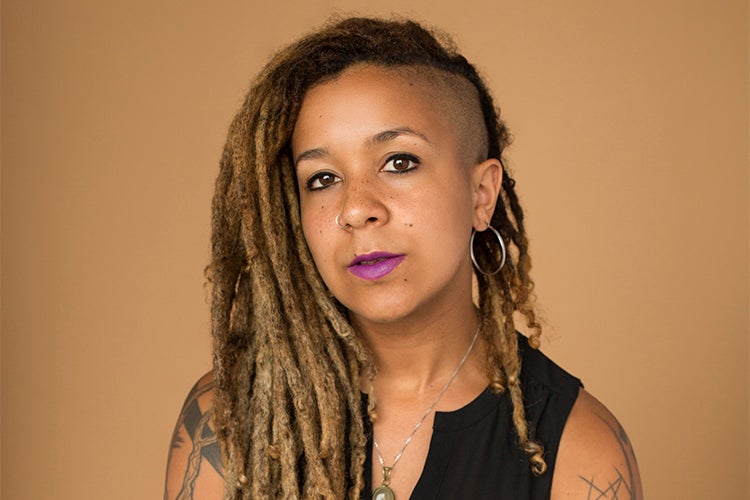 Robyn Maynard receives Talent Award from the Social Sciences and Humanities Research Council
The University of Toronto's Robyn Maynard is this year's winner of the Talent Award, one of the Social Sciences and Humanities Research Council (SSHRC) Impact awards.
"I am thrilled to learn that Robyn has been recognized for her academic excellence and research talent," said Melanie Woodin, dean of the Faculty of Arts & Science. "Her work on race, gender and discrimination has had measurable and material impact on the lives of Black and Indigenous people in Canada and beyond. This distinction is a testament to the high regard in which she is held by her peers, colleagues and partners." 
A doctoral student at the Women and Gender Studies Institute at U of T, studying under the supervision of Associate Professor Eve Tuck, Maynard is an award-winning author, Vanier scholar and community organizer whose work focuses on racist and gender-based violence and discrimination. Her SSHRC-funded dissertation project explores the recent political contributions of Black social movements in support of the human rights of Black migrants.
"The University of Toronto congratulates Robyn Maynard on this important recognition," said University Professor Ted Sargent, U of T's vice-president, research and innovation and strategic initiatives. "Her research has already made a significant impact – and her expertise and leadership are also helping audiences beyond academia better understand the social, gendered and economic marginalization experienced by Black migrants in the U.K., Canada and the United States."
Maynard's 2017 book Policing Black Lives: State Violence in Canada from Slavery to the Present, won the 2018 Errol Sharpe Book Prize and was shortlisted for an Atlantic Book Award, the Concordia University First Book Prize and the Mavis Gallant Prize for Non-Fiction.
UTC