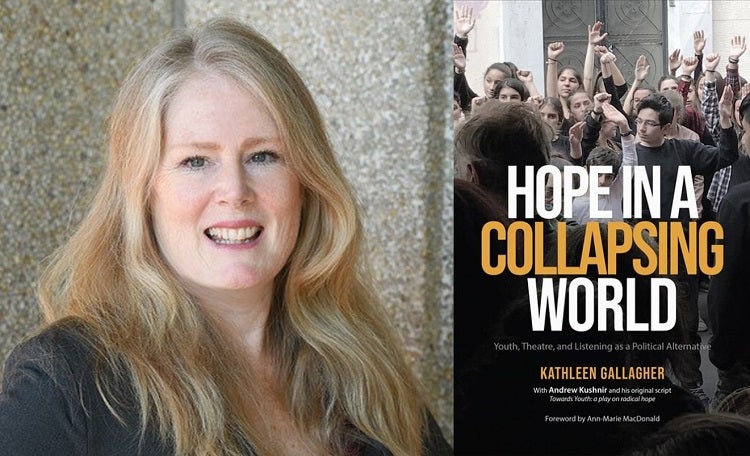 Kathleen Gallagher wins Distinguished Book Award from American Alliance for Theatre and Education
Kathleen Gallagher, a distinguished professor in the Ontario Institute for Studies in Education's department of curriculum, teaching and learning, has received a Distinguished Book Award from the American Alliance for Theatre and Education for her 2022 book Hope in a Collapsing World: Youth, Theatre, and Listening as a Political Alternative, a collaboration with playwright Andrew Kushnir.
"For me, it is a bit of a full-circle moment as this was the organization that recognized my dissertation in 1998," says Gallagher, who is director of the University of Toronto's Centre for Drama, Theatre & Performance Studies and a Royal Society of Canada fellow. "Now, 25 years later, they have again honoured my research."
The book presents the process and findings of a five-year international ethnographic study investigating how the drama classroom can awaken the activist voice and inspire engaged citizenship.
It includes Kushnir's play Towards Youth: A Play on Radical Hope, a verbatim piece created from the research project's interviews and fieldwork.
Gallagher says the award is further encouragement to her research team across the globe.
"We have a renewed sense of purpose as we move forward with our current collaborative ethnographic work centering young people's commitments to socio-ecological justice," she says.
The award will be presented in Seattle during AATE's national conference the weekend of July 29.
OISE