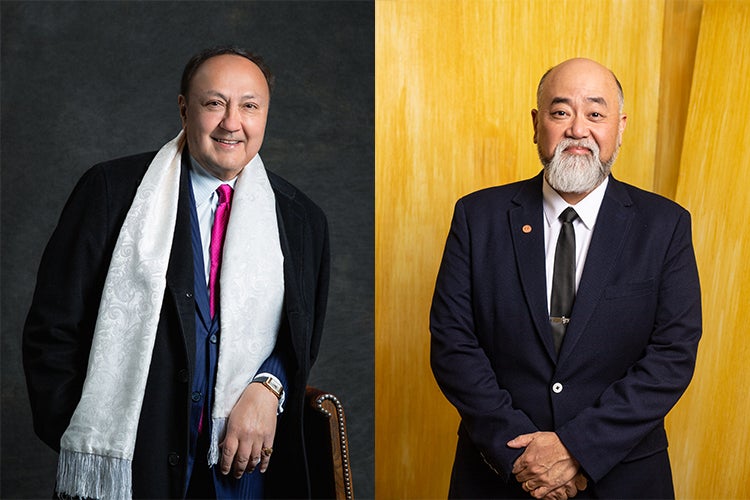 John Kim Bell and Paul Sun-Hyung Lee receive Governor General's Performing Arts Awards
Two members of the University of Toronto community are being recognized with Governor General's Performing Arts Awards, the country's highest honour in performing arts.   
John Kim Bell, who received an honorary degree from U of T in 1999, is recognized with the Ramon John Hnatyshyn Award for Voluntarism in the Performing Arts for his activism, entrepreneurship and philanthropy. An internationally renowned conductor, Bell, who was born on the Kahnawake Mohawk Reserve, established the Indspire charitable organization and awards in celebration of Indigenous achievement.
"No person's success is theirs alone and I share this award with hundreds of individuals who have helped and supported me over many years, and continue to do so today," Bell said in a video.
Writer and actor Paul Sun-Hyung Lee, who studied drama at University College, is recognized with the National Arts Centre Award. Lee is best known for his role as "Appa" on the television show Kim's Convenience, which brought the Korean-Canadian immigrant experience into the cultural conversation.
"Growing up as a chubby Korean kid in Calgary, Alta, who didn't even know I could be an actor for a living – this comes as a tremendous surprise," Lee said in a video.
Douglas Knight, chair and CEO of the Governor General's Performing Arts Awards Foundation (GGPAAF), and Anik Bissonnette, co-chair of GGPAAF, praised the winners in a joint statement, saying, "The arts play a vital role in our lives, which has been made powerfully evident as we faced great challenges during the pandemic."
The Governor General's Performing Arts Awards Gala takes place at the National Arts Centre on May 27.
UTC