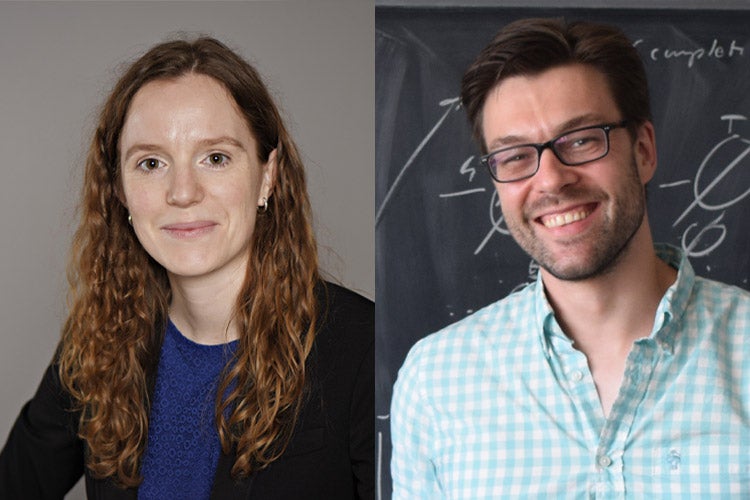 David Curtin and Sophie Rousseaux recognized with McLean Awards for 2022
The Faculty of Arts & Science's David Curtin, a theoretical particle physicist, and Sophie Rousseaux, an organic chemist, are recipients of the University of Toronto's McLean Award for 2022.
Supporting basic research in physics, chemistry, computer science, mathematics, engineering sciences or statistical sciences, the award assists an outstanding researcher early in their career to attract and support graduate students and post-doctoral fellows for their research team.
"It's a great honour to win the award," says Curtin, an assistant professor in the department of physics who holds a Canada Research Chair in Theoretical Particle Physics. "It's wonderful validation of the research I'm doing and I'm very grateful for it. But I also see it as recognition of the amazing people already in my group and the incredible wellspring of motivated, talented undergraduates and graduate students that U of T attracts."
"I'm surprised, excited and grateful to win this award," says Rousseaux, an associate professor in the department of chemistry, who holds a Canada Research Chair in Organic Chemistry. "The McLean is particularly meaningful in that it recognizes basic research so it really gives us the opportunity to explore ideas that don't necessarily have an immediate application but could have long-term impact.
"It provides opportunities to explore ideas that might not get funding from traditional sources – that's what's most exciting."
The McLean Award is part of the Connaught Fund which celebrates its 50th anniversary this year. As Canada's largest internal university research funding program, the Connaught Fund has given out more than $178.7 million to researchers across myriad disciplines to tackle pressing global issues.
Arts & Science