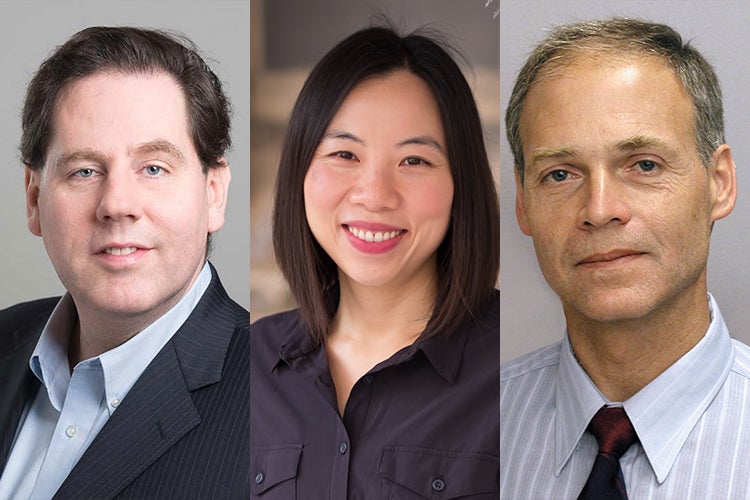 Aimy Bazylak, Vaughn Betz and Frank Vecchio elected 2022 Fellows of the Engineering Institute of Canada
The Faculty of Applied Science & Engineering's Aimy Bazylak, Vaughn Betz and Frank Vecchio have been elected 2022 Fellows of the Engineering Institute of Canada for "excellence in engineering and services to the profession and to society."
"On behalf of the Faculty, my warmest congratulations to Professors Bazylak, Betz and Vecchio," says U of T Engineering Dean Christopher Yip. "Their outstanding contributions illustrate some of the key areas in which U of T Engineers are making an impact across disciplines and sectors."
A professor with the department of mechanical and industrial engineering, Bazylak holds the Canada Research Chair for Thermofluidics in Clean Energy and is working to advance fuel cells, electrolyzers and batteries for clean power production and energy storage without greenhouse gas emissions. Her research is focused on the use of modelling and real-time imaging to design new materials for high efficiency and performance.
Betz, a professor with the Edward S. Rogers Sr. department of electrical and computer engineering, holds the NSERC/Intel Industrial Research Chair in Programmable Silicon. His work has revolutionized the use of field programmable gate arrays (FPGAs), to allow engineers to rapidly create new hardware systems and realize their design visions.
Vecchio, a professor emeritus with the department of civil and mineral engineering, is the former Bahen/Tanenbaum Chair in Civil Engineering. An internationally respected authority on the behaviour of concrete structures, he has contributed substantially to increasing the safety and reliability of Canada's infrastructure. Vecchio is the co-developer of the Modified Compression Field Theory, a groundbreaking conceptual model for describing the behaviour of reinforced concrete under general load conditions, which has been incorporated into design codes in Canada and internationally.
TAGS
Faculty of Applied Science & EngineeringDepartment of Mechanical & Industrial EngineeringEdward S. Rogers Sr. Department of Electrical and Computer EngineeringDepartment of Civil & Mineral Engineering
UTC