U of T receives 16 communications awards and honours from international higher education organization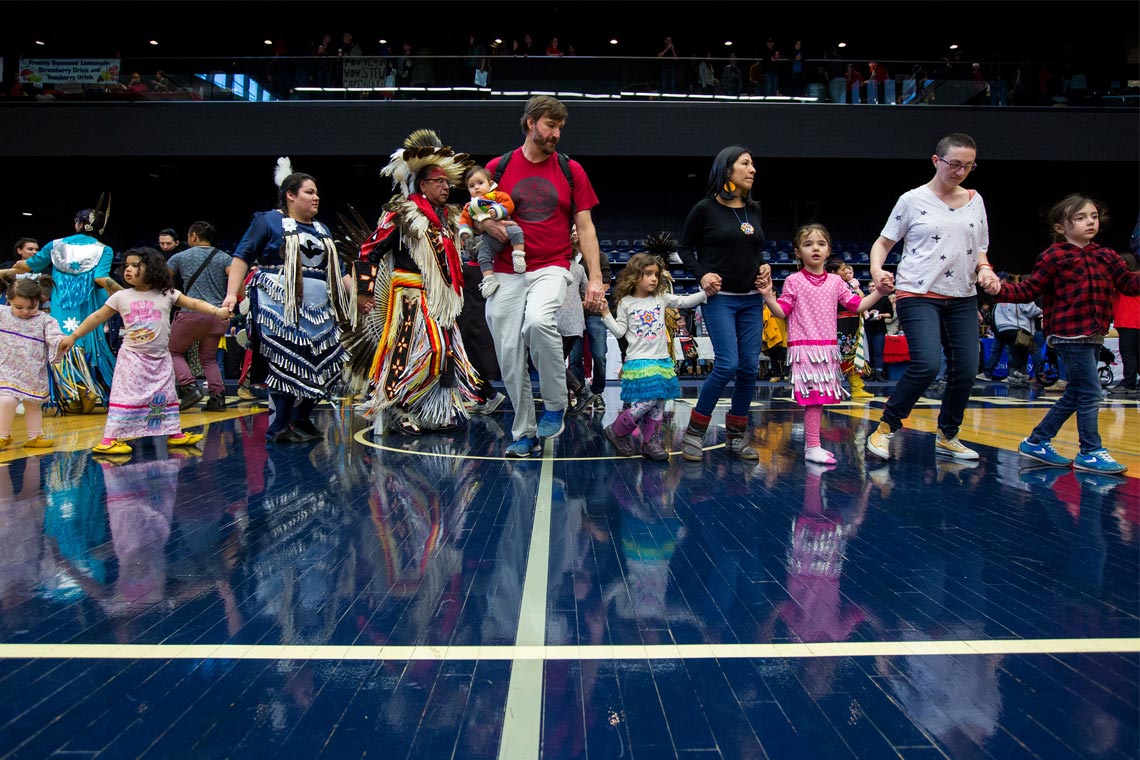 One of the award-winning photographs by U of T's Laura Pedersen, taken at a powwow in 2018 at the Goldring Centre for High Performance Sport
Behind the accomplished researchers and inspiring students at the University of Toronto are communicators who help to tell their stories – from photographers capturing memorable moments to writers who craft narratives about the people, places and breakthroughs that make U of T one of the top-ranked universities in the world.
This year, the University of Toronto has been recognized for its excellence in communications, garnering 16 honours, including four gold medals, from the Council for Advancement and Support of Education (CASE) – an international organization of educational institutions – for its 2019 District II Awards. The awards include a wide range of communications achievements, including social media stories, fundraising campaigns, media relations and annual reports.
U of T Communications (UTC) won a top honour for its "Support the Report" campaign advocating for federal funding for fundamental science. The email, social media and letter-writing effort urged the federal government to implement recommendations from Canada's Fundamental Science Review, led by U of T President Emeritus David Naylor. 
Another gold medal-winning initiative recognized UTC's storytelling efforts to generate excitement about  U of T's entrepreneurship community, its leadership in innovation and its role in helping to launch over 500 startups.
 "I am very pleased to see U of T communications teams getting recognition for their great work in so many categories," said David Estok, the University of Toronto's vice-president of communications. "What is especially pleasing is to note that many of these awards are for projects worked on by many members of teams.
"For UTC, it is the most awards we have ever won in a single year."
---
The following are the awards won by members of the U of T communications community. 
U of T Communications

Platinum category
Traditional categories 
Community relations programs, projects and special events: UTC garnered gold for its  "Support the Report" campaign for federal research funding, which included a number of U of T News stories, a video, 50 social media posts and a postcard campaign that saw 5,000 postcards signed and sent to the federal science minister. In February, 2018, the federal government announced the single largest investment in fundamental research in Canadian history – almost $4 billion in new funding for science over the next five years.
The campaign also won a Canadian Public Relations Society Ace Award for the government relations campaign of the year.
Excellence in news writing: general news writing:  Chris Sorensen of U of T News won gold for his package of stories about the University of Toronto's startup community, including a feature-length article about a female biomedical engineer building a company around a unique polymer that can be used in breast-cancer lupectomies to improve outcomes for patients, and a news piece about how Toronto has emerged as a North American innovation hotspot.
Institutional media relations programs:  UTC's media relations team won silver for  "Making sense of violence": U of T experts on the Toronto van attack – when it provided a list of experts on the day of Toronto's tragic van attack, in which 10 people were killed and 16 injured. The list tackled subects ranging from coping with trauma to the factors that could have triggered the crime.  
Magazines, online/digital:  University of Toronto Magazine won a silver for two digital issues, Winter 2018, Plan B: The Power of Reinvention and Autumn 2017 (Beginnings).  The magazine, in its Plan B issue, looked at what happens when things don't quite go according to plan – like the nursing student who struggled to come back from life-threatening injuries.  The Beginnings issue was timed with the start of a new school year, and included the story of a Syrian grad student who got caught in the U.S. travel ban and found a home at U of T.
Magazines, print/hard copy: Another silver for University of Toronto Magazine for its Spring 2018 (AI and Technology) and, again, the Autumn 2017 (Beginnings).The AI and Technology issue examineed the potential of AI, in health care particularly – and the implications of its widespread use.
Staff writing: Stacey Gibson, deputy editor of University of Toronto Magazine, won bronze for a package of three stories, including Finding Comfort in Food, a profile of U of T alumna Edna Staebler, and a feature about U of T alumna Aida Edemariam, who captured her grandmother's life in Ethiopia in her first book, The Wife's Tale: A Personal History. 
Social media:  UTC's social media garnered an honourable mention for A 24-7 guide to admissions questions on Instagram.
Institutional media relations programs: The media relations teams won an honourable mention for fostering a culture of opinion writing at U of T, by holding training sessions and offering support with topics and pitching.  Op-ed writing: share your expertise with the world 
Faculty of Arts & Science Communications & Public Affairs
Fundraising campaigns: The advancement communications team won gold for Starfinders: The Campaign for U of T Astronomy , which shares stories of unique U of T Astronomy projects, including a graduate student's trip to Antarctica to conduct research there.
Stewardship initiatives: Another gold for the advancement communications team for The ArtSci Affect: Your Philanthropy in Action, 2016/17, a print and digital publication produced each year that explains the impact of donations made to the Faculty of Arts & Science. 
 Individual sub-websites:  The student communications team won silver for its New Student Guide, an online guide for newly admitted U of T students that includes important dates, as well as information on course selection, orientation, finances and more.
Faculty of Applied Science & Engineering
Fundraising campaign: Engineering Strategic Communications garnered an honourable mention for their faculty and staff fundraising campaign, Plunge a Prof.
Other U of T awards
Subscribe to the Bulletin Brief