U of T welcomes federal budget's boost for fundamental research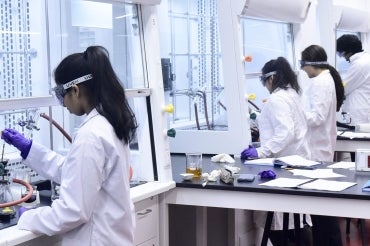 Calling it a "significant set of new investments," the University of Toronto welcomed the multi-year provisions for research funding contained in the federal budget announced by Finance Minister Bill Morneau Tuesday.
"We welcome the government's support for fundamental research, a critical element of a national strategy to advance knowledge and build Canada's prosperity," said U of T President Meric Gertler.
The budget provides $925 million in new funding for investigator-led research through Canada's three federal research councils over the next five years, including $354.7 million each for the Natural Sciences and Engineering Research Council and the Canadian Institutes of Health Research over the next five years, and $215.5 million for the Social Sciences and Humanities Research Council.
An additional $275 million is earmarked for a new Tri-Council fund that will support research that is "international, interdisciplinary, fast-breaking and higher-risk," according to the government, and $21 million will be allocated to increase diversity in science.
Morneau said the 2018 federal budget "represents the single largest increase in investigator-led fundamental research in Canadian history."
"As Canada's leading research university, the University of Toronto is pleased to see the federal government augment funding for both operating grants and research infrastructure, helping us attract and retain top research talent from across Canada and around the world," said President Gertler.
"We also commend the government for its commitment to increasing the diversity of researchers across the country, complementing longstanding efforts at U of T," President Gertler said.
Vivek Goel, U of T's vice-president of research and innovation, said he welcomed the federal government's recognition of the work of Canada's Fundamental Science Review, led by U of T President Emeritus Dr. David Naylor.  Goel also noted that the government acknowledged in the budget that it received a "strong and united message from Canada's research community."  
The panel, commissioned by federal Science Minister Kirsty Duncan, found per capita federal investment in fundamental or curiosity-driven research had slumped in recent decades and made a comprehensive set of 35 recommendations.
The 2018 budget, which addressed several of the report's findings, also includes:
The introduction of 250 new chairs through the Canada Research Chair program, with an investment of $210 million over five years to better support early-career researchers, while increasing diversity and creating more opportunity for women among nominated researchers.
$763 million over five years for scientific research infrastructure through the Canada Foundation for Innovation (CFI). This includes $160 million for increased support to Canada's nationally important research facilities through the foundation's Major Science Initiatives Fund. 
The government also proposes to establish permanent funding at an ongoing level of $462 million per year by 2023-24 for research tools and infrastructure through CFI.
$572.5 million over five years to implement a Digital Research Infrastructure Strategy to deliver more open and equitable access to advanced computing and big data resources to researchers across Canada.
"We applaud Minister Duncan for her ongoing support of research, which paved the way for today's investments," said Goel.
"These investments will revitalize the Canadian scientific research community and enable our U of T researchers to continue to pursue outstanding work that is a benefit to all Canadians," he said.  "I thank all the members of our community for participating in efforts to raise awareness of their work and the need for support."
Goel said the university is looking forward to continuing to work with the government on important issues such as scholarships for students and noted that the budget commits to consultations in the coming year on this topic.
The budget includes $231.3 million over five years for the Research Support Fund – a critical program that assists universities with the institutional costs of research, such as facility costs and technology transfer supports – but does not substantially increase the proportion of funding for these costs.  The university will continue to work with government to ensure that the full costs of research are supported. 
UTC