The making of a champion: U of T's Kylie Masse sets her sights on Tokyo 2020
Wearing tinted goggles, a black Speedo suit and faux pearl earrings, Kylie Masse takes her starting position on the block as cheers echo throughout the University of Toronto's cavernous Athletic Centre. 
Three, two, one. Masse moves reflexively, like a machine getting into gear. She dives, resurfaces and surges forward into her lane for the 200-metre butterfly. "TORONTO" is spelled out in block letters under the pool's surface.
Having reached her fifth and final year of varsity eligibility this past season, the home meet against Western University earlier this year would be one of Masse's last at the university. Over that period, Masse went from relative obscurity to winning a bronze medal at the 2016 Olympic Games in Rio de Janeiro and capturing a world record in the 100-metre backstroke.
"Winning the bronze, I never thought that was even possible," Masse tells U of T News. "I never imagined myself on the [Olympic] podium that early on in my career … It really showed me what I was capable of and how much more I could still do." 
Now, Masse has her sights on the 2020 Olympic Games in Tokyo, where she's looking to reach the podium once again. She's already begun preparing in earnest – only this time around she's facing the heightened expectations that come with being a veteran of the sport. If that weren't enough, she's also wrapping up her U of T degree in kinesiology, with an eye to pursuing a career in health care after graduation.
Fortunately, Masse is better suited than most to handle the pressure.
Byron MacDonald, U of T's varsity swim coach, has seen other U of T athletes reach the Olympics in his 42 years with the team. But he says Masse's steady, low-key approach has yielded results that are rare in an unpredictable sport where the line between success and failure is measured in hundredths of a second.
"The fact that this girl gets to the top of the podium, let alone the podium, almost every single time she races – the consistency she shows is beyond compare."
Masse's relentless ways were on full display this summer in Gwangju, South Korea, where she defended her world title in the 100-metre backstroke – her best event – against the world's top swimmers, including Olivia Smoliga, the American record-holder in the 50-metre backstroke, and Kathleen Baker, the Salem, N.C.-born swimmer who robbed Masse of her world record last year.
With the swimming world watching, Masse again exploded off her block and kept pace with the leaders. Only an arm's length separated the leading swimmers as they came within touching distance to the wall. The commentator spoke in broken rhythm. "Masse in front," he said. "Smoliga, Smoliga has responded… Smoliga, Masse, it's going to be tight… who gets there? Masse gets there!" 
Yet, despite the gutsy performance in South Korea, Masse needs no reminding of how quickly fortunes can change in swimming. And with Tokyo 2020 fast approaching, even tougher tests lie ahead. Not only does Masse now swim with a target painted on her V-shaped frame, she must increasingly cope with a new crop of hungry, young competitors looking to make a big splash on the world stage – just as Masse herself once did.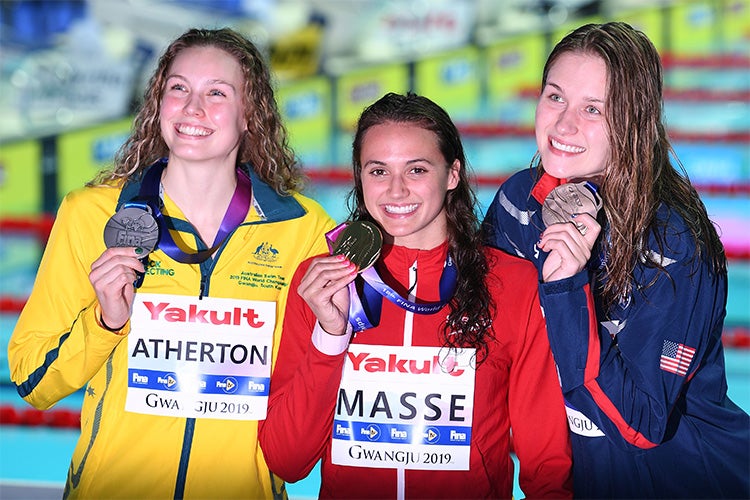 Kylie Masse (centre) poses with her gold medal at the 2019 World Championships in Gwangju, South Korea in July. New Zealand's Erika Jane Fairweather (left) took silver, while U.S. swimmer  Olivia Smoliga captured bronze (photo by Oli Scarff/AFP via Getty Images)
Humble beginnings
Raised in LaSalle, Ont., Masse can't remember when she first started swimming. It was probably around age three. She says she was "a little bit of a klutz" and "not exactly anyone's prediction of an Olympian." Although she comes from an active family, she says school was just as important.
"It was all about balance," Masse says. "Sport was a huge thing, but so was school and there was an equal amount of hard work dedicated to both." 
From ages eight to 18, Masse swam with the Windsor Essex Swim Team. Her former coach, Andrei Semenov, says Masse didn't have a competitive swimmer's build when she was younger. "She was tiny, tiny, tiny," Semenov says, adding Masse stood below many of her teammates' shoulders.
But what Masse lacked physically, she more than made up for with leadership and attitude.
"She always swam for the team," Semenov says, "not just for Kylie Masse."
Prior to university, Masse ranked 201st in the world in the 100-metre backstroke, which would later become her signature event. Though it was still early days, Masse showed enough promise in her high school years to appear on the radar of varsity scouts in both Canada and the United States.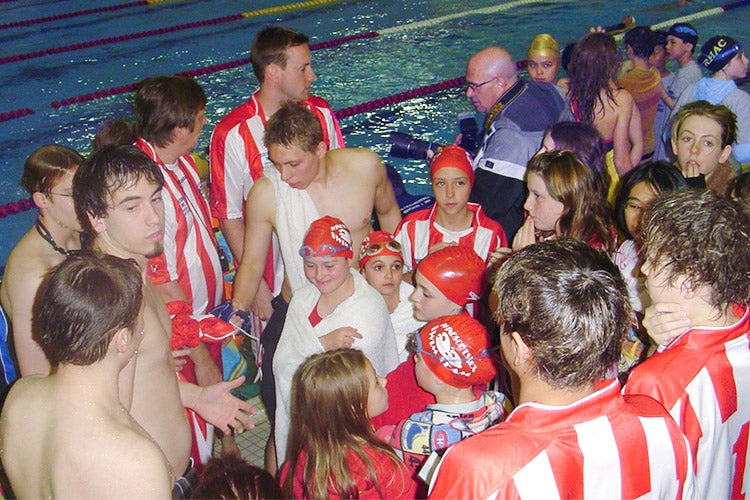 Kylie Masse (centre) learned the fundamentals of the sport on the Windsor Essex Swim Team when she was young. "She was tiny, tiny, tiny," says her then-coach Andrei Semenov (photo courtesy of Andrei Semenov)
Masse had already been weighing offers from several schools when MacDonald, the U of T swim coach, came calling. But between high school classes, swimming practice and recruitment trips, Masse wasn't sure she had time for yet another campus tour. But MacDonald persisted, asking her to come and train with the team on one of the only free days in her calendar: a Thanksgiving Monday.
Joined by another swimming prospect from Quebec, Masse arrived at U of T to find a closed campus and a deserted pool – hardly ideal circumstances for a winning sales pitch. So, MacDonald improvised and invited the two swimmers to his family's home for a turkey dinner.
"I did feel kind of bad actually," Masse recalls, "but it was super special that he brought us to his house."
The meeting clearly left an impression, though it probably weighed less heavily in Masse's ultimate decision than the range of resources offered at Canada's largest university and the school's location – less than a day's drive away from Masse's hometown.
"I came here and just felt that I would be able to achieve my goals and dreams," she recalls. 
Masse's path to the Olympic Games was far from linear. She suffered a devastating disappointment in her second year at U of T when she failed to qualify for the Pan American Games in Toronto. Masse went into the last leg of trials as the top seed, but soon lost her focus. 
"I just got caught up in the race, thinking about what else was happening, or what could happen or what couldn't happen if I didn't make the team," she says. 
"It definitely was kind of a wake-up call and that's been part of the journey."
Such early setbacks can sometimes derail an athlete's career. But Masse bounced back. Just a few months later at the 2016 International University Sports Federation (FISU) World University Games in Gwangju, South Korea, she swam the 100-metre backstroke in what was then a personal best time of 59.97 seconds, clinching the gold medal and coming in just 14 hundredths of a second off the record for that competition.
The swimming community suddenly took notice of the new 19-year-old on the block; Brittany MacLean, a Team Canada freestyle swimmer, even congratulated Masse on Twitter.
"I was so in awe that [MacLean] knew who I was or saw the result," Masse says. "That kind of got me thinking, 'If I keep working, maybe this could be my event.'"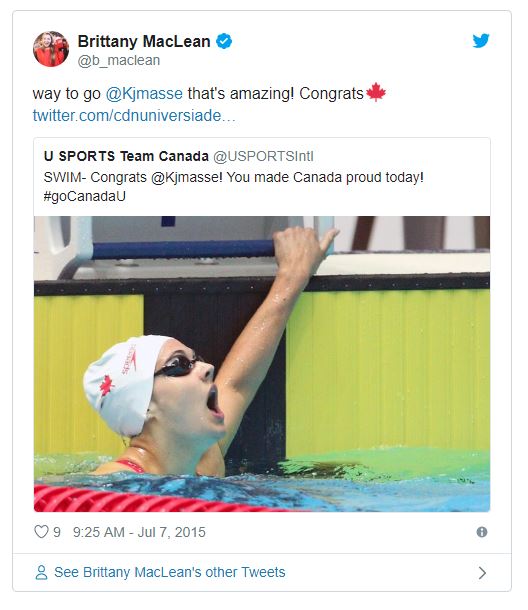 Masse's U of T varsity teammate Eli Wall says her success at those games opened people's eyes to her potential. 
"She herself and everyone else realized that she was the real deal," he says. "I mean, she was virtually nowhere on the world stage the year before that, and she went on to win a gold medal at these big international university games.
"That gave her a lot of momentum going into Rio."
Masse would not disappoint.
A winning bet
Masse had more on the line than just a medal in Brazil. She and her coaches made a deal after she had reached the final: If she could top MacDonald's sixth-place finish at the 1972 Games in Munich, she would get a pair of tickets to see hip-hop superstar Drake in Toronto.
"That was our little running joke," Masse says. 
On finals day, MacDonald watched from the press box above the bleachers, where he was commentating for CBC. Linda Kiefer, the assistant head coach of the Varsity Blues swim team, had a poolside view of the action as one of Team Canada's coaches. 
At the race's halfway mark, Masse turned and touched the wall after the three leaders, making her a longshot for the podium. But she accelerated in the final stretch and touched the wall alongside China's Fu Yuanhui, sharing third place in a photo finish.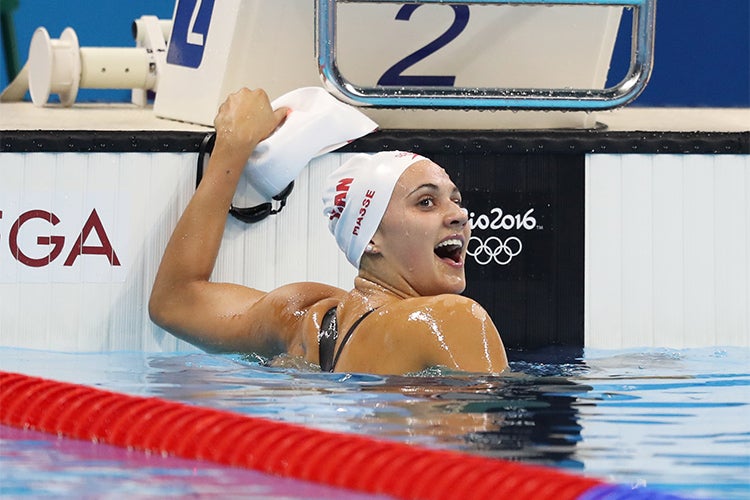 Kylie Masse of Canada celebrates third place in the women's 100-metre backstroke at the 2016 Summer Olympic Games in Rio de Janeiro, Brazil (photo by Ian MacNicol via Getty Images)
"Post-race I was inundated with interviews," Masse later wrote in a personal essay for CBC. "There were questions about the sport itself, questions that I had never really put into words before."
Her coaches, meanwhile, made good on their bet. Masse went to see Drake at the Air Canada Centre in the fall with her friend Penny Oleksiak, who, at 17, became Canada's youngest Olympic champion with a break-out performance and five-medal haul. 
But neither the Olympic medal nor what followed – the TV interviews and Speedo sponsorship – appear to have gone to Masse's head. Instead of displaying her bronze medal, Masse keeps it tucked away in her sock drawer.
Her coaches say that's par for the course for Masse, who doesn't like to draw much attention to herself or boast of her achievements. Asked for an anecdote that reveals something of Masse's personality, Kiefer tells the story of when she encouraged Masse to introduce herself to Gregorio Paltrinieri, an Italian distance freestyle champion. Masse balked, reasoning that he wouldn't know who she was – after all, he's an Olympian.
"So are you," Kiefer reminded her. 
Swimming, school and superstition
It can be difficult for U of T students to keep their head above water – never mind juggling up to nine swimming practices per week, three gym sessions, two physiotherapy appointments, out-of-town tournaments and media requests. 
A typical day for Masse begins around 5:30 a.m. and finishes at 9:30 p.m, homework permitting. When she's not swimming, she's doing what most other students do: studying for finals and racing across campus to get to her elective, an introductory Spanish class. While she's had her share of late nights hitting the books, Masse can claim at least one victory beyond the pool: She's managed to avoid pulling an all-nighter in Robarts library.
Of course, being an Olympian comes with a few perks, particularly if you're a kinesiology student like Masse. In one class on the Olympics and Paralympics – focusing on their achievements, prospects, problems – Masse and her peers were told to write a profile of an Olympian. So, Masse began her research by firing off a text message to Oleksiak and ended up with an A-plus.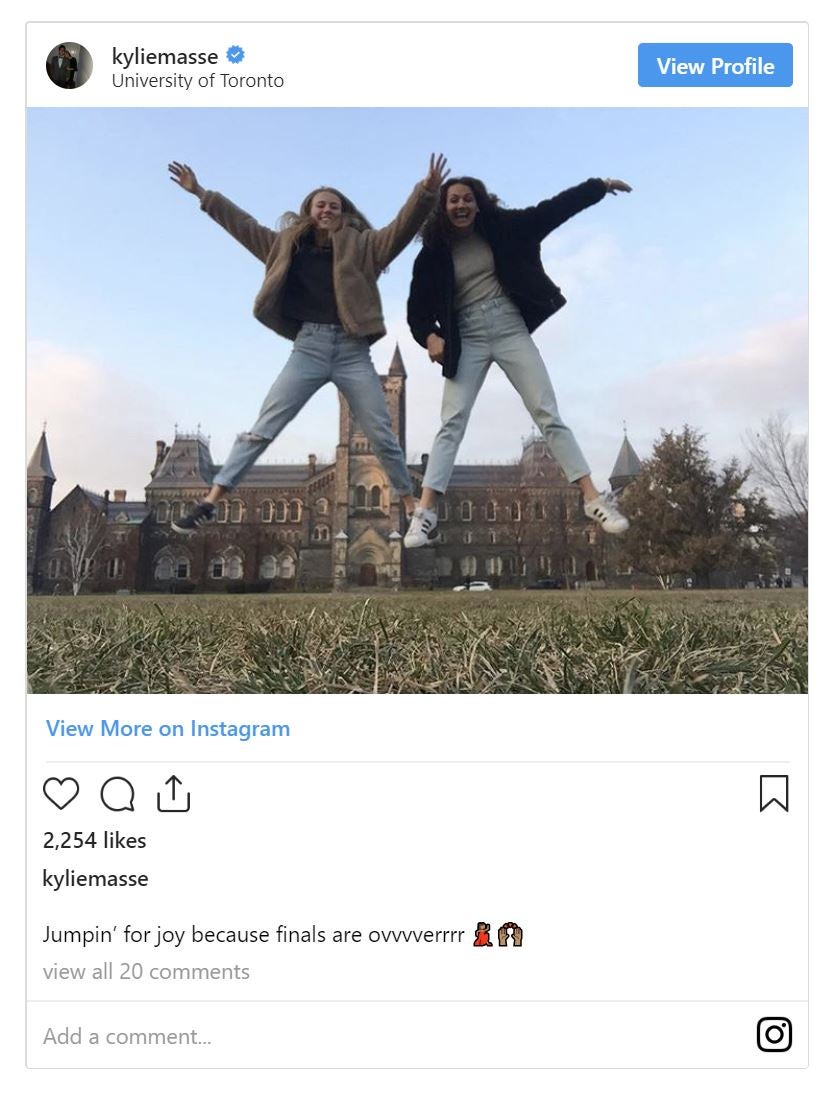 Varsity swim coaches MacDonald and Kiefer know how hard it can be for swimmers to balance the demands of the sport with school and everything else life throws at them. Their coaching partnership has lasted almost three decades, longer than many marriages. Somewhere along the line they developed a key insight: a happy swimmer is a fast swimmer.
Masse, in particular, is so naturally upbeat that her coaches know there's something amiss if she turns up for practice without a smile. "If you've ever watched her, she has fun," Kiefer says. "If she comes on deck and she's not dancing or bopping or singing, it's like 'Uh oh.'"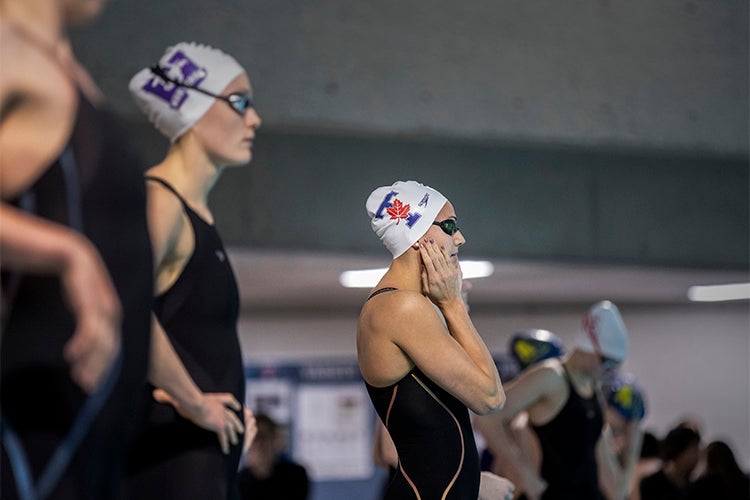 Masse (centre) in one of her last home meets with U of T's varsity team against Western University (photo by Nick Iwanyshyn)
Kiefer pays attention to every detail about her swimmers, even if they might seem trivial. After she noticed Masse wearing faux pearl earrings to races, she assumed they were good luck charms and kept a back-up pair in case Masse's jewelry ever went missing at an inopportune time. After all, superstition comes in many shapes and sizes in swimming. Michael Phelps reportedly swings his arms on the starting block the same way before each race. Another American Olympic medalist, Mel Stewart, told Swim World Magazine that he sticks to the same menu before each meet: green tea and spaghetti with red sauce.
But, as it turned out, Masse simply wore the earrings because she liked how they look – although she's been wearing them less frequently lately because she doesn't want them to get stuck in her cap during a race or lose them in the water.
Still, Kiefer says she keeps a surplus of faux pearl earrings on hand – "just in case."
Hungry for more
At just 21 years old, Masse was already on top of the world.  
At the world aquatic championships in Budapest, she made history by swimming the 100-metre backstroke in 58.10, snapping a world record that had stood for eight years. 
Her immediate reaction was disbelief. "I touched the wall and looked back and had to make sure I was looking at the right name and the right time," she told reporters in a conference call after the race.
"I was just super excited. In the moment I don't even know what I was thinking but excitement and joy." 
Her status as world-record holder was relatively short-lived. Just 368 days later, Team USA's Kathleen Baker – the same swimmer who edged Masse for silver at Rio in 2016 – smashed Masse's record with a time of 58 seconds flat at the American national championships. To add insult to injury, Baker captured the record in an outdoor pool, where times are thought to be slower. "I watched a lot of Shark Week," Baker later said in a news release, "so I was channeling my inner shark there."
MacDonald said it was a tough summer for Masse, who, in a short time, went from unlikely challenger to defending champion. She had "a bull's eye on her back as the world-record holder," her coach says.
Whereas Masse once raced in the pool's outer lanes, reserved for the lower seeds, now she swims in the middle lanes side-by-side with the world's best – and where everyone is watching. Yet, unlike the 2015 Pan Am Games in Toronto, where she lost focus and failed to qualify, Masse no longer crumbles under pressure.
Masse was following the American championships – and Baker's "inner shark" performance – from Japan, where she was at a staging camp for the Pan Pacific Swimming Championships.
"Obviously I was a bit disappointed," she recalls. "But I think it just gave me more motivation and lit a fire under me, like, 'I want it back.'"
Barely a week after losing her record, she faced her and the Australian heavyweight Emily Seebohm at the Pan Pacific Games in Tokyo. She held off Baker and swept past Seebohm with powerful strokes in the dying seconds, one of Masse's signature strengths.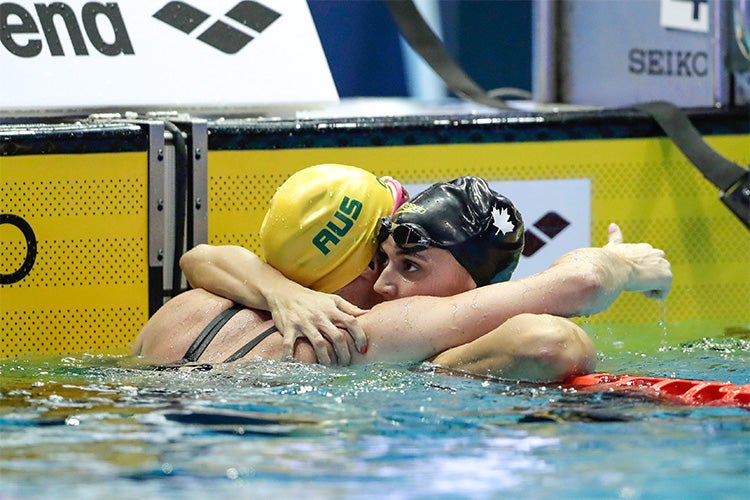 Kylie Masse (right) is congratulated by Australia's Emily Seebohm after winning the gold medal the women's 200-metre backstroke at the 2018 Pan Pacific Swimming Championships in Tokyo, Japan (photo by Kiyoshi Ota via Getty Images)
In hindsight, MacDonald says that losing her record may have ended up being a blessing in disguise for Masse as she prepares for the 2020 Tokyo Games.
"Now she's hungry," he says. 
Back on campus, Masse handily wins the 200-metre butterfly at the meet against Western, finishing well ahead of the runner up. While such meets are comparatively low stakes, it's impossible to tell – for a casual observer at least – whether Masse is making a distinction once she's zooming through the water.
What is clear is that Masse's preparations for Tokyo 2020 have begun in earnest. She is taking just one or two courses at U of T this year to save her energy and has signed on to a new international swimming league, which aims to give the world's top swimmers new opportunities outside of the Olympics and other regional and international championships.
When asked if the upcoming Games could be her last, Masse – perhaps not surprisingly – shows little interest in engaging in such introspection when there's work to be done.
"I'm focusing on the now and I'm going to think about that later," she says. "I'm going to swim for as long as I enjoy it."
UTC