Canada's Olympic flag bearer: the University of Toronto's Rosie MacLennan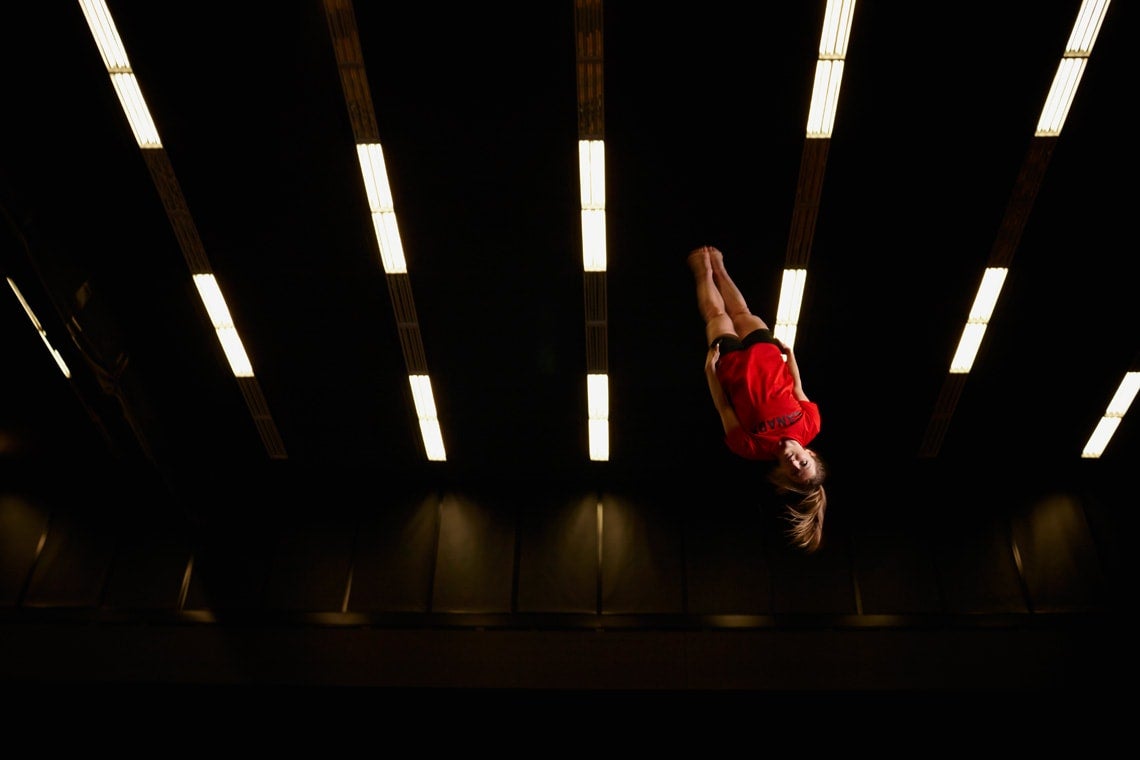 U of T grad and two-time Olympian Rosie MacLennan will be Canada's flag bearer in the Rio 2016 Olympic Games Opening Ceremony. 
Prime Minister Justin Trudeau and the Canadian Olympic Committee (COC) made the announcement in a special ceremony on Parliament Hill on July 21.
A graduate of the Faculty of Kinesiology and Physical Education at U of T, MacLennan was Canada's only gold medalist in the London 2012 Olympic Games. She also took gold at the Toronto 2015 Pan Am/Parapan Am Games.
Now a grad student in KPE working under the supervision of Professor Margaret MacNeill, MacLennan has been on leave from the program this year to prepare for the Olympics. 
"I am honoured to have been chosen as Flag Bearer for Team Canada," McLennan said. "To lead my country into the Opening Ceremony makes me feel so proud to be Canadian. 
"Joining the ranks of all the incredible athletes who have come before me is definitely a highlight of my career so far and one that I will remember for the rest of my life."
MacLennan made her world championship debut in 2005, winning her first medal, a bronze, in 2007. She added another bronze in 2010 before winning silver in 2011 in Guadalajara. 
After her Olympic triumph, MacLennan maintained her top international ranking, winning her first world title in 2013 and adding silver in 2014. But she has overcome adversity along the way, suffering a concussion last summer that officials said made it "touch and go" whether she would compete at the Pan Am/Parapan Am Games.
Ira Jacobs, dean of KPE, called the COC's decision inspiring and inspired. 
"Rosie has been a very active and engaged alumnus and friend of the Faculty and it's just wonderful to see her in this role," Professor Jacobs said. "What better person to carry the maple leaf as an emissary into the Olympic stadium at the Olympic opening ceremony? We're all quite excited about it."
U of T Vice-President and U of T Scarborough Principal Bruce Kidd, former Olympian and founding dean of KPE, said he couldn't think of anyone more deserving to be Canada's flag bearer at the Olympics.
"She represents the highest values of the Olympic movement, she is an experienced athlete leader and she will make us all proud." 
Kidd also had some advice for McLennan to use her education as a social scientist and experienced athlete to do some field work about the Olympic movement.
Whether she takes him up on the offer is yet to be seen. She will, however, lead a team of approximately 300 Canadian athletes, including a number of U of T athletes, such as Josh Binstock (men's beach volleyball), Jason Burnett (trampoline), Crispin Duenas (archery), Michelle Li (badminton), Kylie Masse (swimming) and Donna Vakalis (modern pentathlon).
"I look forward to marching into the Maracanã stadium wearing the maple leaf, flanked by my incredible teammates," said MacLennan.
She is not the first U of T athlete to be named to this honour. In 1992, Michael Smith carried the flag in Barcelona. In 1976, Abby Hoffman carried the flag in Montreal. In 1968, Roger Jackson carried the flag in Mexico City and in 1964, Gilmour Boa carried the flag in Tokyo. And Hec Phillips, who became U of T's men's track coach in 1933, carried the flag in 1924.