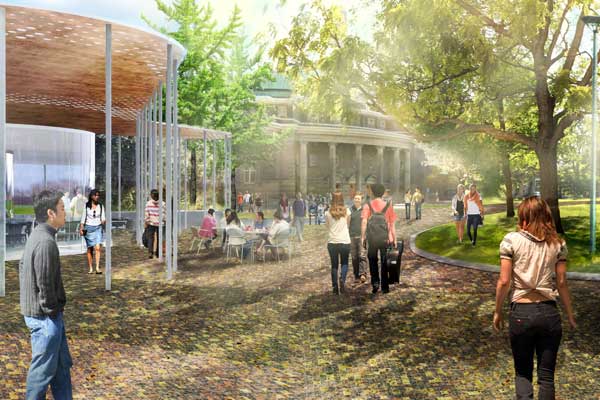 Your chance to see – and give feedback on – the future of U of T's downtown Toronto campus
All members of the public can view updated design proposals, see presentations at open house April 12
KPMB Architects, Michael Van Valkenburgh Associates (MVVA) and Urban Strategies – tasked with restoring and beautifying the central spaces of the University of Toronto's St. George campus – have revised their master plan.
The consortium won the Landscape of Landmark Quality competition in December based on preliminary designs shared with the public last fall.
The updated designs will be shared in a series of public exhibititions, beginning with an open house Tuesday April 12. All members of the U of T community and the general public are encouraged to view the updates in the East Common Room of Hart House from 9 a.m. to 5 p.m.
"The university is strongly committed to outreach and feedback," Christine Burke, director of campus facilities and planning. "This open house is a perfect occasion for people to see how the team has responded to the community and provide feedback of their own."
The updates follow consultations with U of T's Community Liaison Committee and Design Review Committee as well as other stakeholders and university neighbours.
Professor Donald Ainslie, principal of University College and co-chair of the Landmark Committee that selected the KPMB/MVVA/Urban Strategies consortium, will give an introduction at 11 a.m. Then Shirley Blumberg of KPMA outlines the project and its new elements in a 15-minute presentation.
The process is repeated at 4 p.m. with Professor Scott Mabury, U of T's vice-president of operations, providing the introduction. Highlights will be shown throughout the day on presentation boards and a slide show on a loop. Team members from KPMB, MVVA and BA Group transportation consultants will be on hand to answer questions.
The winning plan as chosen by the Landmark Committee envisioned a necklace of paths around King's College Circle, a row of oak trees along Tower Road and granite surfaces in place of asphalt and concrete. All submissions were expected promote pedestrianism, cycling and green space while removing surface parking on King's College Circle.
This open house will be followed by another, in the same location, on June 22. Exhibitions at U of T Scarborough are planned for April 18-22 (Meeting Place, S-Wing) and June 13-17 (Instructional Centre). Further displays on the St. George campus and U of T Mississauga will be announced shortly.