When it comes to COVID-19, not all tests are created equal: U of T's Vivek Goel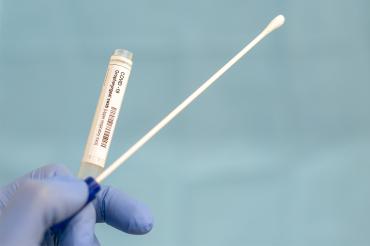 Testing for COVID-19 is a critical tool in the fight against the pandemic. But as more tests become available to more people, there is a risk of sowing confusion about which test is needed and when. 
Vivek Goel, a public health expert who is helping guide the University of Toronto's pandemic planning as a special adviser to the president and provost, says the confusion can be cleared by focusing on one key principle: "smart testing."
"Just testing on an ad hoc basis in a city or at a place like a university or company, whether they have symptoms or not and with whatever test is available and fastest is not always going to yield the best results," says Goel, who is also a professor at U of T's Dalla Lana School of Public Health.
"You need a strategy. Smart testing is a strategy where you carefully figure out who should get tested and when – with an eye on not wasting the time of health professionals or resources like labs and materials. And you have to use a combination of the different types of tests."
There are currently three types of tests in use to determine the presence of COVID-19:
The polymerase chain reaction (PCR) test detects the virus itself. A health professional usually conducts the test, using a long swab that is inserted in the nasal cavity. This test is extremely sensitive and accurate and usually doesn't result in false positive or negative results. The test must be analyzed in a lab. 
The rapid antigen test measures the spike proteins, the visible protrusions on the surface of the virus.  Goel says this test is "truly a point-of-care test. That means anyone can do it and it doesn't require specialized equipment, but it is less accurate."
There is also the antibody test, which measures past infection. But it is only being used for research and public health surveillance purposes.  
When should one test be used instead of another? Or should they both be used on the same person?
For an example of a model that worked, Goel points to the process the NBA adopted when it decided to resume games in the summer. 
The NBA played all its games at the Disney World complex in Florida. As players and other team personnel entered the complex (where they were also able to stay in hotels), they were quarantined and tested every day with a rapid test. If that test was positive, they were told to go into isolation until they got a "confirmatory" test using the more dependable PCR technology. 
"If the players or coaches were told that PCR test was negative, they could play in the games and be on the court," says Goel. "That worked. Other than a few cases at the start of the resumption of the season, the NBA didn't have transmission among the players or in the physical bubble." 
Goel adds that a number of things went right with the NBA approach: a mix of tests was used and everyone in the NBA agreed to follow the protocol. 
Conversely, U.S. President Donald Trump and others in his administration recently used a rapid antigen test but did not isolate after the test to see if they had the virus.
"That was not smart testing," says Goel. "They also ignored a lot of other basic public health precautions."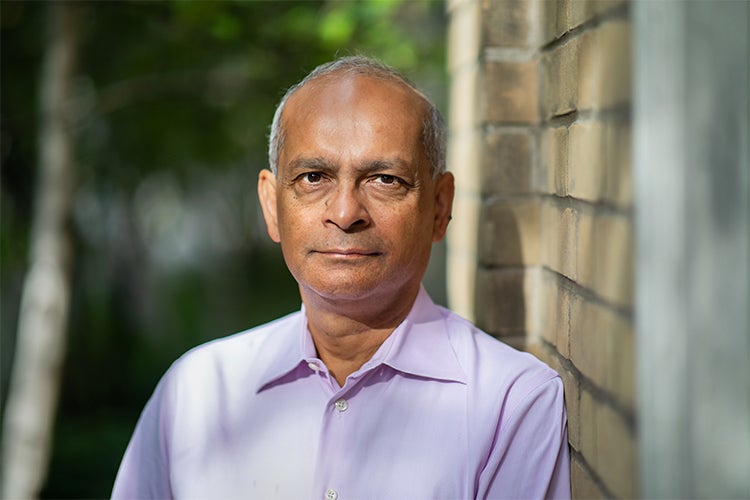 Vivek Goel is a public health expert who is helping guide U of T's pandemic planning as a special adviser to the president and provost. He is also a professor at the Dalla Lana School of Public Health (photo by Nick Iwanyshyn)
It's also not efficient to test large numbers of people who are at low risk for having the virus. 
"With the rapid antigen tests, people hear that the government has purchased millions of them and think this is the magic solution to testing," says Goel. "But, again, they are not accurate enough to use by themselves  in asymptomatic populations and, when you think of the amount of testing that needs to be done, we will also quickly run into supply chain issues.
"If we just went ahead testing everybody all the time – say everyone at universities across the country or every student who attends class in Toronto's grade schools – we would use up Canada's supply in only a few months."
Smart testing not only helps conserve resources, Goel says, but it can play a key role in helping to avert a prolonged return to the sort of full-scale lockdown Ontario experienced in the spring. 
"Such testing data gives governments and public health agencies vital information on how things are changing," he says. "If we have appropriate and smart testing in place, that is conducted strategically, we can allow activities to take place, such as visiting an elderly relative in a long-term care facility or students being together in a residence. For example, we could test random samples of people in such settings on a frequent basis and bring all the data together to monitor trends and detect and avert potential outbreaks. And we don't have to only look to rapid tests to do this. There are ways to collect samples for PCR more easily – for example, with nasal or cheek swabs, or with saliva.
"Just as the NBA was able to restore its season, even though it was at great cost, there are activities we all do that may be more meaningful that could be restored with smart testing strategies."
One of those activities is travel, which is vital to the global economy. 
"Until a vaccine is in wide use, the only way we are going to get people moving safely around the world again is with testing them at the border," says Goel. "If we are to open the borders again, think of the hundreds of thousands of travellers getting on planes and crossing borders on trains and buses and cars every day. To test them, we are going to have to figure out how to do smart testing. How would you apply the NBA model to travelling?"
Goel is co-principal investigator with a team from McMaster HealthLabs and St. Joseph's Hospital in Hamilton, Ont. that is working with Air Canada to examine the number and percentage of arriving international travellers who tested positive for COVID-19 during the federal government's quarantine period. The study has already demonstrated the feasibility of self-collected swabs at the airport and home.  
"Perhaps a strategy of testing may actually turn out to be safer than a strategy of a strict 14-day quarantine, which in a democratic society, is very difficult to implement, unless we're going to build quarantine hotels and facilities and try to keep everyone locked up," Goel told CTV's Your Morning program in early October. 
Goel, U of T's former vice-president, research and innovation, and strategic initiatives, notes that the university is extremely active in the area of developing testing technology. He points to the work of such professors as Warren Chan, who is working to develop a more sensitive rapid test, and Keith Pardee, who has developed a portable testing kit for use in remote and rural areas.
And Goel emphasizes that innovation in testing technology and in designing effective strategies is essential for global society while we wait for the vaccine. 
"The current thought is that we will have a vaccine sometime in the next six months. I agree with that. But that's a first vaccine and it might not be perfect. And it is going to be a lot of work to get it into billions of arms around the world. So, the virus will ease as we administer the vaccine, but we will still be living with COVID-19 for some time to come. There will be outbreaks, just as there continues to be with the measles. During this transition period, to keep enabling people to get back to work and their normal lives, we will need to be testing people and doing that in a smart way."
UTC/Freelance