U of T researcher's 'lab-in-a-box' promises to boost COVID-19 testing capacity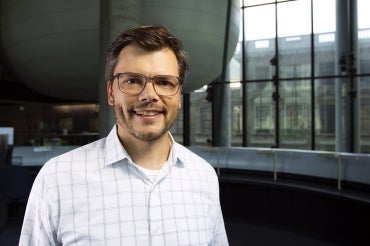 How do I know if I have COVID-19? That is one of the most commonly asked questions since the novel coronavirus began working its way around the world.
The only way to know if a person has COVID-19 is to conduct a diagnostic test. The gold standard technology for doing these tests is a machine that uses the polymerase chain reaction, or PCR, method developed in the early 1980s.
Yet, while PCR works well, it requires dedicated equipment in a lab and trained technicians. This makes it extremely difficult to conduct tests in low- and medium-income countries and remote and rural areas where medical testing facilities are not sophisticated or common. And, as we are seeing now, even the PCR testing facilities in big cities in Italy and the United States are under severe strain.
Keith Pardee and his team at the University of Toronto's Leslie Dan Faculty of Pharmacy may have a solution: a portable testing technology that he calls a "lab-in-a-box."
"The kit is literally the size of a couple cardboard moving boxes," says Pardee. "It will have the 'pop-up' capacity to establish a diagnostics lab essentially anywhere it is needed. Our goal is to create lab-in-a-box kits that provide 14,000 tests for COVID-19."
The portable testing kit contains multi-well plates about the size of two playing cards.  Each plate has 384 wells that can run one test. The team has also developed a reader, called PLUM, to analyze the tests and display the result. The box will also contain pipettes to handle the samples.  
Pardee says the kits are being designed so that tests can be administered on-site. Printed training materials are included in each box and online training videos will also be developed. 
The concept has its origins in 2016, when the Zika virus broke out in Latin America. Pardee, then a new faculty member at U of T, worked with colleagues at multiple institutions to develop a portable testing technology that could be moved easily to areas without adequate testing facilities.
The tool proved to be as sensitive as PCR, with almost 99 per cent accuracy in screening patients for the Zika virus, but at a lower cost and in a more accessible format.
Fast forward to today and Pardee was recently awarded $1 million by the federal government to pursue the technology as part of a larger $275-million investment in research related to the global outbreak of COVID-19.
Pardee's portable lab is now at an urgent next-step stage. It will soon be sent to Vietnam and Brazil for testing with patients. Patient trials will also be led by the team in Toronto. Pardee's partners in the development and testing include the National Microbiology Laboratory in Winnipeg and Alex Green, a U of T alumnus and now an assistant professor at Arizona State University. Green developed the sensors in the testing tool.
"We need to take our tool through the necessary regulatory process, but we believe it could really make an important difference in helping more people be able to be tested [for COVID-19] at a lower cost than traditional technology," Pardee says.
Pardee, who has a Canada Research Chair in Synthetic Biology in Human Health, says the applied research being done to combat COVID-19 today will yield impressive innovations in the near future.
"It's inspiring to see the global research community responding," he says. "So many disciplines are jumping in. A lot of interesting technology will be coming out in the next six months because of this work now. And using our expertise in problems like the COVID-19 pandemic is what we're supposed to do. I've found switching from fundamental research to a research-responsive mode interesting and gratifying."
UTC