What's new at U of T: Landmark transformation, new dining options and more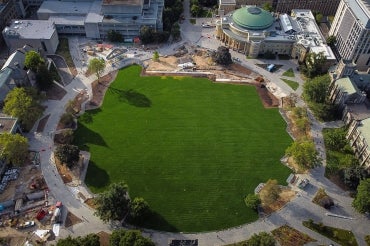 Students, faculty, staff and librarians may have noticed some dramatic changes across the University of Toronto's three campuses this fall.
From new academic pathways to more food options and greener spaces, here are four new things that U of T students need to know as they immerse themselves in university life.
---
New buildings and spaces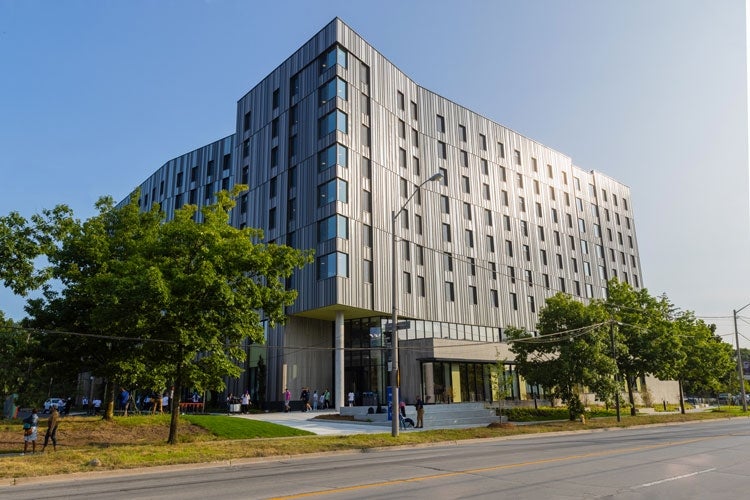 Students at U of T Scarborough moved into a new, 746-bed Harmony Commons residence and enjoyed revamped outdoor spaces. At U of Mississauga, a multi-year, $8.5-million renovation project upgraded the Leacock Lane townhome residences, while a new science building that will provide additional wet-laboratory space is scheduled to open this fall.
On the St. George campus, meanwhile, the Landmark project has transformed the historic core of the St. George campus around King's College Circle into a greener, more accessible and pedestrian-friendly space, and has allowed for the installation of Canada's largest urban geoexchange system. The system stores surplus heat in the summer for use in the cold winter months, saving the university an estimated 15,000 metric tonnes of greenhouse gas emissions annually – a key part of U of T's plan to make the campus climate positive by 2050.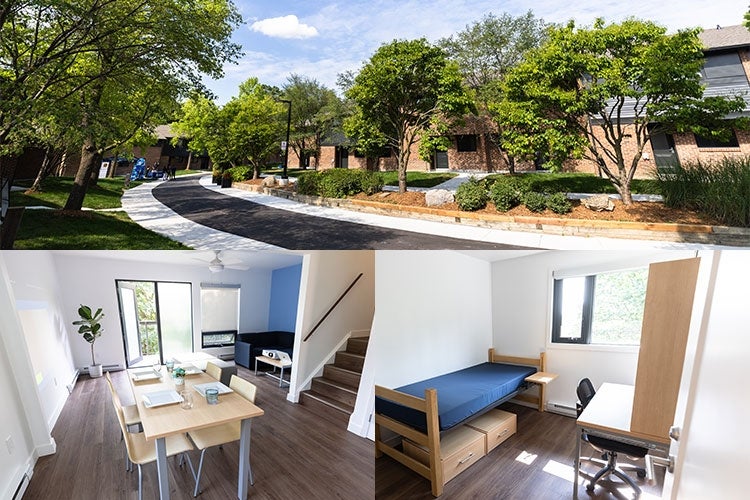 Scott Mabury, U of T's vice-president of operations and real estate partnerships, said the goal of Landmark – with its car-free plazas and green spaces, including Ziibiing, an Indigenous landscape near Hart House – was to create a campus space that would engage the U of T community now and into the future.   
"We really wanted to reconnect the university community with its heritage," said Mabury, who added that workers would be busy planting throughout the fall.
"These public plazas are places where U of T community members can enjoy themselves, engage with the university, connect with ideas and, when needed, sit in quiet contemplation and rumination."
The area outside Convocation Hall, meanwhile, is now known as Alumni Plaza, named in honour of U of T's alumni community. It features over 2,000 granite paving stones, each inscribed with the names of donors who supported the project.  
Mabury said the plaza will soon become a key part of the university experience for graduating students from all three campuses.
"This was for the whole University of Toronto – including U of T Mississauga and U of T Scarborough – because every student will graduate in that landscape and in that environment," he said.
Mobile ordering and new places to eat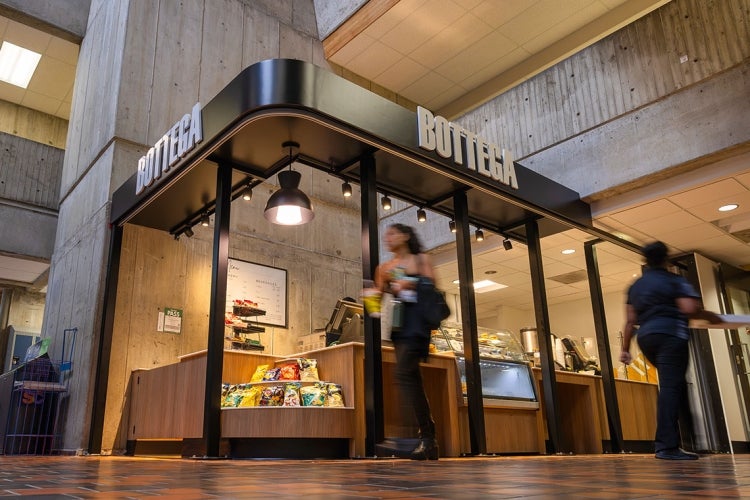 It is now easier than ever for University of Toronto students to grab something tasty to eat – with a host of new dining options that have emerged across the three campuses.
At U of T Mississauga, Dana Hospitality is putting the focus on local food made from scratch –sandwiches and salads to go, soups made from local ingredients and house-made stocks, locally sourced meats and poultry and in-house pizza.
U of T Scarborough, meanwhile, has a new café open in the Humanities Wing. Bottega features grab-and-go sandwiches and pastries, as well as bubble tea and more.
At St. George, new food stops include Kung Pow at Robarts and Fresco Fresca at the Medical Sciences Building, the latter of which features Mediterranean and Middle Eastern-inspired salads influenced by Israeli-born British chef and food writer Yotam Ottolenghi.
"It's a healthier mindset of how food should be prepared," said Jaco Lokker, U of T's director of culinary operations and executive chef. "Most of the foods are either roasted or grilled. We're poaching the fish instead of pan frying it."
He added that sustainability remains a top priority for U of T when developing new culinary concepts and sourcing ingredients, which is why he is continuing to work on expanding menus to feature more plant-based foods. To that end, food services began working this summer with a student startup called Lyrata Inc. to grow a variety of lettuce on campus.
"They're growing Boston and romaine lettuce and we've started growing some red leaf and Greenleaf lettuce," Lokker said, adding that he expects as much as 50 per cent of the St. George campus's lettuce will be grown in its own backyard.
"We pick up the lettuce at Earth Sciences Center Greenhouse, bring it across the street to New College clean it and use it."
Also on the St. George campus, retail and dining locations in the Medical Sciences Building, Sidney Smith Hall, Chestnut Residence, New College and Campus One have transitioned to a cashless payment system – credit or debit cards, TBucks, meal plan dollars – or students can order in advance using the Transact Mobile Ordering app. 
"It's almost like UberEats in your building," Lokker said.
Expansion of U of T's Navi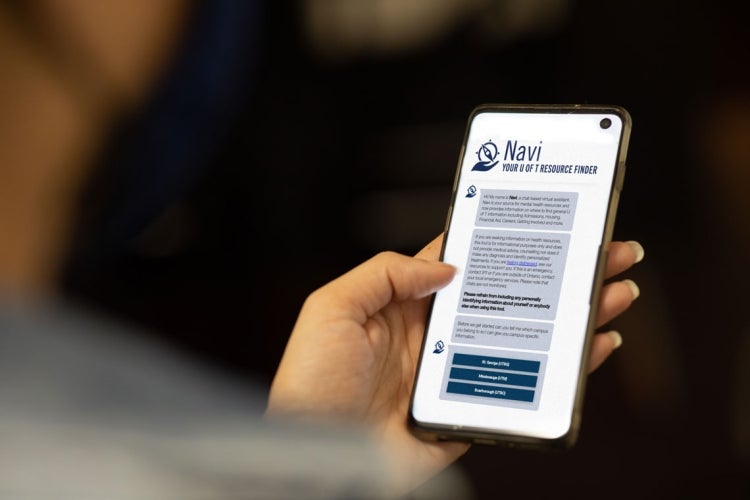 Navi, U of T's chat-based virtual assistant, has expanded its scope beyond mental health resources to offer general assistance to students, staff, faculty and librarians across the three campuses.
Short for navigator, Navi now provides information on admissions, housing, financial aid, careers, and more through the same easy-to-use chat interface. For example, users can ask Navi about resources such as study supports, finding community and how to connect with a register.
The information shared with Navi is completely anonymous and users are reminded that the resources and supports provided do not replace workshops or one-to-one conversations with experts.
Another change to note: U of T's My SPP has been renamed U of T Telus Health Student Support. The service provides students with 24-7 immediate counselling support over the phone in English, French, Mandarin, Cantonese, Spanish, and aims to match students with a counsellor who can support their preferred language.
Global leadership opportunities at U of T
A new tri-campus Minor in Global Leadership program kicks off this fall.
The new program – the first global-focused program at U of T that intentionally brings students together from across all three campuses – prepares students to become globally confident future leaders who recognize and embrace diversity, face challenges with empathy and champion respectful collaboration in a globalized world. It includes a core series of three global leadership courses to be taken in students' second, third and fourth years.
The global leadership minor will equip students with practical skills and global fluencies through group work, experiential learning and a capstone project. There will be opportunities to become part of a diverse interdisciplinary community of students interested in leadership and global change, learn dynamic and collaborative approaches to problem solving and more.
UTC