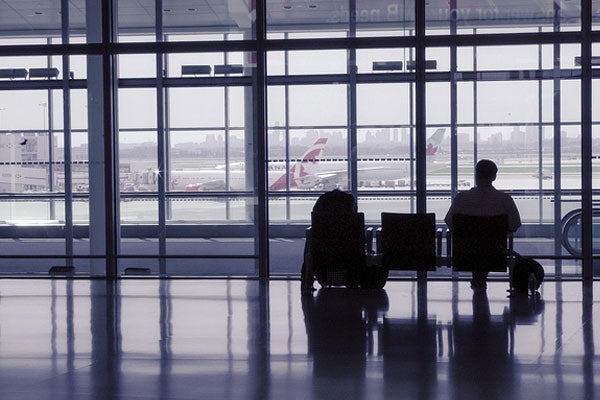 What does an international airport mean for a city and its economy?
In a world where connecting people and sharing knowledge sparks innovation, Pearson is crucial to growth of the GTA, Gertler says
The Greater Toronto Region is an international "spike" of economic activity not just because of the advances in digital technology but because of the "face-to-face contact" that occurs among people committed to seeing the region grow, University of Toronto President Meric Gertler says.
Gertler appeared on a panel with Howard Eng, president of the Greater Toronto Airport Authority on Sept. 16 at Canoe Restaurant. The topic was: "What does an international airport mean for a city and its economy?" Paul Waldie, business editor of The Globe and Mail, was the moderator. 
After Eng noted that Pearson airport activity is growing by seven per cent a year, with 41 million passengers this year, and that it has a catchment area of 12.5 million people, Gertler, an expert in economic geography, outlined how crucial Pearson is to the growth of the GTA.
The president referred to the "beautiful phrase" coined by U of T's Richard Florida, who said the international economy is "spikey," rather than flat [as advocated by New York Times columnist Thomas Friedman].
"The global economy is actually made up of spikes, or poles of activity that are clustering in particular places and growing and particularly notable in the most knowledge-intensive sectors like finance or technology of various sorts," he said.
"And Toronto is one of those spikes," he said. "Spikes have two really important qualities – and this speaks to the role that airports play. First of all they are places where people get together and share knowledge easily, which is really critical for spurring new ideas and innovation. Greater Toronto is one of those places."
The second quality, the president said, is that "those places are connected to other places around the world that are doing the same thing. We see that in the business world, and we certainly see it in academia where our best scholars are partnering with [colleagues] in other great universities in other great cities around the world."
Gertler said there are two things that "pull it all together. First of all there are the digital technologies, no question.  They are great enablers but they are not sufficient on their own, what is really critical is face-to-face contact. It seems kind of paradoxical but it is becoming more important, not less."
That's where GTAA Pearson comes in, he said, "because people have to move. They have to work together, have relationships face to face. That is the best way to convey understanding, to develop trust, and centres like Toronto, New York and Hong Kong are places that do that.
"People need to spend time in the same places with one another. That's why we see demand for the services of the GTAA growing so rapidly."
The GTAA is the authority that runs Pearson Airport for the federal government. Eng shared some statistics that reveal the economic activity and the growth potential at the airport:
The GTAA pays $120 million a year in rent to the federal government
40,000 people work at the airport; in the next 20 years the number could reach 60,000
Last year $80 million of lobster was delivered through Pearson; $40 million of it to China
The single largest purchase at one of the retail outlets at Pearson was $40,000 for a watch
Gertler noted that people are spending more time at airports because of the variety of retail stores, including ones that sell local products.  This "experience economy" will only grow, he suggested.
Both Eng and Gertler agreed that it is crucial to have the subway extend all the way to the airport.  In the audience was Andy Byford, chief general manager of the TTC. He said it is "ludicrous" that the subway stops at Kipling, but doesn't go to Pearson.
Waldie asked the president what is happening at U of T, another anchor of economic activity in the GTA. 
"The energy level is palpable," the president said. "It's really exciting. This is how people in my position stay young, feeding off that energy." He noted the announcement last week that Johnson and Johnson is creating its first health science innovation lab outside of the U.S. at the MaRS Centre in space leased by U of T.
"It comes back to that spikeyness of the world economy," Gertler said. "This is just a fantastic vote of confidence and a signifier of the incredible things happening in Toronto's economy.  It means that there is going to be even more business" for Pearson.
Gertler said Johnson and Johnson officials told him that "in addition to the great university, the fabulous hospitals, the incredible science, the amazing talent base in Toronto that has been one of the best kept secrets around, the connectivity of the airport is a really critical asset for them."