'We're about four or five years ahead of the technology,' U of T accelerator says of quantum startup program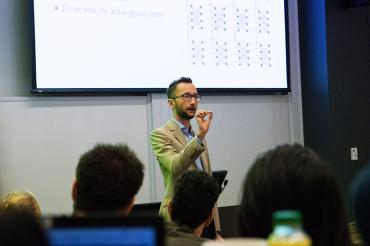 As an emerging technology, quantum machine learning is about as nascent as it gets. But that hasn't stopped the Creative Destruction Lab from trying to get far ahead of the game. 
The seed-stage accelerator affiliated with the University of Toronto's Rotman School of Management wrapped up a novel quantum machine learning program this week with a symposium on the near-term applications for startup companies in the space.
Believed to be a world-first for a business accelerator, CDL's program marries the booming field of machine learning with the nascent one of quantum computing, which is still very much in the research lab phase.
"We're about four or five years ahead of the technology," Khalid Kurji, a venture manager at CDL who did his MBA at Rotman, told a packed lecture room at the event. 
The quantum machine learning program was first launched last fall after CDL, which specializes in growing artificial intelligence-powered startups, realized the computational power required to run tomorrow's AI applications will likely outstrip today's transistor-based chips.
Quantum computers, by contrast, make use of the unique properties of atoms to allow quantum bits, or qubits, to encode data in multiple states or "realities," theoretically leading to an exponential increase in computing horsepower. 
"This is the most fundamental paradigm change that you can imagine," said Michele Mosca of the University of Waterloo's Institute for Quantum Computing.
He went on to liken the difference between classical computers and quantum machines to the difference between a flat earth and a spherical one – and lauded CDL for taking bold steps to capitalize on 20 years of Canadian research in the field.
That includes working with Toronto-based Xanadu, a quantum computing startup founded by U of T post-doctoral researcher Christian Weedbrook. Xanadu, represented at the symposium by researcher Maria Schuld, recently raised $9 million in a seed round led by Toronto's OMERS Ventures.
While quantum computers remain in the finicky, underpowered and experimental stage, CDL nevertheless inked partnerships with two quantum hardware companies – Burnaby, B.C.'s D-Wave Systems and Berkeley, Calif.'s Rigetti Computing – in the hopes of developing an early lead in quantum machine learning applications. 
CDL also brought in Peter Wittek of the quantum information theory group of the Institute of Photonic Sciences in Barcelona. Wittek, who is one of the few experts in quantum machine learning, taught a month-long bootcamp course to the entrepreneurs in CDL's quantum program. 
In its first year of existence, the program has already managed to produce several early-stage startups – and even attracted one already in existence. 
Scott Genin is the head of materials discovery at U of T startup OTI Lumionics, which was founded back in 2011. He explained to the audience how the startup is trying to use quantum algorithms to discover advanced materials for next-generation OLED (organic light emitting diode) screens in the fraction of the time it currently takes.
Why are next-gen materials needed? Genin pointed to Apple's OLED-equipped iPhone X, which demonstrates a colour shift when viewed from an off angle. "Being able to predict [the properties of materials] better can prevent those issues from happening," Genin said.  
Similarly, Tomas Babej of ProteinQure, a startup that was founded during the QML program, talked about how the company is attempting to use both classical and quantum machine learning algorithms to assist in the discovery of new drugs.
Babej, however, warned that being an entrepreneur in such a pioneering field brings with it unique challenges.
"You can't waste time thinking about what is the optimal decision to make," he said. "You need to move…investors are impatient."
UTC