After Colten Boushie: Addressing 'pressing and troubling' issues
President Gertler expresses 'profound sympathies' to Boushie family and to Indigenous members of U of T community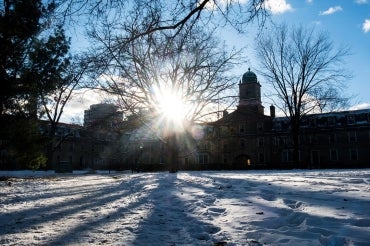 The acquittal of Gerald Stanley, the Saskatchewan farmer who admitted to shooting and killing Colten Boushie, a 22-year-old Cree man, has many Canadians struggling to come to terms with the plight of Indigenous Peoples and the state of truth and reconciliation across the country.  

Along with outpourings of sympathy and condolences for Boushie's family and concern about the verdict, the country has also seen a troubling backlash against Indigenous people, including the posting of racist comments via social media.

"These recent events – both the court case and its aftermath – have brought pressing and troubling issues to the fore in our country, provoking a critical examination of many aspects of Canadian society," said U of T President Meric Gertler. "I know that all members of the U of T community join me in expressing their profound sympathies to the family of Colten Boushie, and to the many Indigenous members of our own community who have been deeply upset by recent events.
"At such times, it is appropriate that our scholars are so engaged in critically examining all aspects of our society. As a research-driven university, we have a role to play in analyzing the flaws and failures of our society and helping Canadians understand and confront them so that we can move forward."
Universities Canada, the national organization representing 96 institutions including U of T, extended sympathy to Boushie's family and issued the following statement:
"As Canadian society grapples with the ongoing reality of racism and the challenges of reconciliation, Canada's universities reaffirm our commitment to fostering a renewed relationship between Indigenous and non-Indigenous peoples in Canada, by examining and changing our own institutional approaches, policies, practices and structures. Universities across Canada made this public commitment in 2015 to respond to the Truth and Reconciliation Commission's calls to action, and recent events have underscored the need for the higher education sector to redouble its efforts.
"As public institutions of learning, discovery, and community service that deeply value dialogue, debate, and cross-cultural exchange, Canada's universities are committed to a leadership role in advancing reconciliation in Canada."
Last week, U of T's Ontario Institute for Studies in Education was home to a summit for mentoring Indigenous graduate students. Eve Tuck, an associate professor and Canada Research Chair of Indigenous Methodologies with Youth and Communities, says one of the panellists spoke at length about how the Stanley trial and the trial of Raymond Cormier, accused of killing 15-year-old Tina Fontaine, are weighing on Indigenous students. 
One of her first concerns after hearing the Stanley verdict was how it would affect Indigenous students, Tuck told U of T News. 
 
"As universities have increasingly adopted the discourse of reconciliation, this is an important moment," she says. "Will they stand with and support Indigenous people as they demand justice?
"Many people now have reconciliation as part of their job titles, portfolios, and workloads. My expectation is that this verdict compels each of those people to address not only the limits of the justice system for Indigenous people, but also the values which prioritize settler property over an Indigenous person's life in the first place."
It's been a little more than a year since President Gertler and Provost Cheryl Regehr received the final report of the university's Truth and Reconciliation Steering Committee.  Accepting the report from Elder Andrew Wesley, Regehr said that U of T acknowledges "our shared responsibility to address the historical and indeed present day injustices and exclusion that affect Indigenous Peoples in Canada. We have the opportunity and imperative to work collaboratively towards change."
 
"The university took an important first step last year by acknowledging its responsibility in contributing to the struggle of Indigenous Peoples, and embracing the opportunity to engage with Indigenous communities in the work of reconciliation," President Gertler said. "That work – by faculty, staff and students – continues across our campuses."
 
In the year since the report was released, the university has focused on recruiting more Indigenous students and hiring more Indigenous faculty and staff, as well as appointing Jonathan Hamilton-Diabo to the newly created position of director of Indigenous Initiatives. Hamilton-Diabo said he is working on a university-wide strategy to help people at U of T connect with appropriate resources as efforts to respond to TRC calls to action continue.
 
"It's important to acknowledge the pain and anger felt by Indigenous people across the country and here on campus," said Hamilton-Diabo. "Faculty and staff are here to support Indigenous students who wish to talk about this or to seek guidance about becoming more engaged and working for change."
 
Students seeking support can contact First Nations House or visit safety.utoronto.ca, he added.
U of T News is interviewing experts on a range issues related to the Boushie killing and the challenges of truth and reconciliation. This week, reporter Geoffrey Vendeville spoke with Faculty of Law Professor Kent Roach about some of the more troubling aspects of the trial of Gerald Stanley.
UTC