'We have a crucial role to play': U of T commits to leadership role in addressing climate change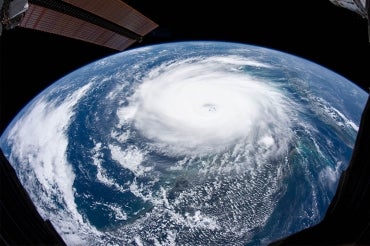 Through research and education, as well as a growing number of sustainability initiatives, the University of Toronto is committed to playing a leadership role in addressing climate change – and is encouraging students to expand their knowledge of the issue.
With climate strikes scheduled to take place around the world this week and next, U of T students can take part in any number of community initiatives, on or around campus, that promise to deliver climate-oriented education and advocacy.
The planned events, ranging from teach-ins to rallies, place a spotlight on an issue that U of T has previously identified as one of its top priorities.
"We believe that as an institution, we have a crucial role to play in meeting the growing climate challenge," says Provost and Vice-President Cheryl Regehr.
"U of T has an opportunity to lead by example, through exemplary research, education, student initiatives and concrete policies and actions, with ambitious targets for reduction in greenhouse gases and our carbon footprint."
Organized by local organizations in countries around the world, the climate strikes scheduled for Sept. 20 and 27 are demanding action from governments and businesses to address the global climate crisis.
Over the same week, U of T Mississauga plans to host several related events, including a climate change teach-in, climate talks and a climate change summit. U of T Scarborough will be hosting a teach-in on Sept. 25 for faculty and students to engage in conversation about a number of topics around climate change.
At the St. George campus, meanwhile, the U of T community can attend a teach-in outside of Hart House on Sept. 20 and join fellow Ontarians at Queen's Park for a rally next Friday.
"We encourage students to use the opportunity of the climate-related events going on at U of T and in the community to learn more about climate change and climate action," says John Robinson, U of T's presidential advisor on the environment, climate change and sustainability, 
As an institution, U of T is among the growing number of organizations – in both the private and public sectors – that have decided to take action on an issue of global importance.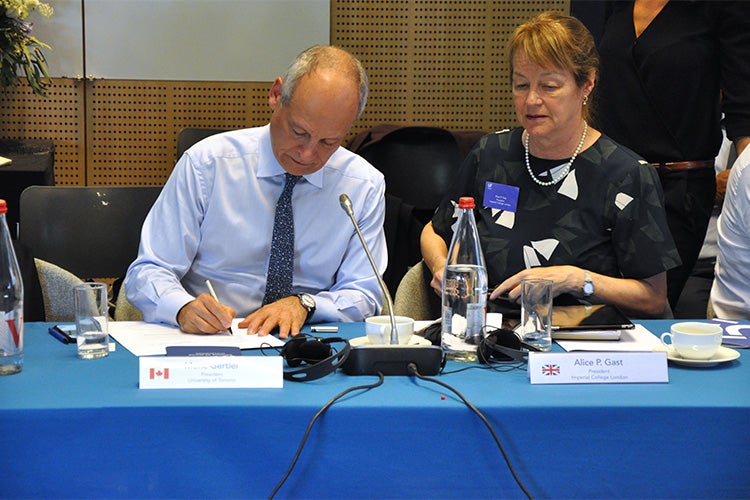 U of T President Meric Gertler signs the final declaration at the recent U7+ Alliance summit in Paris (photo by Thomas Arrivé/Sciences Po)
U of T President Meric Gertler earlier this summer took the lead in sustainability discussions during a meeting of 47 university leaders in Paris in advance of the G7 Summit in Biarritz. He also briefed French President Emmanuel Macron on concrete actions universities were committing to take in order to tackle the challenge of climate change.
At U of T, that includes ensuring all students have the option of taking sustainability-related courses and making it possible to use building projects on campus as "living labs."
The university's sustainability plans – as well as the opportunities for students to get involved – are outlined in the latest President's Advisory Committee on the Environment, Climate Change, and Sustainability report.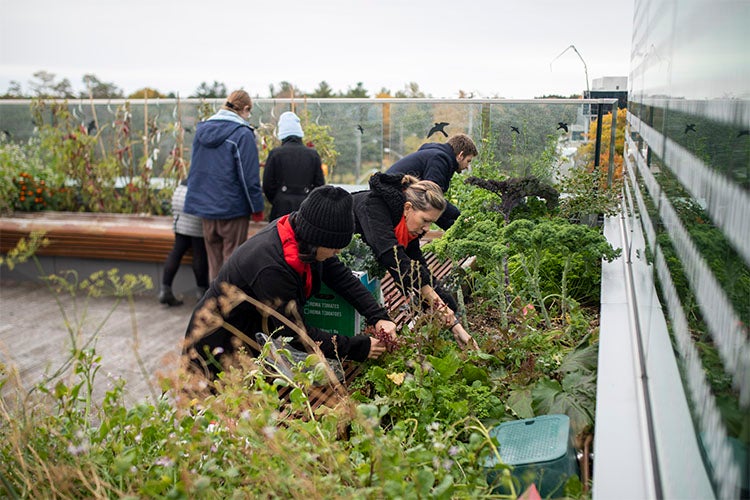 A U of T presidential committee's report on the environment, climate change, and sustainability recommended, among other things, using the campus as a "living lab" for sustainability projects (photo by Nick Iwanyshyn)
Later this fall, the university will release its Low Carbon Action Plan, a comprehensive strategy to achieve dramatic reductions in greenhouse gas emissions. A participant in the University Climate Change Coalition, U of T has set a goal to reduce emissions by 37 per cent from 1990 levels by 2030.
"We have reduced our carbon footprint by over 55,000 metric tonnes in the past decade," says Ken Corts, acting vice-president, university operations, adding that the accomplishment is equivalent to taking more than 11,600 cars off the road.
The university's commitment to sustainability is evident in capital projects it has both undertaken and proposed. That includes existing and proposed geothermal fields on all three campuses and plans for an academic wood tower on the St. George campus.
This spring it was also recognized, for the sixth consecutive year, as one of Canada's greenest employers, by the Canada's Top 100 Employers project.
Robinson says the university is well-poised to take a long-sighted approach to sustainability-focused capital projects. The concentration of university-owned buildings gives U of T the ability to create sustainability solutions on a neighbourhood scale, he says.
"The university can accept a 10-15 year payback on investments made for academic purposes. We can invest in things the marketplace can't," says Robinson, who is also a professor in the Munk School of Global Affairs & Public Policy and the School of the Environment.
"We uniquely can turn our campus into a sustainability test-bed, a living laboratory: implementing, testing, learning and teaching sustainability in a unique way."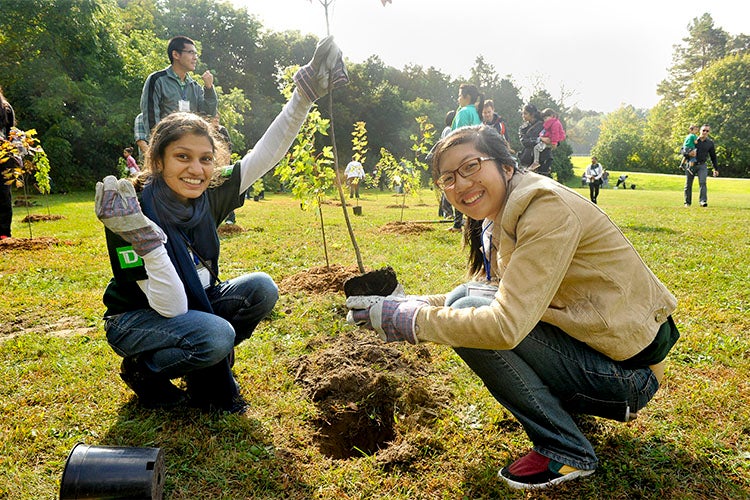 Tree planting at U of T Scarborough (photo by Ken Jones)
On the research front, sustainability is a key theme outlined in U of T's Institutional Strategic Research Plan 2018-2023, which notes, on the topic of climate change, that the issue "has relevance for public policy, the operation of all industries and social sectors, the health of humans and ecosystems, and the economic wellbeing of Canadians."
As a result, U of T experts in a wide range of disciplines, from humanities to engineering, are actively engaged in world-leading sustainability research.
Shoshanna Saxe, in the Faculty of Applied Science & Engineering, looks at infrastructure projects through a sustainability lens, hoping to bridge the gap between engineers and policy-makers. Through better infrastructure and design, people can be nudged toward making greener choices, she says.
Her work provides decision-makers with empirical evidence so they can make more informed choices that are better for the environment. Recently, she and her colleagues mapped more than 10,000 Toronto streets, assessing how friendly they are to cyclists using criteria such as average traffic speed and the number and width of lanes.
In the past, she's studied subway line extensions, including Toronto's Sheppard Line, and their environmental cost.
When it comes to addressing problems of such magnitude as climate change, Saxe says the university has a singular advantage. "One of our key responsibilities and privileges is to be able to think about the long-term outcome," she says.
In the English department, meanwhile, Andrea Most says fighting climate change doesn't just concern scientists. She works in the relatively new field of environmental humanities and, with her students, examines human relationships to nature through literature.
"The old story of western culture is that we are disconnected from nature," she previously told U of T News, "so my goal is to help my students reconnect to the idea that they are nature."
Liat Margolis is the director of the Green Roof Innovation Testing Laboratory at the John H. Daniels Faculty of Architecture, Landscape, and Design, a faculty that's housed in a building topped with plant beds and a data-gathering weather station.
Margolis, who is working with her colleagues on a "sustainability pathway" for students as part of the president's committee on the environment, climate change, and sustainability, says green roofs have many benefits – not the least of which are mitigating the heat island effect in cities, which affects energy consumption.
U of T's innovation and entrepreneurship community is also actively pursuing research and design solutions that address climate and sustainability-related challenges in areas such as clean-tech, biofuels, renewable energy, and environmental policy and law, with $489 million in research funding received and 72 startups created over the past five years.
UTC