With students at the forefront, U of T implements ambitious sustainability plan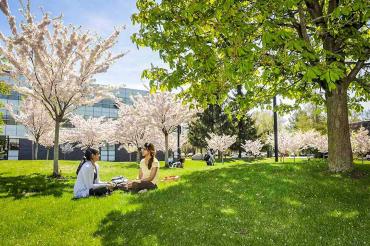 Students are at the forefront of the University of Toronto's efforts – now entering the implementation phase – to make itself a global leader in sustainability education, research and operations.
In its third annual report, the President's Advisory Committee on the Environment, Climate Change, and Sustainability (CECCS) outlines the concrete steps it's taking to advance sustainability-related projects and initiatives across the university.
They include setting up internships for students to learn about sustainability initiatives underway at universities abroad, earmarking new building and retrofit projects on campus as "living labs" for students and researchers, and designating professors to work with deans to integrate sustainability content into degree programs.
"We're trying to make this as student-led and student-focused as possible," said John Robinson, chair of the committee and the president's adviser on environment, climate change and sustainability.
"In the end, this is about our students."
Robinson added that the latest CECCS report shows how U of T is now implementing, in concrete ways, the initiatives it laid out in its previous two reports.
"We now have more resources, full-time staff and funding for student projects, and are well-placed to pursue our goal of achieving transformative change on sustainability."
The release of the report comes on the heels of last week's University Climate Change Coalition (UC3) conference in Vancouver, where 20 universities, including U of T, launched a joint research and development platform to study climate policy and make actionable recommendations for university leaders. 
Robinson, a professor in the Munk School of Global Affairs & Public Policy and the School of the Environment, represented U of T at UC3's inaugural conference.
The report also follows President Meric Gertler's recent trip to Paris for the U7+ Alliance, where he spearheaded discussions on climate change and sustainability, and signed, on U of T's behalf, a declaration to strengthen the role of universities in addressing key global challenges.
"I am pleased to see the steady progress made by the President's Advisory Committee on the Environment, Climate Change, and Sustainability," President Gertler said.
"The three spheres of activity identified by the committee – curriculum innovation, campus as a living lab and the university as an agent of change in the community – are areas of crucial importance as we collectively address sustainability across our three campuses, our surrounding communities, and around the world."
The committee's third report makes it clear that students are central U of T's plans to integrate sustainability into university life and operations.
Among the new initiatives is the Adams Sustainability Champion Internship, a summer internship program – funded by a gift from Wendy Adams – that gives undergraduate students the opportunity to spend time abroad at other universities to learn about their sustainability efforts.
Two students have already been selected to travel to Utrecht University in the Netherlands and the University of Edinburgh in Scotland this summer. Their research will culminate in a journal article comparing the impact of sustainability initiatives at those institutions to U of T, with the findings to be presented to the committee and at a sustainability conference at U of T Mississauga in October.
Robinson says the committee hopes to expand the internship program to six students in 2020.
"The interns become a kind of connective tissue among universities leading in sustainability – and to have this done by undergraduate students is pretty cool," said Robinson.
Another example of the committee's student focus is the newly instituted U of T Sustainability Innovation Prize, which recognizes student-led startups and products that tackle sustainability-related  issues. Three student projects took home $5,000 each at the inaugural awards ceremony in June.
The committee is also developing a template to involve students in six carefully selected "living lab" projects, allowing them both to learn from – and contribute to – sustainability-oriented projects. Two projects, one new and one retrofit, have been selected on each campus. They include a new 750-bed residence at U of T Scarborough; the academic wood tower project on the downtown Toronto campus; and a new science building at U of T Mississauga. 
On the academic front, work is underway to create curricular "pathways" to allow undergraduate students to incorporate sustainability themes into their degrees, regardless of their program – an initiative Robinson says is unique among global universities.
He says the initiatives are all part of the committee's overarching mission to leverage U of T's existing strengths in sustainability research, teaching and operations and "strengthen and co-ordinate them to get to the next level."
To that end, U of T carried out a mapping exercise to track all its climate research assets – including institutes, departments, labs and experts – and uploaded them to the UC3's Climate Research Assets database as part of a drive to promote collaboration among like-minded universities.
While U of T is making great strides on sustainability, Robinson stressed there's still much to do. "If you compare what we're doing across UC3, U7+ and the initiatives outlined in the committee's report, you'll see that U of T is already in a leadership role in several areas relative to those 20 or 30 universities," he said.
"We're doing some really good things, but there's a long way to go before we get to the point where, when someone says 'U of T,' the word 'sustainability' pops into their mind. That's where we want to be."
UTC