Waabi's self-driving technology set to be road-tested, Raquel Urtasun tells Globe and Mail, Forbes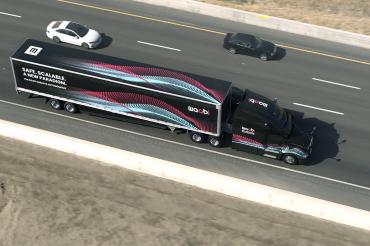 The University of Toronto's Raquel Urtasun, a leading expert in machine learning and computer vision, is taking her startup's self-driving technology for long-haul trucks out for a spin, with several autonomous vehicles ready to hit the road in the United States, according to reports.
The CEO and founder of Waabi told the Globe and Mail that a handful of trucks are "ready to be deployed" with human drivers and engineers on-board for safety. In Forbes magazine, Urtasun – a professor of computer science in the Faculty of Arts & Science and faculty member at the Vector Institute for Artificial Intelligence – said that Waabi will train the self-driving system to navigate any number of virtual scenarios using a simulator that harnesses the full power of AI.
She added that the approach gives Waabi an advantage over bigger competitors since it's more efficient – and effective – than relying on real-world testing. 
"Because we can do everything on the simulator we are already ready with a generation that is much more advanced," Urtasun told the magazine.
Waabi emerged from stealth mode in June 2021 after raising more than $100 million in funding from Silicon Valley giants such as Khosla Ventures and Uber, as well as AI luminaries including U of T's Geoffrey Hinton, a University Professor Emeritus and Sanja Fidler, an associate professor of computer science.
UTC