Virtual symposium celebrates U of T's discovery of insulin, looks to future of diabetes research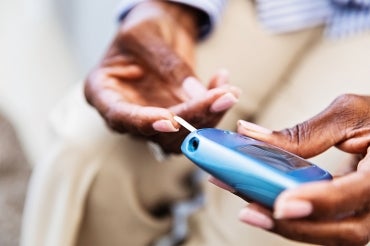 Before the discovery of insulin, diabetes amounted to a death sentence. 
Newspapers at the time circulated black-and-white pictures of emaciated diabetic children with little recourse except a "starvation diet" that was meant to prolong their life.
After the University of Toronto's Frederick Banting, Charles Best, J.J.R MacLeod and James Collip, pioneered the use of insulin as an effective treatment for diabetes in the early 1920s, the discoverers sold their patent rights to U of T for $1 apiece.
"Insulin does not belong to me, it belongs to the world," Banting declared.
U of T recently hosted a symposium titled "The Legacy of Insulin Discovery: Origins, Access and Translation," a virtual event that involved contemporary researchers, scholars and others with an interest in diabetes discuss insulin's impact and current challenges.
That included equitable treatment and mitigating the impact on marginalized people – very much in keeping with the motivation of insulin's discoverers, who practically gave away their patent rights.
In a message to open the symposium, U of T President Meric Gertler noted that the discovery of insulin has saved the lives of millions around the world, but that diabetes remains a leading cause of death, disease and disability – one that is on the rise in low- and middle-income countries.
"Clearly, there is still a great deal to be done to prevent and treat and maybe one day to cure diabetes, but we have many reasons to hope," he said.
"The story of insulin is a brilliant example of the power of collaboration demonstrating how a university, its hospital partners and a pharmaceutical company could work together and change the world."
The symposium was the first in a series of events hosted by U of T to mark the centennial of the discovery of insulin – an event described by the late U of T historian Michael Bliss as "one of the genuine miracles of modern medicine." The event was part of this year's Celebration of Excellence and Engagement, a week-long exploration of scholarly, scientific and artistic topics presented by U of T and the Royal Society of Canada.
From patient perspectives to public health challenges, the symposium drew a line from insulin's discovery 100 years ago through the present and into the future. That included a session on innovation and commercialization that featured insights from U of T's Paul Santerre, Shana Kelley and Daniel Drucker. Alex Mihailidis, U of T's associate vice-president, international partnerships, moderated a panel on digital health technologies.
Patricia Brubaker, a professor in the departments of physiology and medicine in the University of Toronto's Temerty Faculty of Medicine and a member of the faculty's Banting & Best Diabetes Centre, was also among the experts from universities and hospitals across the country who spoke at the event. An expert on the gut hormones GLP-1 and GLP-2, Brubaker says our improved understanding of GLP-1 has led to the development of drugs that can mimic the actions of the hormone, which is naturally secreted by the intestine and helps produce more insulin to keep blood sugar levels in check. It has also led to the advent of DPP-4 inhibitors, a class of prescription medicines that slow the inactivation and degradation of GLP-1, making it last longer in the body.
"The long-term goal is that, if we can promote higher release of GLP-1 into the bloodstream and then maybe combine that with the DPP-4 inhibitors, we might end up with a better combination therapy," Brubaker recently told U of T News.
Like many of her colleagues in the field, Brubaker stressed the importance of focusing on diabetes prevention as well as new or improved treatments.
"Diabetes prevention science is going to be all about how we can predict the onset of diabetes, which is great," she said. "But if we know someone's going to develop diabetes, how do we prevent it? That's still an area of intense investigation."
Many of Thursday's speakers touched on that theme, sharing their insights on the environmental factors, or social determinants of health, linked to Type 2 diabetes.
Gillian Booth, a professor in the department of medicine in the Temerty Faculty of Medicine and at the Institute of Health Policy, Management and Evaluation at the Dalla Lana School of Public Health, shared the results of her research, as well as that of others, that looked at how elements such as urban design, air pollution and food availability can influence one's risk of developing Type 2 diabetes. Using provincial health records and other data, Booth and her team found startling health differences between more and less walkable neighbourhoods.
In one 2016 study of nearly 9,000 neighbourhoods in southwestern Ontario, for example, she and her colleagues found that neighbourhoods "characterized by more walkable urban design were associated with a stable prevalence of overweight and obesity and declining diabetes incidence during a 12-year period."
"The only factor that we found that seemed to be explaining these findings were differences in transportation choices," she said at the symposium. "People in the most walkable area had a much higher rate of walking and cycling, more trips per capita on public transit, and far lower numbers of car trips per capita than those living in less walkable areas."
In another paper cited by Booth, one of her former PhD students Jane Polsky – now a health researcher at Statistics Canada – and her co-authors found a link between diabetes and living near a "fast food swamp," an area with many fast food restaurants and few healthy alternatives.
Their research found that in areas close to fast food restaurants the rate of obesity, diabetes and hypertension increased one-and-a-half to two-fold.
Continuing on the same theme, David Campbell, an assistant professor at the Cumming School of Medicine at the University of Calgary, stressed the need for an approach to diabetes that addresses the social determinants of health and the gap in health outcomes between people of different backgrounds and socioeconomic status.
While landmark events such as the discovery of insulin are "our discipline's legacy," he said, improving diabetes outcomes with social interventions is "the next frontier."
He cited research suggesting that Albertans who receive income support were four times as likely to require hospitalization for diabetes, while Indigenous Peoples were five times as likely.
Campbell has also conducted qualitative studies exploring the impact of diabetes on people experiencing homelessness and the difficulties they face in managing the disease, such as lacking a fridge to keep healthy meals or a safe place to store medication.
"We are all here to commemorate and celebrate the discovery of insulin right here in Canada, which is truly worth celebrating," Campbell said. "However, we must not lose track of the fact that insulin is not enough on its own."
Referring to Banting's sale of patent rights to insulin for $1, he said: "I postulate that we owe it to Banting and to the other pioneers of our field to make the highest quality diabetes care available to all beyond just access to insulin."
UTC