'A very ornate, unique experience': U of T alumnus Kokichi Kusano debuts theatrical and musical performance
University of Toronto alumnus Kokichi Kusano is preparing to debut his theatrical and musical work NAE, which translates to "The Rice Seedling," at Toronto's Harbourfront Centre – a performance years in the making and inspired by his studies in the Faculty of Arts & Science.
NAE runs from May 5–7 and uses elements of traditional Japanese theatre, music and art to tell a story of life on the island nation during a 13th-century famine.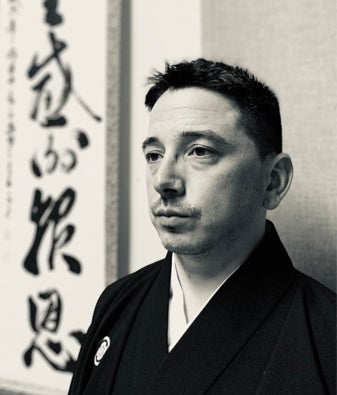 "It's going to be quite a costume spectacle and a very ornate, unique experience," says Kusano, who earned his honours bachelor of arts degree from U of T as a member of Woodsworth College in 2005.
"I'm very excited to share that with Toronto."
The story centres on a lonesome monk offering comfort to the dead as they float down a metaphorical river to the afterlife. The monk will soon discover the mysterious forces that hold the fate of humankind in the balance.
The monk's character was inspired by a book Kusano read while studying in the department of East Asian studies: Hōjōki: A Hermit's Hut as Metaphor, by Kamo no Chōmei – one man's chronicle of natural disasters and war in medieval Japan.
Many people and events in NAE are rooted in Kusano's studies and instructors at U of T.
"He was a great student," says Ikuko Komuro-Lee, a linguistics expert and associate professor, teaching stream, in the department of East Asian studies. "He was very motivated, diligent and it was obvious he cared a lot about his Japanese heritage."
Kusano earned a scholarship through the Dr. David Chu Program in Asia-Pacific Studies to study abroad at Kyushu University in Japan – on the same southern island his grandparents came from.
"I met a lot of musicians and artisans who were influential to my musical style and writing techniques," he says. "U of T opened so many doors inside and outside the classroom."
Kusano was born and raised in Toronto, but his grandparents came to Canada from Japan more than a century ago. However, those decades of distance couldn't erode the connection to his ancestry – a nexus that grew even stronger when he started at U of T in the late 1990s.
Kusano felt welcome right away, surrounded by students with similar life experiences who celebrated Asian cultures, languages and traditions in stark contrast to his childhood experiences.
"In the 1980s, being Japanese in Toronto was something that incited disgust in other people," says Kusano. "The idea of eating sushi was cringe-worthy back then, but by the time I was in university, there were sushi restaurants all along Bloor Street."
Canada recognized May as Asian Heritage Month more than two decades ago after U of T alumna Vivienne Poy, who would later become a chancellor at the university, put forward a motion while serving in the Senate.
At U of T, Kusano noted a cultural shift. After a painful struggle, the Japanese community had found acceptance in Canada's largest city.
In first year, Kusano joined Toronto's Nagata Shachu taiko drumming ensemble as a flutist. The group played many shows at Hart House and performed at Faculty of Music events, which prepared him for his post-university career as a professional composer.
Kokichi ramped up writing music and dialogue for NAE at the start of the pandemic, a time when he – and so many others – struggled with isolation and existential fears.
He was also dealing with his father's terminal cancer battle. In the spring of 2020, Kusano's family made the difficult decision to move his ailing father out of a locked down hospital, allowing him to spend his final days with loved ones.
"At the time, I had no control over outcomes or cancer treatments or symptoms, and some very key characters in the show are depictions of my father's desperation as well as my own ups and downs," says Kusano, explaining that NAE is about the struggle with uncontrollable forces.
"Several hundred years ago, people were at the mercy of nature because it was still very unknown and unconquered. Plays and stories from that time have a supernatural element; this belief that there are demons and ghosts around every corner and in every shadow."
NAE marks the culmination of hard work, personal pain and virtual rehearsals with a cast across Canada that will be reunited just one week before showtime.
"We exercised great care as we took this from the original Japanese script and put it in English – all while we respected the shape of the traditions," Kusano says. "We know our family, friends and the core Japanese community will come to support us, but we're very excited to share this experience with a broader audience."
Arts & Science