Former senator – and U of T Chancellor Emerita – Vivienne Poy reflects on Asian Heritage Month, 20 years later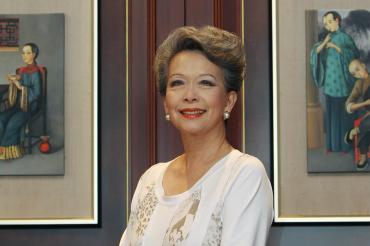 When Vivienne Poy was appointed to the Senate by Prime Minister Jean Chrétien in 1998, she became the first person of Asian ancestry to sit in the upper house of Parliament. 
The former University of Toronto chancellor and alumna says the honour of being the first came with a sense of duty.  
"It's a huge responsibility and a burden because I just had to do the right thing," she told U of T News. 
Born in Hong Kong, Poy fled to mainland China with her family when she was seven months old, after Japan attacked the British colony during the Second World War. She moved to Montreal in 1959, where she studied history at McGill. She later earned a master's degree and PhD in history at U of T. In 1981, after studying fashion at Seneca College, she founded Vivienne Poy Mode, which sold high-end knitwear. 
Poy, who is the author of several books – about her own family, Sino-Canadian relations and Chinese immigration to Canada – served as U of T chancellor from 2003 to 2006.
While in government, she put forward a motion to recognize May as Asian Heritage Month, a move that was supported unanimously. Poy donated the motion and other papers from her 14 years in the Senate to U of T's Richard Charles Lee Canada-Hong Kong Library – the largest research collection for Hong Kong and Canada-Hong Kong studies outside of Hong Kong. 
Two decades after the signing of Asian Heritage Month declaration, Poy is, fittingly, one of the speakers at the Asian Heritage Month opening ceremony this weekend, along with Ahmed Hussen, the federal minister of housing and diversity and inclusion, Mayor John Tory and her son, Justin Poy, the head of a strategic and creative agency. The free, online event will be held this Saturday at 2 p.m. with Poy expected to speak about the relevance of Asian Heritage Month.
At U of T, events to mark the month are being held by the Anti-Racism & Cultural Diversity Office and U of T Libraries, among others.
In an interview with U of T News, Poy discussed the creation of Asian Heritage Month and its ongoing importance. 
---
You moved to recognize May as Asian Heritage Month in the winter of 2001 – just a few months after 9/11. In your speech in the Senate, you mention attacks on multiculturalism. Can you explain how this context influenced the motion? 
Actually, I haven't looked at my own speech in a while [laughs]. The reason why I introduced it was because Asians – meaning all of Asia, all the way to west Asia – we were quite invisible in Canada because we were not part of Canadian heritage. I just wanted to give visibility to all Asians in Canada – Canadians of Asian heritage. That was the main reason – just for visibility. Just to let everybody know we're here. 
I'm a student of history, and Canada was part of the British Commonwealth and Canada was a white country. But through immigration, Canada is very multicultural. That is how Canada was built. Of course, we have the First Nations who were here first and then the French and the British came, and then a lot of other people from other parts of the world. It is important for Canada to grow as a multicultural country because that's the only way forward. 
Maria Lau, director of U of T's Richard Charles Lee Canada - Hong Kong Library, displays Vivienne Poy's motion to recognize May as Asian Heritage Month (photo by Geoffrey Vendeville)
Do you feel like that multiculturalism is under attack again? There have been reports of increased anti-Asian racism in Canada during the pandemic. 
Yes. Well, because racism in Canada is systemic and I would say there's always racism wherever there are people – because most of us are more comfortable being with people who look like us. So, it's always there.
It's a work in progress. We need to constantly be vigilant and actually teach the younger generation about how important it is – not only to make friends and get along, but to learn about other cultures. I think that may be – and I'm not an educator – but that may be what is missing in the schools. Children growing up should learn world cultures, world religion. That would really help future generations because peace is what we all want.
What has been happening since COVID-19 is systemic racism against Asians has suddenly flared up. To me, that is totally out of ignorance because viruses don't care what colour your skin is, or where you come from. Viruses just need bodies to inhabit and grow and attack. 
What are some of the contributions made by the Asian Canadian community that Asian Heritage Month invites people to reflect on? 
There are many. People talk about the railway workers who have made it possible for B.C. to be part of Canada, otherwise B.C. would have joined California. And anybody who knows anything about Canadian history would know that. That's just one aspect because even before that – before the railroad – there were a lot of Japanese who came. 
The opening of the forests and building the trails for the gold rush – a lot of that was done by Asians. People seemed to forget that.
That was a long time ago. Since then, look at the number of people of Asian descent today who are very prominent in the pandemic response. Their academic and research contributions are immense. Some of them are well known and others aren't. Of course, there is Theresa Tam, who is from Hong Kong, and there is Dr. Njoo [Howard Njoo, deputy chief public health officer and U of T graduate]. There are many others from other parts of Asia and other parts of the world. 
Even though Asian heritage month gives Asians more visibility, I feel that inclusion is extremely, extremely important for the good of Canada. Canada can lead in the world. We have the possibility of doing that.
Look at the war that's happening right now in Ukraine. Who needs a war? I believe in talking and solving problems and appreciating each other. Don't fight because everyone loses when you fight. 
You broke barriers in the Senate as the first person of Chinese ancestry to sit in the upper house of Parliament. How did it feel to be the first? 
It's a huge responsibility and a burden because I just had to do the right thing. I just had to set a good example, and I was really happy at the 15th anniversary of the passage of this motion – this big celebration where there were so many Asian senators on stage. They were all there. I was at another event and I was sitting with Senator [Victor] Oh, and he said there were at least 15 Asian senators from every part of Asia. That to me was very gratifying. 
How should people mark Asian Heritage Month? Are there books or films you recommend? 
There's an organization called Reel Asian that showcases Asian performances and movies. The last couple of years, because of the lockdown, the festival wasn't possible but it was going extremely well. Now it's picking up again this year.
To me, this month is about learning about each other and sharing. We should all work together. I believe in that. 
UTC