U of T Mississauga launches SpinUp, a wet lab incubator for life science startups
The new venture will provide affordable wet lab space to support early-stage companies and entrepreneurs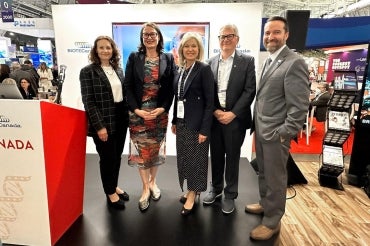 Young entrepreneurs or new start-up companies seeking to break into the prolific life sciences sector in the Greater Toronto Area can find resources and mentorship through the University of Toronto's network of world-class accelerator programs. 
A critical gap exists in that life science entrepreneurship pipeline that the university is seeking to address – providing affordable wet lab space (where drugs, chemicals and other types of liquid biological matter can be analyzed and tested) dedicated to early-stage founders. 
This week, U of T Mississauga, joined by the City of Mississauga, announced the launch of SpinUp – U of T's first wet lab venture incubator with the objective of supporting early-stage life science companies and entrepreneurs.
U of T Mississauga Vice-President and Principal Alexandra Gillespie made the announcement at the BIO 2023 convention in Boston, alongside Mississauga Mayor Bonnie Crombie, Life Science Ontario President and CEO Jason Field and U of T Mississauga Vice-Principal Research Kent Moore. 
"SpinUp will invite entrepreneurs into U of T Mississauga's New Science Building, which will open in 2023 as one of the most comprehensive and energy-efficient laboratory facilities in North America," Moore said.  
"At SpinUp, entrepreneurs can use this facility for a fraction of the cost of comparable spaces, gaining time and conserving capital to build their companies even before they have to seek major private investment." 
The incubator will offer affordable access to the specialized lab space, equipment and programming that emerging entrepreneurs need to mature their lab-based innovations. By addressing two major barriers – access to lab space and cost – U of T will offer a comprehensive set of resources for life science entrepreneurs and start-ups. It will also enrich U of T Mississauga's programs by creating new experiential learning opportunities and fostering research partnerships. 
Most of the wet lab will be offered to ventures emerging from U of T's accelerator programs, while a subset of spots will be available to those off-campus from within the region.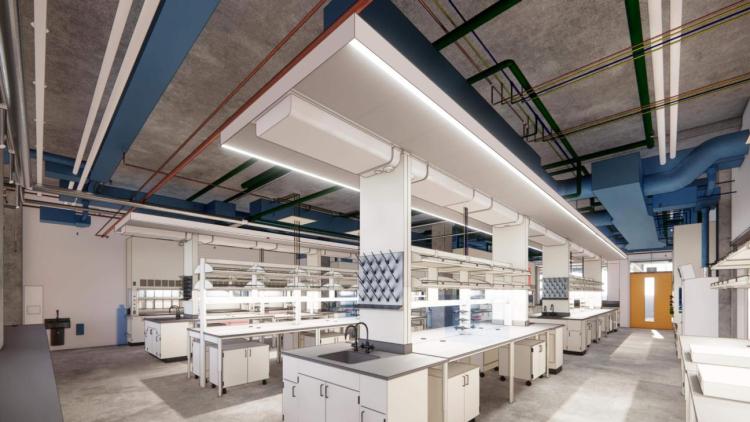 With any life sciences innovation or company, access to wet lab space and equipment is a critical step in maturing intellectual property and expanding a start-up. With SpinUp, U of T aims to keep new start-ups within the local ecosystem to avoid companies moving outside the region – or even failing before having a chance to begin. 
"U of T Mississauga drives life science innovation," Gillespie said. "Leading researchers, students and partners come together here to launch start-ups that promote health, prosperity and vitality in our communities and around the world." 
U of T ranks No. 1 in Canada for research-based start-ups and is in the top five for university-managed incubators globally. This focus on developing entrepreneurship and innovation has launched more than 600 companies over the past 10 years, leading to more than 9,000 jobs. 
In recent years, U of T has been ranked second among North American universities for number of startups, after MIT. SpinUp will serve as a key resource for ventures emerging from the university and elevates U of T's global position. 
"SpinUp is a much-needed and welcomed addition to IDEA – Mississauga's Innovation District – and we are thrilled that UTM's new incubation space will be opening soon," Crombie said.  
"Our goal is to work with partners in the community, like U of T Mississauga, to provide resources and facilities to support businesses from early stages of inception to scale-up, until they ultimately transition into their own space with a sustainable path forward. SpinUp will be a key element in this journey for smaller life sciences companies and advances our city's position as a leader in this space."
SpinUp will be part of the New Science Building, which is also the future home of the Centre for Medicinal Chemistry, UTM's first-in-Canada program in forensic science and leading-edge research labs working to improve human health. 
UTM