UofTHacks: Canada's first student-run hackathon enters its fifth year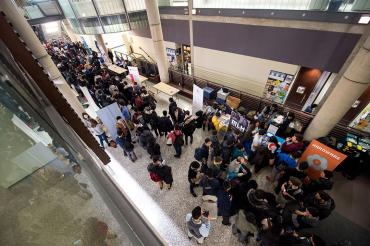 Roughly 500 developers – or hackers – gathered at the University of Toronto's Bahen Centre for Information Technology on Jan. 19 for 36 hours of code and community.
"This weekend is a great time to make new friends, make new memories and just have an awesome time together," says third-year department of computer science undergraduate, Calvin Luo, chair of UofTHacks V.
Luo says that hackathons were a fairly new concept when then computer science student Aashni Shah founded the event for U of T, making it the first student initiative of its kind in Canada. It's a massive undertaking for the 15 members of the organizing committee who handle the logistics, web development and sponsorship.
"I attended my first hackathon when I was in high school, and I learned a lot from it. So when I came to U of T, my first thought was to join the hackathon organizing team, just so that I could be a part of a group creating that experience for other people."
UofTHacks is also affiliated with Major League Hacking (MLH) a student hackathon league that supports over 200 weekend-long events around the world. MLH helps with promotion, setting goals and deadlines, and also supplies development hardware kits – like the virtual reality (VR) Oculus rift headset – that attendees may not get access to otherwise.  
Third-year computer student Anujan Murugesu, a member of the organizing team, says the event prides itself on having no theme developers must subscribe to, like dozens of other hackathons centred on a particular problem set from health care to the environment. During the opening ceremonies, sponsors will announce a series of challenges hackers have the option of working on, from the money transfer API (application programming interface) of title sponsor, Interac, to home assistant Google Home. Or students can simply try programming their own idea.
"We want hackers to work on what they think is interesting. I think the focus is really on free expression," says Luo. "Part of the joy of working on a project is working with other people. Maybe someone else knows a skill that you don't, and you can learn from them. Maybe you can combine your expertise and build something even better."
The weekend includes different learning opportunities, such as workshops on new software and hardware. Sponsors will host events at their booths and recruiters will be available to tell prospective interviewees what they're looking for in a candidate during a recruitment panel. Fun events – like pancakes at midnight – will keep the hackers satiated and socializing throughout.
Paul Gries, an associate professor, teaching stream, of computer science, says these types of events have a practical benefit.
"Students are always looking for ways to improve their skills, and hackathons provide a great avenue for this. They'll practise building a working prototype in a team for an open-ended problem, which helps them gain technical, design and communication skills. At the same time, they'll get to meet and network with people in the CS community."
The event is limited in space, so only 500 hackers can attend; they are selected on the basis of their application. While roughly half are from U of T, including students from the department of computer science in the Faculty of Arts & Science and students from the Faculty of Applied Science & Engineering, the hackathon receives many applications from students in other disciplines, such as life sciences. Outside applicants include those who are still in high school.
"Tech being such a big thing, we're giving people a taste of what computer science is and the different fields within it," says Murugesu.
"Maybe after this they're thinking: I want to learn coding, I want to take courses in artificial intelligence, or computer science. It gets more people interested."
Computer Science