#UofTGrad17: U of T AI grads choose Toronto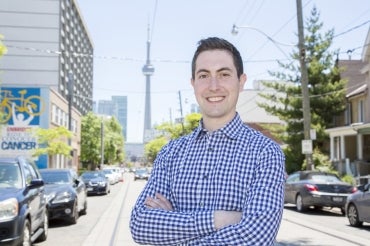 With Toronto's emerging prominence in AI, three U of T computer science graduates are deciding to stay put – a marked departure from earlier years when grads were often lured to Silicon Valley. 
Kevin Swersky, who graduates with a PhD in computer science today, has worked with leading AI researchers like U of T's Geoffrey Hinton and Richard Zemel. He is joining Google Brain's team in Toronto.
Rizwan Gilani, who came to U of T as an international student from Pakistan, graduates June 14 with a master's degree in applied computing. He was able to transfer a research internship in Seattle, working on Amazon's smart speaker, into a full-time job. He now works for Amazon in Toronto.
And Eda Doko, who will also be receiving a master's degree next week, has been hired as a data scientist with Caseware, a company focused on software solutions for accountants and auditors.
"When the opportunity presented itself, it was really exciting," says Swersky, who until recently was working with Google Brain's team in Cambridge, Mass. "A lot has changed, particularly with the announcement of the Vector Institute – something has changed in Toronto." 
Toronto has emerged as a hotspot for AI research in recent years – particularly in the field of deep learning, which was pioneered by Hinton. Further adding to the appeal: the recent launch of the Vector Institute for artificial intelligence research, a partnership between U of T, the province of Ontario and the federal government.
Last month, Uber announced it was tapping Raquel Urtasun, an associate professor of computer science at U of T, to lead its new R&D lab in Toronto. And, this week AI-powered legal research firm ROSS Intelligence, a U of T startup that relocated to Silicon Valley, held an official ribbon-cutting ceremony at U of T for its new R&D office in Toronto.  
"Toronto is emerging as an AI research hub," says applied computing graduand Gilani. "I already have family here – so everything just added up for me."
Gilani discovered his interest in natural language processing (NLP), a subfield of AI and cognitive linguistics, the science of computers interacting with human language, while he was enrolled in a graduate course taught by Frank Rudzicz, a computer science assistant professor who also works as a scientist at the Toronto Rehabilitation Institute. 
"While taking Dr. Rudzicz's course, I was sure I wanted to work in NLP. I wanted to work on building scalable systems out of all the things we were studying in the class."
Gilani undertook his applied research internship requirement at Amazon "Alexa" in Seattle, working on the voice service behind Amazon's "smart speaker," Echo. He'll now be working at Amazon Alexa's Toronto office. 
"The office is downtown, close to U of T campus," he says. "It's the best of both worlds. I can stay close to the university and upcoming research, and can continue my development work."
Doko, who lived for a time in her parent's native country of Albania, returned to Toronto for university. 
"U of T's the best – and the applied master's was the perfect opportunity. It gave me the perfect path to launch my career," she said.
Swersky's collaborations read as a who's-who of AI.
His PhD supervisor is Zemel, who is the research director of Vector.
Former U of T postdoctoral researcher Hugo Larochelle, who now leads Google's Montreal group, Ryan Prescott Adams, also a former U of T postdoc, and U of T computer science graduate Jasper Snoek, both of Google Brain Cambridge, are his long-time colleagues, as is U of T computer science graduate Danny Tarlow of Google Brain Montreal. 
He has worked with Hinton, a University Professor Emeritus and vice president, engineering fellow at Google, who incidentally helped recruit him to U of T's grad program. Being at Google's Toronto office will offer a special opportunity to collaborate with Hinton again, Swersky says. 
He first joined Google as an intern in 2012, working on the speech recognition team. 
"It was a year after a previous U of T computer science graduate, Navdeep Jaitly, had gone to Google and helped revolutionize their speech recognition system," he says. "It was an exciting time. I got to work a bit on deep learning for speech recognition, in a real-world system." 
Being back in Toronto means Swersky can be closer to family and enjoy more of Toronto's ramen food scene with his girlfriend. 
"I grew up in Edmonton. Lived in Vancouver. Spent the summer in San Francisco. Lived in Boston and Toronto. You kind of get a feel for all these different places and an intuitive sense of your place in them," he says. 
"It's hard to explain, but something that just feels innate – Toronto feels like coming home."
Computer Science