#UofTGrad17: Three international students, three paths to convocation
"You don't feel like an outsider because everyone is from somewhere"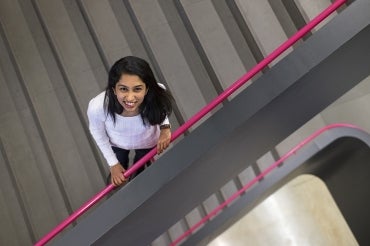 When you study at the University of Toronto, you study with the world.
Along with faculty recruited from across the globe, about one-in-five U of T students come from outside Canada. Many arrive knowing no one. But by the time they graduate, they have made friends from all over the planet – and probably lost their initial enthusiasm for winter. 
Below, three graduating students – from India, Oman and Kenya – describe their first impressions of U of T, their undergraduate experience and where they're going next.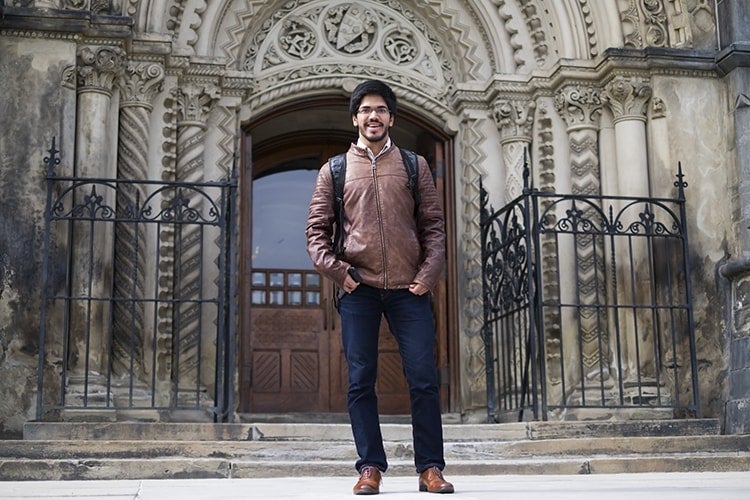 Daksh Sikri, from Mumbai, studied industrial engineering at U of T. After graduation, he plans to work on a startup he devised as a student (photo by Geoffrey Vendeville)
Why U of T?
Born and raised in Mumbai, Daksh Sikri didn't know much about Canada before applying to industrial engineering at U of T. In fact, his knowledge of the country was basically limited to two national exports: maple syrup and Bryan Adams.
He researched U of T after an acquaintance, who had gone to a western Canadian university, spoke highly of the quailty of life and education in Canada. Sikri thought U of T would provide a well-rounded education because it had high-ranked engineering and humanities programs.
"All these different pieces came together," he said.
Akhila Chintalapati came to the university from Muscat, Oman, and was the first in her family to travel to Canada. She applied to schools in the United States and the United Kingdom too, but chose U of T for its high scores in international rankings and because jobs prospects appeared better in Canada for aspiring accountants like her, she said. 
Sylvia Mwangi was one of the first students to come to U of T on a MasterCard Foundation Scholarship, an academic award for students from sub-Saharan Africa. She didn't know much about the university at the time, but in hindsight she's happy with her choice – particularly since her campus is located at the heart of a bustling city.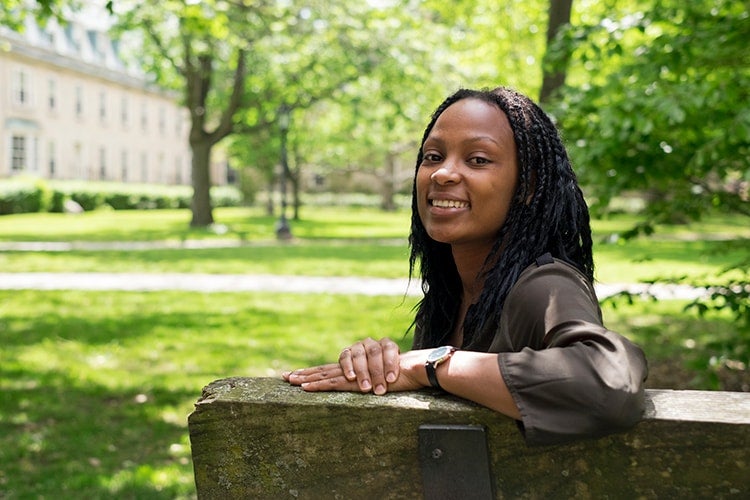 Sylvia Mwangi came to U of T from Nyeri, Kenya, as one of the university's first MasterCard Foundation Scholars (photo by Geoffrey Vendeville) 
First impressions
Sikri's initiation to U of T and Toronto came during engineering frosh week, touring the city in purple body paint and a yellow hard hat.
During his time here, he has completed internships at a growth-stage startup and at IBM's global headquarters in New York. For extracurricular activities, he flexed his rhetorical muscles at the United Nations Club at Hart House and organized a model UN conference. And, he became a regular at a ping pong social club near campus.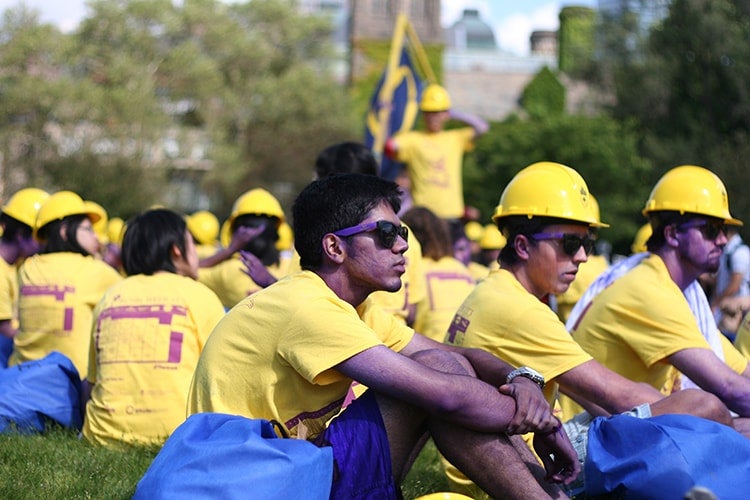 Daksh Sikri, centre, was introduced to U of T's downtown Toronto campus and the city during engineering frosh week (courtesy of Daksh Sikri)
Chintalapati found the first days on campus a little disorienting. But when she got lost on the subway, a stranger noticed her bewildered expression and gave her a subway token and directions to campus.  
"I was positive from the start because I met so many good people," Chintalapati recalled. 
One of her fondest memories from her first year in Toronto – in addition to her first bite of a gravy-soaked poutine – was the moment she saw snow for the first time outside a 10th floor window of Robarts Library. 
"I was super excited and ran down to the street."
In residence, she met her future roommate, a commerce and marketing student from Turkey.
"I experienced some culture shock in the beginning," Chintalapati recalled, "but you adapt quickly to Canada because there are so many people who come from outside the country."
"You don't feel like an outsider because everyone is from somewhere."
"It's bigger than a cat, and it's fierce"
It wasn't just the culture that shocked Mwangi when she arrived in Toronto.
She got the fright of her life one evening near the John W. Graham Library when she spotted a four-legged creature that she had never seen in Kenya. 
"I didn't know what it was at first. I was trying to explain it to my friends, 'It's bigger than a cat, and it's fierce.'"
Even now, she thinks raccoons are far from cute. 
Second home
For Sikri, the biggest surprise about studying in Toronto was that he met people from all over the world.
"Mumbai is cosmopolitan, but we didn't have diversity like Toronto does," he said. Although he didn't know anyone else at U of T when he arrived, he is graduating with friends from all over.
He has started an artificial intelligence fellowship and, after graduation, plans to work on an AI startup that he came up with during his undergraduate studies. 
Chintalapati landed a job as a staff accountant at Deloitte in Toronto, where she interned in third year.
"I want to stay here for a few more years minimum," she said. "It definitely has become a home. I don't want to move anywhere else."
And Mwangi was offered a job in Toronto, streamlining industrial processes at a major Canadian bank.
The highlights of her undergraduate years include a summer abroad in Brussels working for an agricultural and industrial procurement company that was planning to expand into Kenya. She used the opportunity to visit other cities like Ghent and Bruges and acquired a taste for Belgian beer. 
Her advice for international students considering U of T – enjoy all the city has to offer.
"A study-life balance is possible," she said. 
And, beware of raccoons. 
"They're not the most fun animals to encounter when you're walking at night."
UTC