#UofTGrad17: First MasterCard Foundation Scholars from sub-Saharan Africa set to graduate
52 students have come to the University of Toronto on MasterCard Foundation Scholarships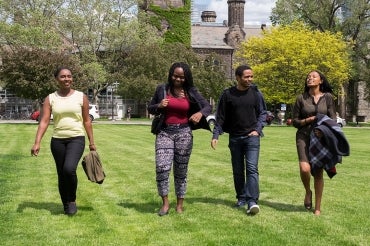 They came to the University of Toronto four years ago, shouldering big expectations – the first students to come to the university through the MasterCard Foundation Scholars Program. 
The scholarship helps students from sub-Saharan Africa complete secondary or higher education to benefit their communities.
After endless exams, assignments and group projects, four of the original U of T scholars are on the cusp of graduation – and they still can't believe it.
"I was like, 'No, it can't be over,'" said Vanessa Bart-Plange, who is from Ghana and completing a double major in political science and international relations, and a minor in African studies. "But last week, I saw people coming out of Convocation Hall with bouquets, and I thought, 'Ok, this will be me very soon.'"
Reality set in for Nana Boa-Amponsem, an economics and equity studies student who is also from Ghana, when she received an email from the registrar saying she had met the requirements.
"Until then I thought, 'What if I missed a course? What if I'm not actually graduating?'"
U of T was one of the first Canadian universities to join the program in 2013, along with McGill University and the University of British Columbia. On June 13, the university will recognize Mastercard Foundation president and CEO Reeta Roy with an honorary degree.
"Our MasterCard Foundation Scholars are some of the most impressive young women and men I have ever met," U of T President Meric Gertler told U of T News. "They are so articulate, so poised, so ambitious. It's hard not to be inspired by people like that."
When the scholars first arrived in Toronto, the rigours of university life weren't the only challenges they faced. Cultural differences – like looking someone in the eye while speaking to them, instead of looking away to show respect – required some getting used to, Bart-Plange said. 
Then came navigating the subway system, getting a university ID and opening bank accounts.
Mubarek Abdela, an electrical engineering student from Ethiopia, said he also had trouble expressing himself in English.
"It was really tough for me actually because at home I'm a very outgoing person. I was like one of the guys at school who had many friends."
Throughout their undergraduate years, the scholars leaned on each other and the coordinators of the scholarship program. One semester, when Boa-Amponsem spent two weeks in bed sick with stress, the scholars took turns visiting her, she said.
As one term led to another, the scholars learned the ropes and flourished.
"(At first) I wasn't sure if my voice counted enough, if my ideas were smart enough," Bart-Plange said. "But then as time went on, I built up my confidence. I knew how to argue with others and bring something else to the table."

Vanessa Bart-Plange, from Takoradi, Ghana, is one of the first MasterCard Foundation scholars to graduate from U of T (photo by Geoffrey Vendeville)
With the foundation's support, she spent one summer in France studying at the Reims campus of Sciences Po or the Paris Institute of Political Studies. She visited the Reims Cathedral, the site of 25 coronations of French kings and treated herself to pastries. 
The trip helped her plan for after graduation, she said. "It was a preparatory phase for me," she said. "There was no one to lean on. I thought, 'I'm alone. I'm grown up.' And that scared me." 
Like many students near graduation, the scholars are asking themselves what the future has in store – although they have planned a few of the next steps. 
Bart-Plange is aiming to complete a master's degree at York University in development studies with an emphasis on education policy. Her long-term goal is to return to Africa to teach university.
Boa-Amponsem was accepted to several graduate programs in public policy but is still weighing her options. She hopes to work with an international development body and eventually start an organization supporting female entrepreneurs in Africa.
Industrial engineering student Sylvia Mwangi, from Kenya, was hired by a major bank to streamline its industrial processes.
And Abela, the electrical engineering major, has already started a master's degree at U of T in the same field.
"U of T and the MasterCard Foundation scholarship helped me understand myself really well," he said. "This experience has taught me how to find my goals and how to achieve them." 
UTC