#UofTGrad17: Munk One celebrates its first cohort of U of T graduates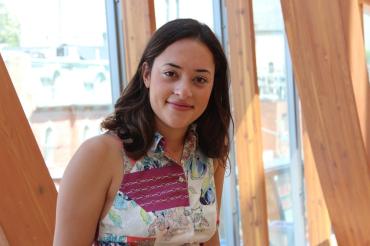 Since it launched in 2013, the Munk One foundation program for students in their first year has attracted and taught some of the University of Toronto's most audacious students.
After their time in Munk One, students have gone on to create an app that reduces food waste on university campuses, launch an initiative to prevent heat-related deaths on construction sites in Qatar, and conduct field research on poverty in Brazil.
Now, the program is celebrating its first cohort of students to graduate from U of T.
 "The first cohort was the one that set the bar for me," says Teresa Kramarz, director of the Munk One program. "They made me realize what untapped potential the University of Toronto had in its first-year students. I came to fully understand the hunger that these students brought to U of T."
Offered by the Munk School of Global Affairs, Munk One teaches first-year undergraduate students how to take their hunger and curiosity and apply it to some of the world's most complex challenges. The small classroom environment allows students to network closely with their peers and professors, and the seminars and labs help to prepare students for the rest of their U of T experience, and beyond.
"Munk One was a good experience. First year can be a very isolating time and Munk One was a good way to get to know people and build a social group," says Nicholas Sopuch (pictured above). The peace, conflict and justice major graduated on June 21.
Set to begin his master's degree at the London School of Economics and Political Science in the fall, Sopuch credits Munk One with shaping the rest of his academic experience. "The workload and the readings helped me become comfortable in a seminar setting. It was good to work with these really bright students in such a collaborative environment.
"Munk One was an intensive warm-up for the rest of my undergrad."
Nicoli Dos Santos, another of the program's very first students, agrees.
"Munk One gave me my first real taste of what research looks like in academia. Not just theory, but also field research," says Dos Santos, who, through her Munk One professors, had the opportunity to spend six weeks in Northern Ireland advising on an app that diagnoses post-traumatic stress disorder.
"The program helped me to see problems differently and examine my approach. I gained the confidence to seek out more research opportunities."
Dos Santos, along with other Munk One alumni, went on to study Brazil's Bolsa Familia social welfare program with the Reach Project, an initiative led by Professor Joseph Wong, who teaches a seminar course in the Munk One program. This trip helped Dos Santos, an aspiring doctor, to think about health and medicine from a more social perspective. She writes her MCAT in August and begins a master of social work at U of T in the fall.
"In Munk One, I realized how crucial it is to think about the socio-political context in which diseases emerge, spread and are treated. I'm interested in family medicine and I want the skills to be able to address the social issues that may contribute to physical and mental health."
Sopuch recommends Munk One to anyone hoping to make valuable connections with their peers and professors. "A lot of my friends today are people I met in Munk One. It was useful to have that initial connection," says Sopuch. "And in terms of academic preparation, Munk One is great. The connections you build really do last throughout your undergrad."
Kramarz is excited to see Munk One students now becoming U of T alumni, and sees them making a profound impact as they move on to other pursuits.
"Over the last four years, I have watched these students grow as scholars and as people. I have this sense of wonder as I look at their trajectory. I'm proud of our students and happy that Munk One has helped prepare them to be engaged global citizens." 
Arts & Science